2020 Snapshot: Madeira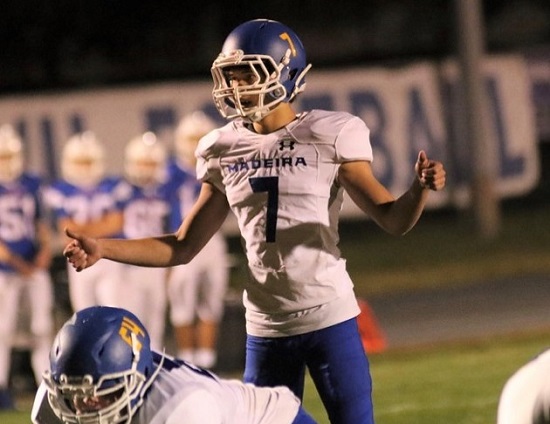 Madeira QB Sam Autry
Things are going in the right direction at Madeira. The Mustangs are looking to make the postseason for a third straight year and seventh appearance in the last 10 campaigns. This squad would love nothing more than to get to Week 11 and win the school's first ever playoff game.
"The numbers are up in the Madeira Football program. We have gone from 32 players in 2018 to 54 players in 2020 with 18 seniors leading the way," says a pleased head coach, Chris Stewart.
The Mustangs return nine starters on a defense that gave up 15.1 points per game and had three shutouts.
The offense brings back six starters from a unit that averaged 345-plus yards and 28.7 points per game in 2019. The teams biggest question mark comes up front. "We will need to replace three offensive linemen from a team that averaged more than 140 yards rushing per game last year," states Stewart.
More bodies lead to better competition and much needed depth. Madeira has lost its two playoff games under Stewart by seven and three points. Tougher practices will help this team in the long run. It may just be the key that unlocks the stable for the Mustangs to finally find the postseason success that has eluded the program.  

Division V, Region 20
2019 RECORD: 8-3, 5-2 CHL
COACH: Chris Stewart (15-7 at Madeira, two years; 15-7 overall, two years)
HONOR ROLL
Sam Autry, SR, QB – Threw for a school record 2,167 yards to lead the CHL. Autry also ran for 376 yards and accounted for 29 total touchdowns (19 pass, 10 rush). That effort earned him OPSWA Division V Second Team All-Southwest District honors.
Max Spelder, Sr, OL/DL – Was named OPSWA Division V Second Team All-Southwest District as an offensive lineman in 2019. Spelder who also started at defensive tackle recorded three sacks.
Max Keller, Sr, ILB/TE – The signal caller for the Mustangs defense. Keller had four-and-a-half sacks, a fumble recovery and an interception on his way to Second Team All-CHL honors.
Cannon Shafer, Sr, DB/WR – Filled in last year and stepped up to earn Second Team All-CHL accolades. Shafer is a leader on the defensive side of the ball. He had a 69-yard pick six in the playoffs versus West Liberty-Salem.

OTHER RETURNEES
Casey Bell, Sr, WR/DB – Finished his junior year with 15 catches for 205 yards and 3 touchdowns. Bell also had a fumble recovery and an interception.
Alex Krikorian, Sr, ILB – Returns as one of the Mustangs starting linebackers and will also see time at running back.
Nolan Herron, Sr, RB/OLB – Back for a third year as a starter at outside linebacker. Herron has five sacks and five fumble recoveries in his career.
Jack Hanely, Sr, K – Returns after a great junior season where he made 37/40 on extra points and was 3/5 on field goals for 46 total points.
Aidan Megois, So, C/DE – Started at center as a freshman on an 8-3 playoff team. Megois also had one-and-a-half sacks and recovered a fumble.
NEWCOMERS
James Carpenter, Sr, WR/DB – Saw some action as a starting cornerback last year. Carpenter will look to earn a starting spot this fall.
Sam Eppert, Sr, WR – Should contribute as a wide receiver in his senior season.
Elijah Depiore, Sr, DL – Saw some time on the defensive line in 2019 and is looking to have a larger role in 2020.
John Nolan, Sr, LB – Has the talent to contribute at either linebacker or on the defensive line.
Colton Oliver, Sr, WR/DB – Broke his wrist early in 2019 that put him out for the season. Oliver is healthy and on track to contribute on both sides of the ball.
Connor Cravaack, So, TE/DE – Young and talented player that should play a much larger role on this year's team. Cravaack had an interception in his varsity debut.
PLAYOFF HISTORY
(11 appearances, 0-11) – 2019, 2018, 2014, 2013, 2012, 2011, 2005, 2001, 2000, 1999, 1982
2020 SCHEDULE
Fri – 08/28/20 – at Norwood – 7:00 PM
Fri – 09/04/20 – CLERMONT NORTHEASTERN – 7:00 PM
Fri – 09/11/20 – at Purcell Marian – 7:00 PM
Fri – 09/18/20 – FINNEYTOWN – 7:00 PM
Fri – 09/25/20 – at Indian Hill – 7:00 PM
Fri – 10/02/20 – WYOMING – 7:00 PM
Fri – 10/09/20 – TAYLOR – 7:00 PM
Fri – 10/16/20 – at Deer Park – 7:00 PM
Fri – 10/23/20 – READING – 7:00 PM
Fri – 10/30/20 – at Mariemont – 7:00 PM