2020 Snapshot: Ludlow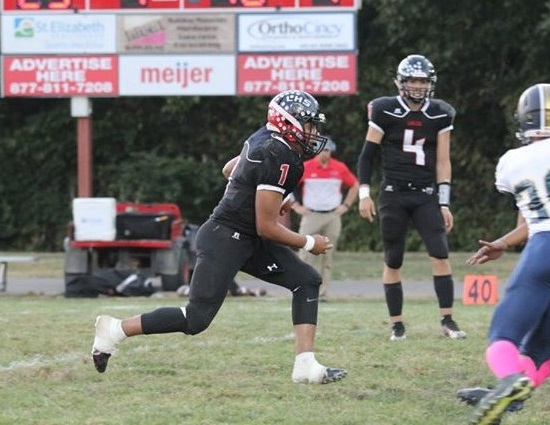 Ludlow RB/LB Braxton Newborn (photo from Facebook: Lloyd Juggernauts Football)
Three straight eight-win seasons has Ludlow reaching heights it hasn't seen in decades. With five winning campaigns in the last six years this is arguably the best run in the history of the program.

"We are young but hungry to carry on the winning tradition. This is a close-knit group," head coach Greg Taphouse states.
Ludlow is beating the teams they are supposed to. The next step is to not only be competitive versus their upper echelon foes (Beechwood, Newport Central Catholic, Lloyd, Frankfort, Holy Cross – Louisville) but come out victorious against them.
Class 1A, District 4
2019 RECORD: 8-4, 2-1 Class 1A, District 4
COACH: Greg Taphouse (24-11 at Ludlow, three years, 24-11 overall, three years)
TOP RETURNEES
Kaleb Hummel, Sr, OL/DL – Is the anchor on both sides of the Panthers lines.
James Dick, Sr, OL – Will be looked upon for leadership for the young offensive linemen.
Nick Tackett, So, WR/DB – Had 15 receptions, 115 receiving yards, three touchdown catches, 15 total tackles and a fumble recovery for a touchdown as a freshman. Tackett should have a breakout season in 2020.
Brogan O'Brien, Jr, WR/DB – Caught 10 balls for 119 yards and three touchdowns in his varsity debut. On defense. O'Brien was in on 20 total tackles and came up with four takeaways (three INT, one FR).
Andrew Kendall, So, RB/LB – Was in on 31 total tackles and had a fumble recovery as a freshman. Kendall will play a larger role in the rushing game this season.

NEWCOMERS
Noah Hoffmeister, Sr, WR/DB – Back out for football after not playing as a junior. Hoffmeister had 28 total tackles and a pair of fumble recoveries in 2018.
2020 SCHEDULE
Fri – 08/21/20 – CARROLL COUNTY – 7:30 PM
Fri – 08/28/20 – BRACKEN COUNTY – 7:30 PM
Fri – 09/04/20 – at Gallatin County – 7:30 PM
Fri – 09/11/20 – BYE
Fri – 09/18/20 – BISHOP BROSSART – 7:30 PM
Fri – 09/25/20 – at Nicholas County – 7:30 PM
Fri – 10/02/20 – at Lloyd Memorial – 7:00 PM
Fri – 10/09/20 – NEWPORT CENTRAL CATHOLIC – 7:00 PM
Fri – 10/16/20 – at Bellevue – 7:00 PM
Fri – 10/23/20 – DAYTON – 7:00 PM
Fri – 10/30/20 – at Holy Cross – 7:00 PM