Player Spotlight: Markus Allen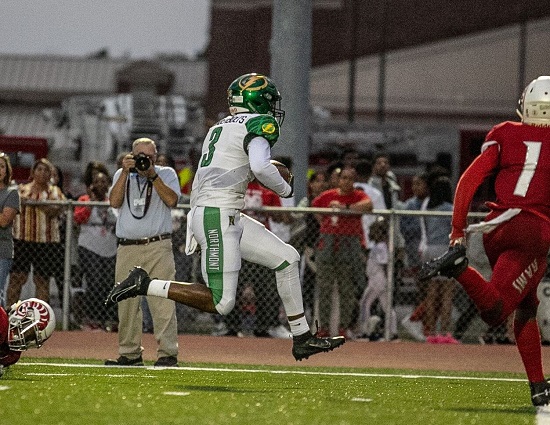 Northmont WR Markus Allen (photo by Shelby Frieszell/TriStateFootball.com)
A change of scenery is exactly what wide receiver Markus Allen needed to showcase his talents. After being mired in anonymity in Xenia's run-heavy triple veer offense, Allen decided to transfer to Northmont after his sophomore year.
The move paid big dividends for Allen. He thrived in the Thunderbolts wide open spread offense catching 51 balls for 1,087 (21.3 yards/rec.) and 15 touchdowns last fall. Seven of his touchdowns came in Northmont's last three tilts. To put things into perspective, Xenia threw the ball just 25 times in 2019.
Allen was red-hot over the Thunderbolts last nine contests with five multiple touchdown games. Six times he had at least 120 yards receiving in that same span. His efforts earned him OPSWA Division I Second Team All-Southwest District honors.
The 6-foot-2, 190-pound Allen carries a 3.5 GPA. Couple that with his eye-popping performance for the Thunderbolts last fall and it has led to some impressive scholarship offers that include Air Force, Army, Akron, Ball State, Boston College, Bowling Green, Central Michigan, Cincinnati, Eastern Michigan, Indiana, Iowa State, Kansas, Kent State, Kentucky, Marshall, Miami (OH), Michigan, Michigan State, Navy, Pitt, Purdue, Syracuse, Virginia, Wake Forest, West Virginia, Western Michigan and Wisconsin.
Wherever, he decides to go, someone is going to get not only a fine football player but an incredible young man. The best days are still ahead Allen and that is a scary thought.