2020 Snapshot: Loveland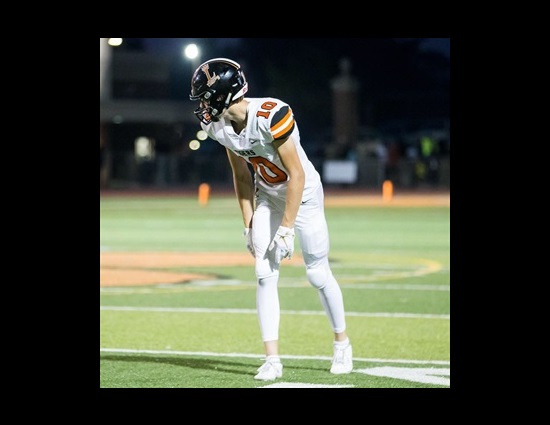 Loveland WR/P Ethan Lund
It is odd to say but over the last several seasons, Loveland just hasn't had the horses that we are accustomed to seeing out of the program. The Tigers are 1-25 over their last 26 tilts dating back to 2017. Things are looking up though for second-year head coach Andy Cruse.
Loveland has experience on offense with nine of its 11 starters back including a stable of quality skill players. The running game needs to turn it around. The Tigers only ran for 264 yards and averaged just 1.4 yards per carry in 2019.
The team battle size issues on defense a year ago and it showed up front. Loveland had just four sacks all season and did not have an interception. The Tigers allowed 49.1 points per game.
The good news is that the team has dedicated itself to getting bigger and stronger. "Guys have had a really positive offseason. We have increased bench total by an average of 30 pounds and squat by an average of 80 pounds from December to March," says a pleased Cruse. They need that effort in the weight room. The ECC will be better than ever, from top to bottom.
"Leaders are emerging. The attitudes and energy of the team is very positive. We are looking forward to the season," Cruse states. Loveland will be more competitive, but the road ahead is going to be tougher than it has ever been during the regular season. The Tigers will play eight teams that finished the 2019 with a record of .500 or above.
Division II, Region 8
2019 RECORD: 0-10, 0-7 ECC
COACH: Andy Cruse (0-10 at Loveland, one year; 0-10 overall)
HONOR ROLL
Ethan Lund, Jr, WR/P – Was named Second Team ALL-ECC as a punter for a second straight season. The 6-foot-4 Lund became a factor in the Tigers passing attack with 32 catches for 314 yards and four touchdowns as a sophomore.
Calvin Cloud, Senior, QB – The 6-foot-5, 225-pound Cloud threw for 1,831 yards and 14 touchdowns in his first year as a starter last fall. He was named Honorable Mention All-ECC for the effort.
OTHER RETURNEES
Gabe Ogdan, Sr, DE – Sat out last season with torn ACL. Ogdan's offseason numbers have been huge in the weight room with a 335 bench, 505 squat and 600-pound dead lift. Coach Cruse believes he will play at the next level.
Bailey Jackson, Jr, WR/DB – Had 417 yards receiving with team-highs of 34 receptions and five touchdown catches as a sophomore.
Tyler Lake, Sr, WR/RS – Amassed 1,021 all-purpose yards, had 32 receptions, a team-high 574 yards receiving and found the end zone four times (three rec, one rush) a year ago.
Caleb Medeiros, Jr, LT- Started every game last year as sophomore. Medeiros is very strong with good footwork, he should really blossom this fall.
Austin Lodor, Sr, TE/LB – Expect even bigger numbers out of Lodor, who hauled in 21 receptions for 265 yards and two touchdowns in 2019.
D'Marqo Johnson, Jr, RB/DB – A talented boundary corner, the Tigers need him to come up with more takeaways.

NEWCOMERS
Aaron Morton, Sr, RB/WR/RS – A transfer from Moeller, Morton is an explosive player who should be a factor on offense and in the return game.
Tristen Greatorex, So, ILB – Will get every opportunity to become a starter and should make an impact starting in Week 1.
PLAYOFF HISTORY
(four appearances, 6-3) – 2013 (State Champion), 2002,2000, 1986
2020 SCHEDULE
Fri – 08/28/20 – SYCAMORE – 7:00 PM
Fri – 09/04/20 – at Princeton – 7:00 PM
Fri – 09/11/20 – TURPIN – 7:00 PM
Fri – 09/18/20 – WEST CLERMONT – 7:00 PM
Fri – 09/25/20 – at Milford – 7:00 PM
Fri – 10/02/20 – LITTLE MIAMI– 7:00 PM
Fri – 10/09/20 – at Walnut Hills – 7:00 PM
Fri – 10/16/20 – at Kings – 7:00 PM
Fri – 10/23/20 – ANDERSON – 7:00 PM
Fri – 10/30/20 – at Winton Woods – 7:00 PM