2020 Snapshot: Hughes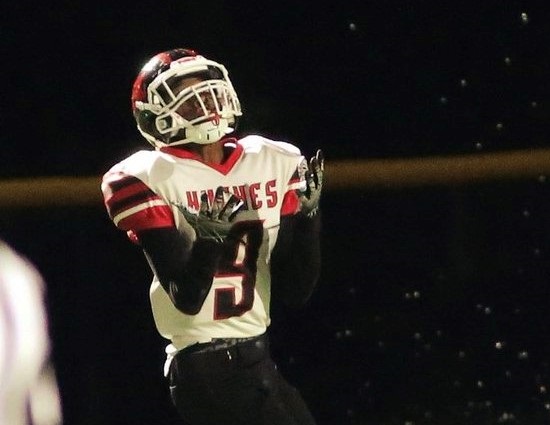 Hughes WR/DB Keyshawn Barber (photo courtesy of @BigRedAthletics-Twitter)
For the first time in 12 years Hughes posted a winning record last fall. Now, proud fans are looking forward to an even brighter future. This season, bigger things are expected as this squad prepares to go where no other Big Red team has ever gone before.
"After finishing 7-3 in 2019 our team is hungry and wants to improve on that. Our goal for 2020 is to make the playoffs for the first time in school history," Hughes head coach Chris Mobley states.
The foundation is being laid for the program to turn its past misfortunes into a winning culture. "We have a ton of returning starters. Our whole offensive line returns. We will finally have depth at that position as more students are starting to play football at Hughes," Mobley says. "Having the majority of our team and staff back, should help us keep the positive momentum.
He goes on, "Our top seven skill players have tons of experience and are only going to be sophomores and juniors in 2020.  Offensively, we were able to put up a lot of points. We played pretty good defensive only giving up 13.5 points per game."
Hughes must take care of business and rack up the victories if it is to get to the playoffs. There is very little margin of error in Region 12. It is loaded with teams that have postseason pedigree including last season's state champion, Trotwood-Madison as well as five very tough GCL Co-eds squads. It will be a dogfight for the eight coveted playoff berths.
Division III, Region 12
2019 RECORD: 7-3, 4-2 CMAC
COACH: Chris Mobley (16-24 at Hughes, four years; 16-24 overall)
HONOR ROLL
Saleem Ford, So, RB/LB – Bust onto the varsity scene in a big way. Ford recorded 93 total tackles, had two-and-a-half sacks, forced fumbles, and recovered four fumbles on his way to OPSWA Division III Second Team All-Southwest District (LB) honors as a freshman. He also ran for 403 yards and three touchdowns.
"He is the most talented player I've had ever at Hughes. He was the rock on our defense. To be a freshman and do what he did last year was amazing," Mobley says of Ford.
Keyshawn Barber, Jr, WR – A breakout sophomore season saw Barber catch 18 balls for 450 yards with five touchdowns on offense. Defensively, he was in on 27 total tackles with 17 pass break-ups and six interception on his way to being named OPSWA Division III Second Team All-Southwest District.
"Keyshawn has great hands, speed and route running. As a defensive back, his size and ball skills allow him to pick off any pass in his area. Division I colleges are starting to knock on the door," Mobley chimes about young Barber.
Larry Jackson, Jr, OL/OLB – Back for his third year as a starter, Jackson got in on 73 total tackles and had eight sacks as a sophomore. He was named OPSWA Division III Honorable Mention Team All-Southwest District for his efforts. Jackson has 118 total tackles and 10 sacks in his career.
Keyeontrez DeVaughn, Jr, RB/LB – A very productive two-way player who earned Second Team All-CMAC honors a year ago. DeVaughn ran for 313 yards, caught eight passes for 200 yards, found the end zone four times (three rec, one rush, tallied 55 total tackls, had a sack, forced three fumbles and recovered a fumble last fall.
Terrence Ferguson, Sr, OL/DL – One of the senior leaders on this Big Red squad. Ferguson was a Second Team All-CMAC selection in 2019.
Will Gilden, Jr, WR/DB – The coaching staff is expecting big things out of Gilden. He tallied 31 total tackles on his way to being named Honorable Mention All-CMAC as a sophomore.
Keion Hinton, So, OL/DL – Contributed on both sides of the line as a freshman. Hinton's work saw him garner Honorable Mention All-CMAC accolades.
NEWCOMERS
Sophomores ATH Marvin Good and ATH Joe Leonard will be competing for the starting quarterback job. Leonard has got great size at 6-foot-5 and 225-pounds. He had 15 total tackles and a sack in four games as a freshman. Good went 6-10 for 104 yards and a touchdown in four contests a year ago.
PLAYOFF HISTORY
(0 appearances, 0-0)
2020 SCHEDULE
Fri – 08/28/20 – at Deer Park – 7:00 PM
Fri – 09/04/20 – NORTH COLLEGE HILL – 7:00 PM
Fri – 09/11/20 – LOCKLAND – 7:00 PM
Fri – 09/18/20 – at Western Hills – 7:00 PM
Fri – 09/25/20 – at Woodward – 7:00 PM
Fri – 10/02/20 – at Hillcrest – 7:30 PM
Fri – 10/09/20 – GAMBLE MONTESSORI – 7:00 PM
Fri – 10/16/20 – at Dayton Christian – 7:00 PM
Sat – 10/24/20 – SHRODER – 6:00 PM
Fri – 10/30/20 – RIVERVIEW EAST – 7:00 PM