2020 Snapshot: Fenwick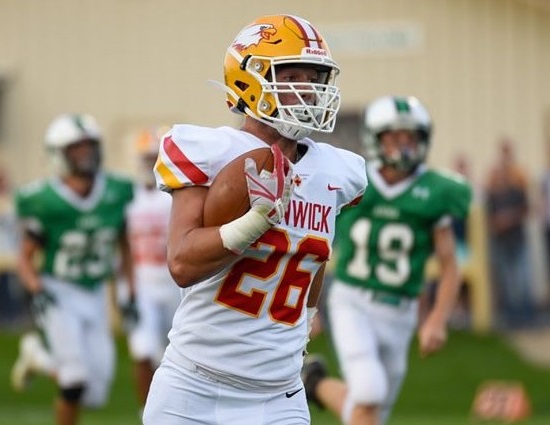 Fenwick S Logan Miller (Photo by Angie Kullman Mohrhaus/Facebook-Bishop Fenwick TD Club)
For the fourth time in the last five seasons Fenwick will have a new head coach manning the sidelines. George Moore takes the control of a nest of Falcons looking to soar to new heights this fall.
Continuity should not be a problem for Fenwick. Moore has been with the program since 2011 and the Falcons defensive coordinator since '15.
The cupboard is not bare for Moore. "We have a team full of intelligent football players that play fast and physical," he states.
On the downside, "we do not have a lot of team depth," Moore laments. Many head coaches share that sentiment, but it can really cause havoc with a team's rotation. Staying healthy is a must especially against a schedule that includes six teams that made the postseason in 2019 is imperative to survival.
The Fenwick lettermen are proven commodities. For the Falcons to get to the playoffs a group of underclassmen must emerge to compliment those juniors and seniors.
Division III, Region 12
2019 RECORD: 5-5, 3-2 GCL Co-eds
COACH: George Moore (0-0 at Fenwick, first year; 0-0 overall)
HONOR ROLL
Logan Miller, Sr, RB/S – A two-time OPSWA Division III Second Team All-Southwest District (DB) honoree, the very productive Miller, is a "tough as nails" player. He has 228 total tackles (116 solo), three sacks and five interceptions in a Falcons uniform.
Colt Bradshaw, Jr, RB – Led the Falcons with 698 yards and 11 touchdowns rushing as a sophomore. That effort garnered Bradshaw Second Team All-GCL Co-eds accolades. Look for the bruising Bradshaw to bust the 1,000-yard rushing mark this fall.
Carter Earls, Sr, TE/DE – Back for a third year as a starter, Earls can really get after it on defense. He was named Second Team All-GCL Co-eds as a junior after tallying 57 total tackles, two sacks, forcing two fumbles and recovering five fumbles. Earls has 95 total tackles, four-and-a-half sacks and five fumble recoveries in his career.
JT Maxwell, Sr, LB – Stepped up and answered the call on defense in 2019. Maxwell recorded 81 total tackles and three sacks to earn Second Team All-GCL Co-eds honors.
Ralph Ross, Sr, WR/DB – A two-way player, Ross had 47 total tackles and two interceptions for the Falcons defense. On offense, he caught 11 balls for 120 yards and two touchdowns in 2019. Ross earned Second Team All-GCL Co-eds acclaim for his work.
Paul Bailey, Sr, DL – Does yeoman's work in the trenches. Bailey was an Honorable Mention All-GCL Co-eds selection after getting in on 31 total tackles with a sack.
OTHER RETURNEES
Braden Listermann, Sr, QB – Played in seven games and came on late a year ago. Listermann had 427 of his 838 yards through the air and five of his eight touchdowns passing in the last two tilts of the season.
Ayden Helton, Sr, OL – Will anchor the Falcons o-line. Helton also had 15 total tackles and a sack in 2019.
Jude Hooks, So, WR – Lots of potential still to be unleashed for Hooks. He hauled in eight receptions for 122 yards and a touchdown as a freshman.
Zach Potter, So, DL – A pleasant surprise, Potter had 30 total tackles and two sacks in his freshman season.
PLAYOFF HISTORY
(17 appearances, 16-15) – 2018, 2015 (Regional Champion), 2012, 2004, 2003, 1991, 1988, 1987 (Regional Champion), 1985, 1984 (State Runner-up), 1983 (Regional Champion), 1982, 1978 (Regional Champion), 1975 (Regional Champion), 1974 (State Champion), 1973 (State Champion), 1972 (Regional Champion)
2020 SCHEDULE
Fri – 08/28/20 – at Franklin – 7:00 PM
Fri – 09/04/20 – NORTHRIDGE – 7:00 PM
Fri – 09/11/20 – CLINTON-MASSIE – 7:00 PM
Fri – 09/18/20 – COLUMBUS ST. CHARLES – 7:00 PM
Fri – 09/25/20 – at Columbus DeSales – 7:00 PM
Fri – 10/02/20 – at McNicholas – 7:00 PM
Fri – 10/09/20 – at Alter – 7:00 PM****
Fri – 10/16/20 – BADIN – 7:00 PM
Fri – 10/23/20 – CHAMINADE JULIENNE – 7:00 PM
Fri – 10/30/20 – at Carroll – 7:00 PM
****At Elks Stadium, Centerville H.S.