2020 Snapshot: Kings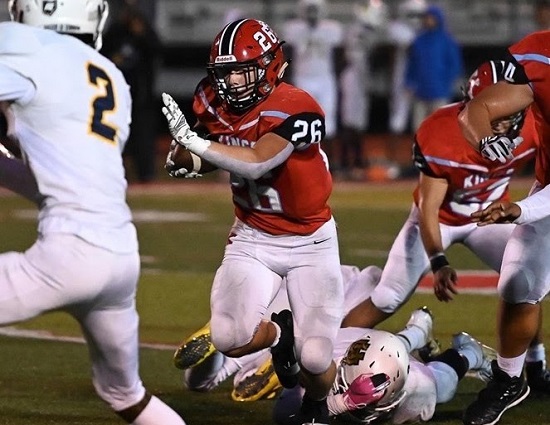 Kings RB Ty Stylski (photo from kings-football.com)
A potent offense will rev the engine that drives Kings this season. The Knights will light up the scoreboard against everyone they face.
Last fall, Kings averaged 37.5 points per contest. The Knights even put up 27.0 points in the four games they lost. With much of the offensive core returning, this will be one highly entertaining squad in 2020.
This is a scrappy team of fighters and a direct reflection of its head coach, Alex Garvin. "We are a disciplined group, that is committed and has toughness," Garvin states. Those are all great traits to have. They are imperative for winning programs.
What the Knights lack in speed and size they make up with heart and desire. The girth up front is a concern for Garvin. If Kings wants to return to the playoffs it must do a better job of getting off the field on defense. The Knights lost the time of possession battle in eight of their 10 games last fall. That led to the defense giving up 337.4 yards per tilt.
With the additions of Winton Woods, Little Miami and Lebanon to the ECC, the road to the postseason gets even harder. With five larger Division I opponents on the schedule there will be little margin for error. Kings cannot let up on any snap, or in any game if they want to be playing in Week 11.
Division II, Region 8
2019 RECORD: 6-4, 4-3 ECC
COACH: Alex Garvin (6-4 at Kings, one year; 6-4 overall, one year)
HONOR ROLL
Ty Stylski, Sr, RB – Led the ECC with 1,401 yards and 23 touchdowns rushing in 2019. Stylski earned OPSWA Division II Honorable Mention All-Ohio and First Team All-Southwest District honors for his work. He also had conference bests of 2,304 all-purpose yards and 144 points (24 TDs) scored. The heart and soul of the Kings offense, Stylski has amassed 3,043 all-purpose yards (953 ret, 396 rec), 1,674 yards rushing, 31 receptions and 28 touchdowns (26 rush, one rec, one KR) at the varsity level.
Brady Cefalu, Sr, OL/DL – The rangy lineman causes havoc on the edge, for the Kings defense with his 6-foot-5 frame. Cefalu had four sacks on his way to Second Team All-ECC accolades in 2019.
Gabe Hunt, Sr, WR – The top option in the Kings passing game. A three-year starter, Hunt has 59 receptions for 714 yards, four touchdown catches and 903 all-purpose yards in his career. He was named Second Team All-ECC as a junior.
Jackson Kwasniewski, Sr, QB – Threw for 1,726 yards and accounted for 15 touchdowns (nine pass, six rush) in his first year as a starter, last fall. Kwasniewski was named Second Team All-ECC for the effort.
Dawson McCulley, Sr, WR/DB – A Second Team All-ECC honoree as a junior, McCulley should be an even bigger factor on offense in 2020. He had six receptions for 88 yards a year ago.
Adrian Razo, Sr, OL/DL – Back for his third year as a starter, Razo is a presence on both sides of the line at 6-foot-3 and 320-pounds. He was a Second Team All-ECC selection as a junior.
OTHER RETURNEES
AJ Dailey, Sr, OL – Helped move defenses for a Kings offense that averaged 205.6 yards per game rushing and scored 36 times on the ground, last season.
Kevin Romo, Sr, OL – A vital cog up front for a Knights team that churned out 379.3 yards of total offense per contest in 2019.

Zach Hymer, Sr, DL – A returning starter who is a wonderful compliment to Cefalu on the Knights d-line. Hymer tallied three-and-a half sacks as a junior.
Jack Henderson, Sr, LB – Has a real nose for the football. Henderson has four career fumble recoveries.
Ethan Wolfe, Sr, DB/LB – A versatile back seven player for the defense. The coaching staff is expecting big things from Wolfe this fall.
Max Sanella, Jr, RB – All Sanella did in his varsity debut is run for 615 yards and four touchdowns in 2019. He also had five receptions for 62 yards.
NEWCOMERS
A trio of juniors WR/DB Aidan Guckenberger, WR/DB Michael Sarchet and OL Conner Purcell are expected to step in and contribute immediately for this team. Guckenberg had his only catch go for a touchdown against Withrow in 2019. Sarchet had his first varsity interception in that same affair.
PLAYOFF HISTORY
(14 appearances, 13-14) – 2108, 2016, 2015, 2014, 2013, 2011, 2010, 2008, 2007, 2005, 2004, 2003, 2002, 1999
2020 SCHEDULE
Fri – 08/28/20 – MASON – 7:00 PM
Fri – 09/04/20 – at Sycamore – 7:00 PM
Fri – 09/11/20 – WINTON WOODS – 7:00 PM
Fri – 09/18/20 – at Anderson – 7:00 PM
Fri – 09/25/20 – at Walnut Hills – 7:00 PM
Fri – 10/02/20 – LEBANON – 7:00 PM
Fri – 10/09/20 – at West Clermont – 7:00 PM
Fri – 10/16/20 – LOVELAND – 7:00 PM
Fri – 10/23/20 – at Turpin – 7:00 PM
Fri – 10/30/20 – LITTLE MIAMI – 7:00 PM