2020 Snapshot: CCPA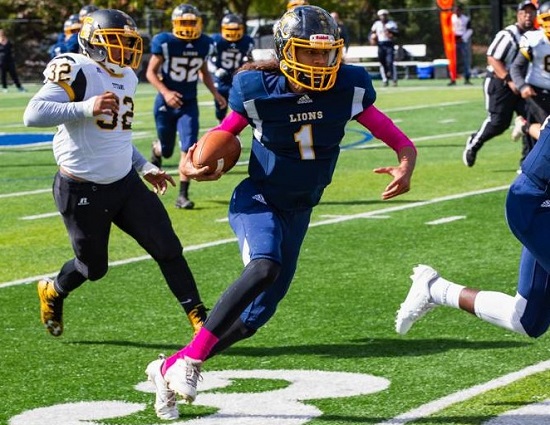 CCPA QB/FS Mark Smith (photo from ccpaonline.com/PhotoGallery.aspx)
One year ago, on the CCPA 2019 Snapshot, new CCPA coach Jeremy Pflug proclaimed, "this team will shock the city, I promise." His Lions fulfilled those wishes, making history along the way.
Cincinnati College Preparatory Academy set a school record for wins and made its first ever playoff appearance. The Lions went 0-9 and scored just 38 points in 2018 then won eight games last fall. It is a feat that has rarely, if ever, happened in Ohio gridiron history.
The best part of the turnaround was that every class contributed. This does not appear to be a one-year fluke. The cupboard is far from being bare for CCPA
"Our quarterback, Mark Smith (the reigning Division VII Southwest District Offensive Player of the Year), is the best player in the conference in my opinion. He is very tough to tackle with his speed and agility. Mark is very smart with the ball in his hands and does not make very many mistakes. He has taken necessary steps in the weightroom to grow in strength and will take the offense to another level," Pflug states.
Offensively, CCPA is potent and has weapons beyond Smith. "We have skills players that can rotate in and out without missing a beat. We are a no-huddle and up-tempo team so having these players that can come in, keeps our offense fresh. We are able to push tempo constantly versus opposing defenses to make them bland and unable to get their calls in on time," says Pflug. "We are young up front. Our line will need to take a step forward, for us to reach our goals of winning the MVC and a playoff game."
Pflug goes on, "defensively, we have a stable of linemen, led by K'hare Smith, that are strong and disruptive. They have great motors and are able tacklers. That allows us to pass rush and take on double teams so that our linebackers can make plays in the run game while dropping back into coverage without blitzing in the pass game."
This is a balanced squad that knows how to win. This fall could be even better than last. The sky is the limit for the Lions. The future is bright at CCPA
Division VII, Region 28
2019 RECORD: 8-3, 4-1 MVC Gray
COACH: Jeremy Pflug (8-3 at CCPA, one year; 37-14 overall, five years)

TOP RETURNEES
Mark Smith, Jr, QB/FS – Threw for 1,803 yards, ran for 1,081 yards and accounted for 30 touchdowns (18 pass, 12 rush) in nine regular season games as a sophomore. Smith was named OPSWA Division VII Southwest District Offensive Player of the Year and First Team All-Ohio for his efforts. Smith also had 34 total tackles and five interceptions on defense.
Deonta Shields, Sr, MLB – A team captain and leader of the defense. Shields makes calls and checks within the gameplan. He is solid tackler who fits in running lanes with violence. Shields was Second Team All-MVC Gray selection as a junior.
Zaire Mobley, Sr, RB/OLB – An electric player with the football in his hand. Mobley played safety last year and will be transitioning to the "Dog" role in the 4-2-5 defense. A Second Team All-MVC Gray honoree in 2019 he also had 15 receptions 158 yards and two touchdowns on offense.
Raeshaun Clark, Jr, RB/OLB – A patient runner that will get an opportunity to touch the ball more this year and improve on his 2019 campaign. Clark is a strong runner with a knack for the end zone.  He ran for 359 yards, had 14 receptions for 139 yards and found the end zone 11 times ( nine rush, two rec, one FR, one IR) on his way to Second Team All-MVC Gray accolades as a sophomore.
K'hare Smith, Jr, FB/NT – A strong defensively player with a quick first step. Smith who led CCPA in tackles for losses in 2019 is very disruptive at the point of attack for opposing offenses. He was named Second Team All-MVC Gray and Team Defensive Player of the Year as a sophomore.
Isaiah McConnal, So, WR/DE – Big and strong with great hands, McConnal will have an opportunity to be the "X" receiver and have the advantage of single coverages this season. McConnal was named Second Team All-MVC Gray after reeling in 20 receptions for 160 yards a touchdown as a freshman.
Donald Bailey, So, WR/DE – A solid young wide receiver, who stands 6-foot-4 and has great hands. Bailey is also an outstanding blocker. He caught 11 balls for 147 yards and a touchdown on his way to Honorable Mention All-MVC Gray as a freshman.
NEWCOMER
Derrick Crutchfield, Sr, WR – A basketball player, who has decided to play this season. Crutchfield has as great hands and leaping ability. He will be an asset at the "Z" wide receiver position.
PLAYOFF HISTORY
(one appearance, 0-1) – 2019
2020 SCHEDULE
Fri – 08/28/20 – FINNEYTOWN – 7:00 PM
Fri – 09/04/20 – FRANKLIN FURNACE GREEN – 7:00 PM
Fri – 09/11/20 – at Taylor – 7:00 PM
Fri – 09/18/20 – CLARK MONTESSORI – 7:00 PM
Fri – 09/25/20 – at Lockland – 7:00 PM
Fri – 10/02/20 – NEW MIAMI – 7:00 PM
Fri – 10/09/20 – at Cincinnati Country Day – 7:00 PM
Fri – 10/16/20 – at St. Bernard – 7:00 PM
Fri – 10/23/20 – MVCA – 7:00 PM
Fri – 10/30/20 – at North College Hill – 7:00 PM