2020 Snapshot: Taylor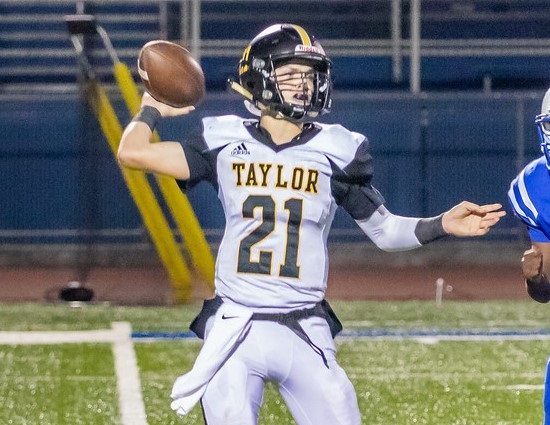 Taylor QB/DB/P Johnny Kearns (photo from wyomingathletics.org/sports/football)
It seems like Taylor football is stuck in that "Groundhog's Day" loop. The Yellow Jackets are looking to break that circle that has produced three straight 2-8 seasons under head coach Mark Miller.

Taylor will be led by a group of 19 seniors. They return nine starters on offense and eight on defense. "We have the capability to make some noise in the CHL. With 17 total starters returning on both sides of the ball, this group must rely on each other and prove that they can hang with anyone on the schedule," Miller states.
There is plenty that the Yellow Jackets need to clean up, on both sides of the ball, if they want to move forward. The offense was a -10 in turnover margin. Taylor averaged just 8.8 points in its eight losses. "We must be better at sustaining drives and capitalizing on scoring opportunities," Miller says.
"Defensively, we must to stop the run in 2020," Miller divulges. Taylor allowed 240 yards rushing per contest, a year ago.
The coach remains very optimistic. "The 2020 campaign could prove to be a special one for this senior class, as long as they can play together. They must believe that they can achieve the goals that we have set for this season."
Division IV, Region 16
2019 RECORD – 2-8, 1-6 CHL
COACH – Mark Miller (6-24 at Madeira, three years; 6-24 overall, three years)
HONOR ROLL
Harry Hilvert, Jr, OL/DL – Recorded a team best 88 total tackles and had five-and-a-half sacks as a sophomore Hilvert was named OPSWA Division III Second Team All-Southwest District for his work.
Johnny Kearns, Jr, WR/QB/S/P – Was a jack-of-all-trades for Taylor last season. Kearns had 160 yards passing, two touchdown passes, 73 yards rushing, one rushing touchdown, 24 total tackles and two interceptions. He was also named OPSWA Division III Second Team All-Southwest District  as a punter in 2019.
Daniel Aug, Sr, OL/DL – A two-year starter and anchor the offensive line. Aug will be up to the challenge of demanding attention this season, in the trenches. He was a Second Team All-CHL selection in 2019.
Jacob Sweigard, Sr, WR – A two-year captain, Sweigard is 11 catches shy of breaking the school record for career receptions. In 2019, Sweigard was named Honorable Mention All-CHL for a second straight season. He has 54 receptions for 484 yards, two touchdown catches and 1,036 all-purpose yards at the varsity level.
OTHER RETURNEES
Josh Walters, Sr, WR – will play a pivotal role in the Yellow Jackets passing attack. Walters reeled in 17 receptions for 146 yards as a junior.
Jose Gonzalez, Sr, RB/QB/Safety – A four-year starter for the Yellow Jackets, Gonzalez has played some of his best football in big games ever since he was a freshman.
Dylan Lanham, Jr, TE/WR – A big target at 6-foot-3 and 190-pounds, Lanham will play a key role in the Taylor offensive attack this season. He reeled in 16 catches for 169 yards and three touchdowns last fall.

Gage Hall, So, QB – In six games as a freshman, Hall threw for 593 yards, ran for 200 yards, and had three rushing and three passing touchdowns. Hall will find himself back in the mix of quarterback's that has been the best in Miller's four-years.
Ben Hilvert, So, RB/LB – Emerged onto the scene late last season and became a valuable member of the linebacking core. Hilvert tallied 38 total tackles and had one-and-a-half sacks as a freshman. He also ran for 106 yards and two touchdowns for the offense.

NEWCOMERS
Senior TE/DE Andrew Bartholonew along with juniors OL/DL Brady Keith and ATH Seth Keith are expected to make contributions starting in Week 1. The 6-foot-4, 225-pound Bartholonew will provide a physical presence on the Taylor defensive line.
PLAYOFF HISTORY
(one appearance, 0-1) – 2014
2020 SCHEDULE
Fri – 08/28/20 – at Lawrenceburg (IN) – 7:00 PM
Fri – 09/04/20 – BLANCHESTER – 7:00 PM
Fri – 09/11/20 – CCPA – 7:00 PM
Fri – 09/18/20 – at Mariemont – 7:00 PM
Fri – 09/25/20 – at Deer Park – 7:00 PM
Fri – 10/02/20 – READING – 7:00 PM
Fri – 10/09/20 – at Madeira – 7:00 PM
Fri – 10/16/20 – at Indian Hill – 7:00 PM
Fri – 10/23/20 – WYOMING – 7:00 PM
Fri – 10/30/20 – FINNEYTOWN – 7:00 PM