Player Spotlight: Sam Severt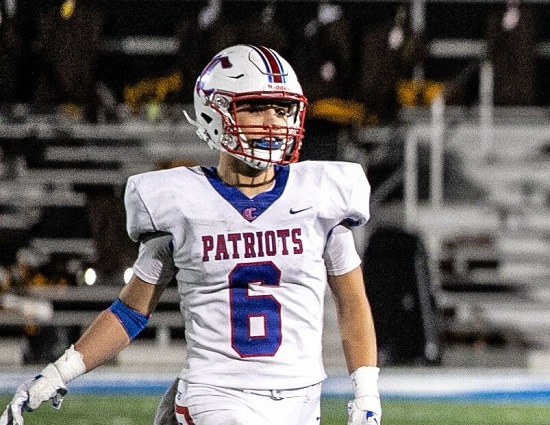 Carroll ATH Sam Severt (photo by Shelby Frieszell/TriStateFootball.com)
What sets Carroll athlete Sam Severt apart from his peers are the many facets to his game. He is one of the most underrated players in Division III, Region 12. Severt is the glue that hold the Patriots together.
"His talents give the Carroll football team the ability to use him in a variety of rolls. Offensively, he is listed as a wide receiver but he is really much more. He lines up in the backfield frequently and has taken snaps at quarterback," Patriots head coach Cody Byrd laments about Severt.
A letterman since his freshman year, Severt has amassed some very impressive numbers at several different positions for the red, white and blue. He has thrown for 212 yards, ran for 192 yards, caught 84 passes for 1,070 yards, racked up 1,944 all-purpose yards, accounted for 19 touchdowns (11 rec, three pass, three rush, two IR), recorded 122 total tackles and has eight interceptions including two pick sixes in his career, Whew.
Statistics are just a small part of Severt's value to the program. "Sam is a huge asset for the Carroll football team. He not only does everything our coaching staff asks of him, but Sam is our coach on the field. He is able to diagnose other teams and communicate what he sees with our staff in real time," Byrd says.
Severt's work on Friday nights has earned him OPSWA Division III Second team All-Southwest District (as a sophomore) and Second Team All-GCL Co-eds (as a junior) honors. He was also a Second Team All-GCL Co-eds performer in basketball as a junior.
Byrd sums it up best about Severt. "Sam is one of the more intelligent players I've ever had the pleasure of coaching. He is cerebral. Sam understands so much about the game of football. His intellect and athleticism are rare at this level. He leads by example on the field, and in the classroom, boasting a 3.9 GPA. Sam is really a renaissance athlete." I can't wait to see what his senior campaign has in store!"