2020 Preseason Blitz 5 Top 25 (11-15)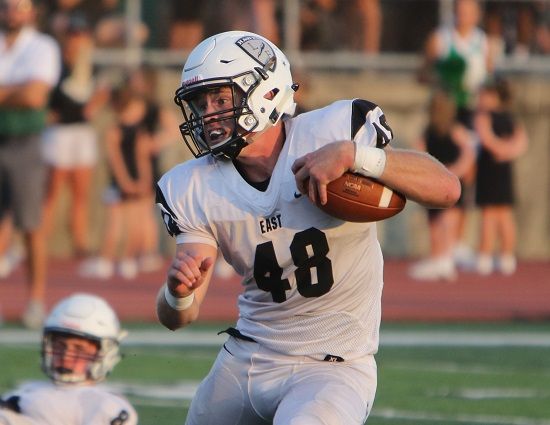 Day three of the 2020 Preseason Blitz 5 Top 25 presented by TriStateFootball.com hones in on the teams that sit just outside of the Top 10. Ironically, only one of these schools finished last season under .500.
East Central is the lone representative from Indiana in the poll. Three of the nine Greater Miami Conference (GMC) teams in the Top 25 reside in this cluster of the rankings.
15. Sycamore (5-5): The Aviators started eight sophomores last fall. Now older and wiser, Sycamore's core group is ready to take the next step. Five of Sycamore's 10 games in 2019 were decided by seven points or less. The Aviators went 2-3 in those affairs including three seven-point losses to league rivals (Mason, Lakota West, Hamilton). Six of the Aviators final seven GMC games are against teams that made the playoffs last season. NEXT UP: 8/28 – at Loveland (0-10).
14. Mason (5-6): Closing out games will be the difference between a good season and a great one for the Comets. Mason went 2-5 versus playoff teams and 1-3 in games decided by eight points or less, in 2019. NEXT UP: 8/28 – at Kings (6-4).
13. East Central (11-1): The Trojans players have been through the battles. They are a legitimate contender to win the Indiana Class 4A state championship. Defense will pave the road to that title. East Central allowed just 9.3 points per game and held 11 of their 12 foes to 17 points or fewer with four shutouts on its way to the program's first undefeated season in 20 years, last fall. NEXT UP: 8/21 – LAWRENCEBURG (5-6).
12. Lakota East (5-5): A young and talented backfield will power the Thunderhawks. That should bode well for a Lakota East squad that went 4-3 in games decided by 12 points or less, last fall. The Thunderhawks are at their best when they control the clock. The less an undersized Lakota East defense is on the field the better its chances for victory. NEXT UP: 8/28 – at #20 Turpin (10-1).
11. Moeller (2-8): Perhaps the team with the most to prove. The Crusaders look to rebound from the most forgettable season in program history. There is too much talent for Moeller to repeat its 2019 performance under new head coach, Mark Elder. The Crusaders return one First Team All-GCL South selection, defensive lineman, Nate Pabst and eight Second Team All-GCL South selections. NEXT UP: 8/28 – at #22 Middletown (1-9).