2020 Preseason Blitz 5 Top 25 (1-10)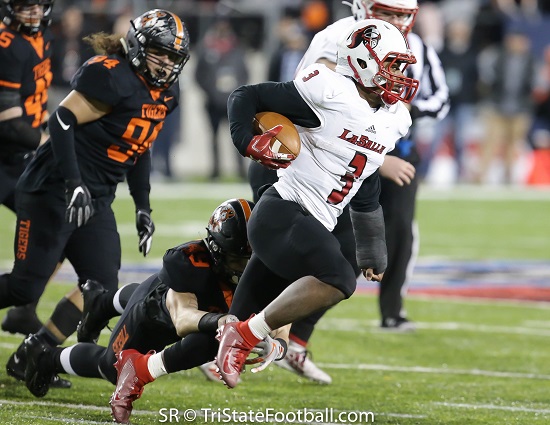 The La Salle Lancers begin the year as the #1 team in the 2020 Preseason Blitz 5 Top 25 presented by TriStateFootball.com. The reigning Ohio Division II state champion Lancers are on a quest for the program's fifth state title in the last seven seasons.
La Salle returns a core of players from a squad that won the Greater Catholic League (GCL) South outright (3-0), allowed just 13.1 points per game and averaged 32.9 points per game with an average margin of victory of 19.8 points in 2019. Three of the top four spots in the poll are occupied by GCL South teams.
The Greater Miami Conference (GMC) sent a record six schools to the playoffs a year ago. The GMC has nine teams in the Top 25. Five GMC schools sit in the Top 10 of the rankings.
The expansion of the Eastern Cincinnati Conference (ECC) with the additions of Winton Woods, Lebanon and Little Miami will cause all kinds of havoc to the rankings once conference play starts. The ECC has four squads in the Top 25.
Here is a look at the Top 10 teams and the complete 2020 Preseason Blitz 5 Top 25:
1. La Salle (13-2 in 2019): There is so much to like about the Lancers. They are loaded with experience. The offense is big across the line and the skill position players are potent. Senior quarterback Zach Branam, a Third Team All-Ohio selection in 2019, leads the offense. He is teamed up in the backfield with junior Gi'Bran Payne, who is arguably Ohio's best running back in the Class of 2022. On defense, La Salle has a secondary with four Division I recruits, including Jaylen Johnson (Ohio State commit) and Devonta Smith (Ohio State commit). With a schedule that includes 2019 state champions Trotwood-Madison (Ohio Division III), Covington Catholic (Kentucky Class 5A), state runner-up Elder (Ohio Division I), Lakota West, Winton Woods, St. Xavier and Moeller it will be very difficult for La Salle to maintain the top spot in the rankings all season. If they do, we will be talking about this team for many years to come. NEXT UP: 8/28 – at #6 Lakota West (7-4).
2. Colerain (11-2): Until proven otherwise Colerain is still the king of the GMC and the best public school program in Southwest Ohio. The Cardinals won their 20th consecutive GMC title and made the Regional finals for the fourth time in the last five years. The Colerain front seven on defense is outstanding. They are led by senior lineman Dontay "The Godfather" Corleone (Cinicnnati commit), who has 12.5 career sacks. The Cardinals have to replace their entire offensive line. There is very little experience for this unit and it may show, especially early on. NEXT UP: 8/28 – WAYNE (3-7).
3. St. Xavier (9-3): This is one program that never lacks for numbers. Like always, the Bombers will have many first year starters who will act and play, like they have been there before. This team will not be in awe of anyone they line up across. St. Xavier opened it up on offense last year, posting some monster numbers in the passing game. Senior wide receiver Liam Clifford (Penn State commit) flourished catching 77 balls for 1,180 yards and 13 touchdowns in 2019. The coaching staff now has to find the pieces to compliment Clifford. NEXT UP: 8/28 – at Brownsburg (IN) (7-4).
4. Elder (12-3): It's next man up for the Panthers. Elder has several senior studs that have bided their time behind some outstanding talent that came before them. Still this Class of 2021 has been to the regional finals and the state championship game during their careers. They know the grind. The Panthers will be one of three GCL South teams that has a new starting quarterback in 2020. In the past decade, Elder seems to have its best playoff runs when it has a dual threat signal-caller. NEXT UP: 8/28 – GAHANNA LINCOLN (3-7).
5. Winton Woods (6-3): Wins over two eventual state champions weren't enough to get the Warriors into the playoffs last season. Winton Woods will be highly motivated. The newest members of the ECC aren't going to show anyone mercy. That could lead to many long nights for the Warriors new league rivals. The Winton Woods' defense is loaded with four Division I recruits and is good enough to hold their own with any team in the state. NEXT UP: 8/28 at Trotwood-Madison (12-3).
6. Lakota West (7-4): A young team exceeded expectations last fall under new head coach Tom Bolden. The Firebirds made the playoffs for the sixth time in school history. The tables have turned, Lakota West now becomes the hunted, not the hunter. Sophomore Mitch Bolden was the first freshman to start a full season at quarterback in the GMC since Spencer Ware (Princeton) did it in 2006. Bolden has the pleasure of running and throwing behind stud junior lineman Tegra Tshabola (Ohio State commit). This season will be all about how the Firebirds handle success and cultivating a consistent winning tradition that has eluded the program throughout the years. NEXT UP: 8/28 – #1 LA SALLE (13-2).
7. Fairfield (10-2): The Indians continue to make progress under head coach Jason Krause. Fairfield made the playoffs for a fifth straight year and won its first postseason game in more than two decades in 2019. That train doesn't look to derail any time soon. Kruase claims this is the best offensive line that he's had in his 24 years as a head coach. That is a scary thought considering some of the outstanding linemen that the Indians have had during his tenure at the school. Senior Jaydan Mayes will be a major beneficiary of the holes that the group up front opens for him. NEXT UP: 8/28 – at Centerville (4-6).
8. Covington Catholic (15-0): The reigning Kentucky Class 5A state champion Colonels are 44-1 over the past three seasons. There will be plenty of new faces in the starting lineup, but that doesn't mean they aren't experienced. The Covington Catholic offense gets its leadership from senior quarterback Caleb Jacob, who has 5,649 passing yards and 61 touchdown tosses (just 16 interceptions) in his career. As good as the Colonels have been on offense over the last three years, the defense has been just as dominant. Covington Catholic has held 32 opponents of its last 45 foes to nine points or less with nine shutouts, 86 takeaways (60 INTs, 876 IRYs, five IRTDs), while allowing just 8.1 points per game. NEXT UP: 8/21 – at Ryle (5-6).
9. Princeton (6-5): Trying to figure out which Vikings team shows up on Friday night has been the program's biggest mystery the past several seasons. Princeton has some gifted gamebreakers, unfortunately there is a ton of untested talent around them. This is a great chance for some newcomers to really shine. To be a factor in the GMC the Vikings will need those breakout performers. Princeton will have some wins that make people take notice, but must avoid those head-scratching losses that have plagued them in the past if they are to make it, back-to-back playoff appearances for the first time since 1992-93. NEXT UP: 8/28 – at Dublin Jerome (9-3).
10. Hamilton (5-6): A talented backfield will propel the Big Blue. Keyshawn Stephens and Kaleb Johnson have combined to run for 3,695 yards and 35 touchdowns at the varsity level. The experience of making the playoffs in 2019 should only make this team more hungry to get back to the postseason. Hamilton looks to make program history with back-to-back playoff appearances and the school's first-ever postseason win. NEXT UP: 8/28 – WEST CLERMONT (5-5).
Here's the complete 2020 Preseason Blitz 5 Top 25
Presented by TriStateFootball.com
1. La Salle (13-2 in 2019)
2. Colerain (11-2)
3. St. Xavier (9-3)
4. Elder (12-3)
5. Winton Woods (6-3)
6. Lakota West (7-4)
7. Fairfield (10-2)
8. Covington Catholic (15-0)
9. Princeton (6-5)
10. Hamilton (5-6)
11. Moeller (2-8)
12. Lakota East (5-5)
13. East Central (11-1)
14. Mason (5-6)
15. Sycamore (5-5)
16. Simon Kenton (8-5)
17. Ross (8-3)
18. Anderson (7-3)
19. Turpin (10-1)
20. Walnut Hills (5-5)
21. Middletown (2-8)
22. Harrison (11-2)
23. Mount Healthy (5-5)
24. Highlands (6-5)
25. Wyoming (13-1)
KNOCKING ON THE DOOR: Badin, Beechwood, Clinton-Massie, Conner, Cooper, Dixie Heights, Kings, Lawrenceburg, Lebanon, Roger Bacon, Scott, Taft, Talawanda and West Clermont.