2020 Snapshot: Butler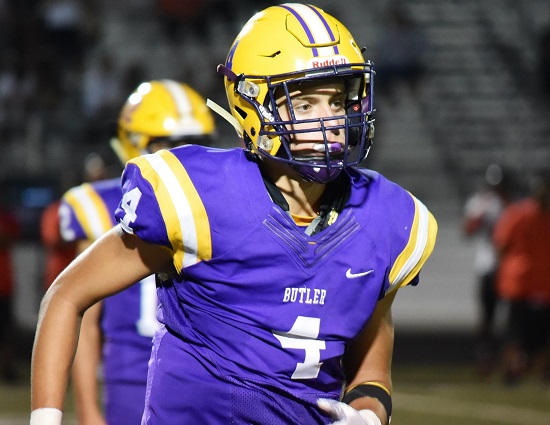 Butler WR Ryan Wilson (photo from butleraviatorsfootball.com)
Miami Valley League teams need to be very wary of a Butler squad that finished 2-8 a year ago. The Aviators started 12 sophomores and a freshman who anguished through Friday night growing pains in 2019. That cast is now experienced and when their chemistry kicks it could a fun fall in Vandalia.

Butler appears to be set up for a run over the next couple of years with its young talent. "We return a lot of starters. We should be really competitive this season with everyone we play as long as we can stay healthy," head coach John Puckett states. "On offense we will have a physical rushing attack. Our defense has speed and athleticism."
There are things that the Aviators need to improve on if they are to be better in 2020. The offense must find a way to put more points on the scoreboard. Butler comes into this campaign on a six-game losing streak. They averaged just six points per contest in that span. Three of those losses were by eight points or less. Learning how to find a way to win is still one of this team's biggest hurdles to conquer.
The upside is promising for Butler. Rising to the challenge is another story. As "cliched" as it sounds, the Aviators must want it more than their opponents. That hunger has to come from deep within each player.
Division III, Region 12
2019 RECORD: 2-8, 0-4 MVL Miami; 1-7 MVL
COACH: John Puckett (8-13 at Butler, two years; 8-13 overall, two years)
HONOR ROLL
Ryan Wilson, Sr, WR/DB – A First Team All-MVL selection as a junior, Wilson is the top returning receiver in the MVL. He has 55 receptions for 669 yards and 10 touchdowns in his career.
Mike Masters, Sr, LB – Back for his third year as a starter, Masters has great football instincts. He was in on 76 total tackles, had two sacks and recovered a fumble on his way to Second Team All-MVL honors in 2019.
Luke Mitchell, Jr, QB – Is everything a coach wants in a quarterback. Mitchell is a great athlete and hard-nosed competitor. He threw for 1,003 yards, ran for 455 yards and accounted for 10 touchdowns (seven pass, three rush) on his way to Honorable Mention All-MVL accolades as a sophomore.

OTHER RETURNEES
Matt Motter, Sr, DB – A tough, gritty leader on the defensive side of the ball. Motter has 44 career tackles.
James Reid, Jr, DL – A disruptive force on the d-line. Reid is effective with his hand down on the inside or standing up at the end position. He had 23 total tackles as a sophomore.
Jalen Applegarth, Sr, LB – A proven commodity, Applegarth has all-conference talent. He has 78 total tackles, six-and-a-half sacks, a fumble recovery and an interception in his two years as a starter.
Ryan Logan, Jr, DL – A high motor guy who is the perfect complement to Reid up front on the Butler defense. Logan was in on 20 total tackles a year ago.
Logan Mason, Jr, DB – Will give opposing receivers fits with his length. This could be a breakout campaign for Mason.
Jacob Louderback, Jr, OL – An anchor on the offensive line, Louderbeck has started every game of his career.
Brayton Bishop, Jr, LB – Gives the Aviators a relentless effort on the field every Friday night. Bishop tallied 31 total tackles in 2019.
Stevie Sipos, Jr, OL – An athletic and competitive lineman, Sipos provides a veteran presence in the trenches.
Kyle Fullam, Jr, TE – The 6-foot-4, 190-pound Fullam is a matchup nightmare for opposing secondaries. He had 13 receptions for 141 yards and a touchdown in his first season as a starter.
NEWCOMERS
A quartet of sophomores DB Caden Borchers, WR Evan Ables, WR Josh Morris, OL Jake Austin and junior LB Chandler Perdue are expected to step in and make contributions immediately. Perdue came on strong last season with 20 total tackles and two sacks over the Aviators final five tilts.
PLAYOFF HISTORY
(eight appearances, 6-8 overall) – 2018, 2015, 2013, 2003, 2002, 2001, 2000, 1999
2020 SCHEDULE
Fri – 08/28/20 – at Northmont – 7:00 PM
Fri – 09/04/20 – at Fairborn – 7:00 PM
Fri – 09/11/20 – SIDNEY – 7:00 PM
Fri – 09/18/20 – WEST CARROLLTON – 7:00 PM
Fri – 09/25/20 – at Stebbins – 7:00 PM
Fri – 10/02/20 – XENIA – 7:00 PM
Fri – 10/09/20 – at Greenville – 7:00 PM
Fri – 10/16/20 – PIQUA – 7:00 PM
Fri – 10/23/20 – TROY – 7:00 PM
Fri – 10/30/20 – at Tippecanoe – 7:00 PM