2020 Snapshot: Indian Hill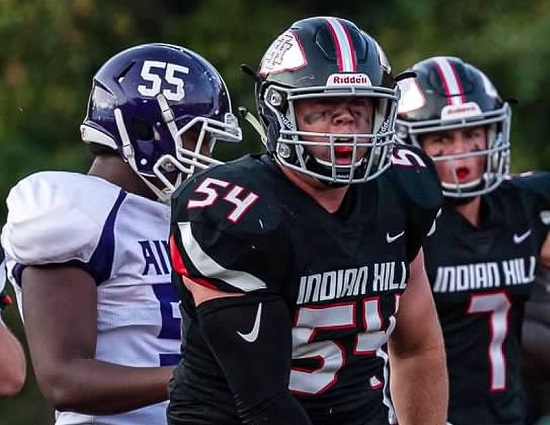 Indian Hill LB Will Klekamp
Five consecutive seasons of nine or more wins, a school record five straight tips to the playoffs is very impressive but Indian Hill still has some unfinished business to take care of in 2020. The Braves have gone a combined 47-12 over the last five campaigns yet they can't seem to get past their arch-nemesis and league rival, Wyoming. The boys from Drake Road have plenty of motivation this fall.
Indian Hill has lost to Wyoming six times the last three seasons. The most painful part of that is the season ending playoff losses to the Cowboys. This Braves squad has the talent to rectify that situation.
"Experience is our strength. Our senior class is big with 17 players, and many of them have two years of starting experience. Our junior class also has 17 members and they have waited two years to contribute on Friday nights," head coach Tony Arcuri states.
There is a bit of concern under center for Arcuri. "The development of this position will be key to our success." He shouldn't be too worried, Braves quarterbacks have combined to throw for 86 touchdowns, run for another 56 scores with just 21 interception during the regular seasons over the past five years.
No matter who ends up as the signal-caller, don't expect the train to come off the tracks at Indian Hill. This cast of Braves is very capable of taking this program to the next level.
Division IV, Region 16
2019 RECORD: 9-3, 6-1 CHL
COACH: Tony Arcuri (52-16 at Indian Hill, six years; 65-24 overall, eight years)
HONOR ROLL
Will Klekamp, Sr, OL/LB – A four-year starter, Klekamp has been the team's leading tackler the last two seasons. A First Team All-CHL honoree as a junior, Klekamp has nearly 200 tackles and four-and-a-half sacks in his career.
Charlie DiGennaro, Sr, WR/DB – A two-time First Team All-CHL as selection, DiGennaro is the leader of the Braves secondary. He will also play a bigger role as a receiver in 2020.
Luke Hammond, Sr, WR/DB – One of the more versatile and underrated players in the CHL. Hammond was named Second Team All-CHL in 2019 after catching 39 passes for 547 yards with eight touchdown catches, two passing touchdowns, one rushing score and two interceptions including a pick six. He has 55 receptions, 726 receiving yards and 12 touchdown catches.
Nate Berger, Sr, OL/LB – The Braves second leading tackler from a year ago. That effort earned Berger Second Team All-CHL accolades.
Zach Osterhues, Sr, DE – An Honorable Mention All-CHL selection in 2019, Osterhues returns for his third year as a starter.
Joey Scholle, Sr, OL/DL – Back for his third year as a starter, Scholle is the heart-and-soul of the Braves offensive line. He was named Second Team All-CHL as a junior.
Grant Lanham, Sr, OL/DL – The 6-foot-5, 280-pound Lanham is drawing plenty of attention from Division I colleges. He was named Honorable Mention All-CHL as a junior.
Charlie Sumerel, Sr, RB – Was the Braves second leading rusher a year ago with 552 yards and six touchdowns. Sumerel was named Honorable Mention All-CHL for his work.
OTHER RETURNEES
Doug Zang, Sr, DB/P – Will be one of the area's best punters. Zang who averaged 38.7 per punt as a junior is getting interest from Division I colleges.  He also had two interceptions last season.
Will Adair, Jr, LB – Started as a sophomore and ended up fourth on the team in tackles. Adair also had an interception.
Jake Fox, Sr, DB – A reliable defensive back, Fox is primed for a big senior campaign.
NEWCOMERS
Seniors WR/DB Leo Mangialardo, OL/DL Dan Sheard along with juniors DL Joseph David, WR/DB Luke Folke, H-back/DB Cooper Wyler, QB/LB Robbie Guttman, QB/ATH Ty Thornton and RB/DB Antwan Peek Jr. all have a chance to earn starting jobs. Guttman and Peek Jr. each had a pair of rushing touchdowns in 2019. Thornton is back after not playing last season. He was an Honorable Mention All-CHL defensive back as a freshman.
PLAYOFF HISTORY
(13 appearances, 9-13) – 2019, 2018, 2017, 2016, 2015, 2007, 2006, 2005, 2004, 2001, 2000, 1999, 1996
2020 SCHEDULE
Fri – 08/28/20 – MARION LOCAL – 7:00 PM
Fri – 09/04/20 – at McNicholas – 7:00 PM
Fri – 09/11/20 – at Taft – 7:00 PM
Th – 09/17/20 – DEER PARK – 7:00 PM
Fri – 09/25/20 – MADEIRA – 7:00 PM
Fri – 10/02/20 – at Mariemont – 7:00 PM
Fri – 10/09/20 – at Reading – 7:00 PM
Fri – 10/16/20 – TAYLOR – 7:00 PM
Fri – 10/23/20 – at Finneytown – 7:00 PM
Fri – 10/30/20 – WYOMING – 7:00 PM
LIGHTING UP THE SCOREBOARD
In their 47 wins, over the last five seasons, the Braves have scored 40 or more points in 36 times. Indian Hill has scored 50 points or more in 17 of those victories, 60 or more points 10 times and 70-plus points twice.
NFL PEDIGREE
Antwan Peek Jr. and Ty Thornton are sons of former NFL defensive linemen. Antwan Peek Sr. went to the University of Cincinnati, then was drafted by and played several years with the Houston Texans. Peek Sr. finished his career with the Cleveland Browns. John Thornton went to West Virginia, then was drafted and played four seasons for the Tennessee Titans. He played his final six years with the Cincinnati Bengals.