2020 Snapshot: McNicholas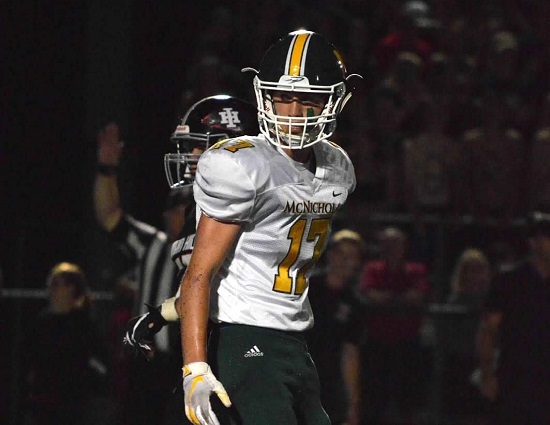 McNicholas WR/DB Caden Conrad
Things went south in a hurry for McNicholas last season. The Rockets misfortunes snowballed ending the year with six straight losses. There is no looking back now for a McNick squad that is eager to prove itself on the field.
"We only graduated seven players. We have a lot of experience returning with a handful of three-year starters.  We will go as our seniors go," head coach Mike Orlando states.
McNicholas started last season 3-1, then the offense sputtered scoring just 37 in its final six defeats. The Rockets scored 16 points or less on nine occasions.
"We feel like we were much better than a three-win team in 2019 but that was the reality of the situation. We had the talent and ability but we were inconsistent in many areas which kept us from maximizing our potential. We are working hard in all phases to make sure that we are our best versions during every opportunity that we get," Orlando laments.
It has been six years since McNicholas made the playoffs. The program is 4-16 over the past two seasons. This Rockets team has the pieces to put the program back on the right track. To get that done, McNick must play with a chip on its shoulder. There is plenty of motivation to do so, after the way 2019 ended.
Division IV, Region 16
2019 RECORD: 3-7, 0-5 GCL Co-eds
COACH: Mike Orlando (45-48 at McNicholas, nine years; 45-48 overall)
TOP RETURNEES
Caden Conrad, Sr, WR/DB – The team leader who has played a lot of snaps on both sides of the ball.  The Rockets will lean on Conrad to continue to move this team forward. He was named Second Team All-GCL Co-eds (DB) after recording 36 total tackles and four interceptions including a pick six a year ago. On offense, Conrad also had 37 receptions for 466 yards and a touchdown.
Austin Ramey, Sr, OL/DL – A four-year starter, who will anchor the o-line.  The 6-foot-3, 295-pound Ramey was a Second Team All-GCL Co-eds selection as a junior.
Ethan Upchurch, Sr, DE – A disruptive player that will anchor the defensive line. Upchurch earned Second Team All-GCL Co-eds honors after getting in on 93 total tackles with two-and-a-half sacks in 2019.
Boyd Bramble, Sr, RB – A hard worker and team leader who will be instrumental in maintaining offensive consistency for the Rockets. Bramble ran for 764 yards with six rushing scores, had 21 receptions for 197 yards and 999 all-purpose yards last fall. He was named Honorable Mention All-GCL Co-eds for the effort.
Jack Kamp, Sr, WR/DB – Will be a factor on both sides of the ball. Kamp was named Honorable Mention All-GCL Co-eds after nabbing 19 receptions for 225 yards, tallying 22 total tackles with an interception as a junior.
Clay Badylak, Sr, QB – A three-year starter, the Rockets are looking to capitalize on Badylak's experience at the position.  He has thrown for 2,911 yards and 12 touchdowns at the varsity level.
Vincent Beiser, Sr, DL – Led McNick with five sacks in 2019. Beiser was also in on 50 total tackles.
Hank Veeneman, Sr, WR/DB – A tough player that has great instincts. Veeneman had 10 receptions for 155 yards, 28 total tackles and two interceptions as a junior.
Jack Suttles, Jr, LB – A returning starter, Suttles had 60 total tackles, and an interception as a sophomore.
PLAYOFF HISTORY
(11 appearances, 9-11) – 2014, 2013, 2012, 2010 (Regional Champion), 2003, 2001, 2000, 1999, 1997, 1985, 1984 (State Runner-up)

2020 SCHEDULE
Fri – 08/28/20 – AIKEN – 7:00 PM
Fri – 09/04/20 – INDIAN HILL – 7:00 PM
Fri – 09/11/20 – CHCA – 7:00 PM
Fri – 09/18/20 – at Purcell Marian – 7:00 PM
Fri – 09/25/20 – ROGER BACON – 7:00 PM
Fri – 10/02/20 – FENWICK – 7:00 PM
Fri – 10/09/20 – at Carroll – 7:00 PM
Fri – 10/16/20 – at Chaminade Julienne – 7:00 PM
Fri – 10/23/20 – ALTER – 7:00 PM
Fri – 10/30/20 – at Badin – 7:00 PM