2020 Snapshot: Goshen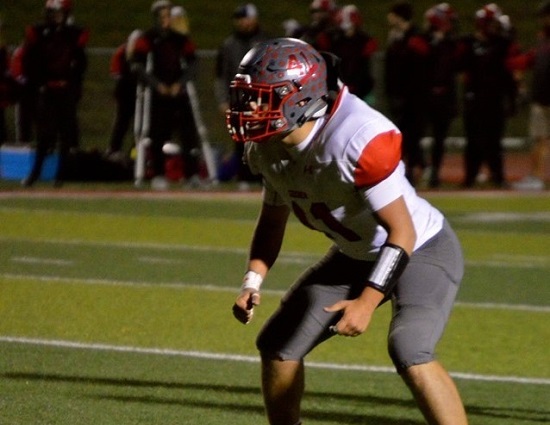 Goshen LB Logan Harrison
If there was ever a team that should feel really good about itself heading into this season, Goshen would be it. The Warriors come into 2020 oozing with confidence after winning their last four tilts a year ago. That momentum doesn't appear to be stopping anytime soon.
"We currently have 16 seniors and 22 juniors out for football. We feel we have the schedule and personnel to set us up to make a run at a league championship and the playoffs," head coach Greg Miller states.
The defense returns seven players who started games last fall. It was an opportunistic unit that forced 20 turnovers and returned five of those takeaways for touchdowns in 2019.
On offense, Goshen returns all five of its offensive linemen and its quarterback. One area that the Warriors have to fill voids, is at running back. There is only one running back on the roster that has run for a touchdown at the varsity level. "We feel we have the talent to reload at this position," Miller says.
The program is as stable as it has ever been. Goshen has not had a losing season since 2014. Now it is time for the Warriors to take the next step. Getting to the playoffs and winning its first postseason game is very much an attainable goal for this group.
Division III, Region 12
2019 RECORD: 7-3, 4-1 SBAAC American
COACH: Greg Miller (7-3 at Goshen, one years; 7-3 overall)
HONOR ROLL
Trevor Adams, Sr, DE – Was named Division III Second Team All-Southwest District after tallying two-and-a-half sacks and recovering three fumbles in 2019. Adams is drawing interest from Harvard and Ball State. He has seven-and-a-half sacks and five fumble recoveries in his career.
Eric Eickenhorst, Sr, OL/DL – Has a great motor and feel for the game, Eickenhorst rarely comes off the field. Last fall he started on both sides of the line and wound up with seven sacks on defense.
Logan Harrison, Sr, FB/MLB – The leader on defense in 2019, Harrison was named First Team All-SBAAC American. He topped the team in solo and assisted tackles, forced two fumbles, recovered a fumble and had an interception.
Jack Webster, Sr, QB – Will be back for his third year as a starter. Webster does a great job of running the triple option offense. He only had six turnovers while accounting for 17 touchdowns (12 pass, five rush) as a junior.
Seth Anderson, Sr, LB/P – An interesting skill set makes Anderson a very valuable commodity. He had five (four INT, one FR) of Goshen's 20 takeaways including two pick sixes and a scoop and score, in 2019. Anderson also averaged 37.4 on 27 punts. He was named Honorable Mention All-SBAAC American for his work.
Ashton Harris, Sr, RB – An excellent option as a runner and a receiver. Harris led the Warriors with 15 receptions, was second on the team with 498 yards rushing and had two touchdown catches as a junior. His effort earned him Honorable Mention All-SBAAC American acclaim.
OTHER RETURNEES
Connor Hellenthal, Jr, OL – Back for his second year as a starter, the 6-foot-4, 310-pound Hellenthal moves well and has developed the nasty attitude needed to lead an offensive line.
Tucker O'Donnell, Sr, OL/LB – A two-way player who will start on both sides of the ball for a second straight season.
Trey Wilson, Jr, OL – A returning starter for an offensive line that helped the Warriors average 199.3 yards per game rushing a year ago.
NEWCOMERS
Logan Lovins, Jr, RB/LB – Has the potential to become one of the Warriors top backs over the next two years.
Brice Brewer, Jr, ATH/DB – Will play in the secondary on defense and line up at multiple skill positions on offense.
Rafeal Farris, Sr, WR/ DB – A physical player who has great speed. Farris was hampered by an injury in 2019 appearing in only four contests. He did make his presence felt with two receptions and an interception.
Tracker Newberry, Jr, K – Is back to take on the kicking responsibilities that he held as a freshman. Newberry went 23/28 on extra points and connected on his only field goal attempt in 2018.
PLAYOFF HISTORY
(five appearances, 0-5) – 2017, 2009, 2007, 1993, 1990
2020 SCHEDULE
Fri – 08/28/20 – at Little Miami – 7:00 PM
Fri – 09/04/20 – HILLSBORO – 7:00 PM
Fri – 09/11/20 – WESTERN HILLS – 7:00 PM
Fri – 09/18/20 – at Miami Trace – 7:00 PM
Fri – 09/25/20 – at Blanchester – 7:00 PM
Fri – 10/02/20 – at Clinton-Massie – 7:00 PM
Fri – 10/09/20 – WILMINGTON – 7:00 PM
Fri – 10/16/20 – WESTERN BROWN – 7:00 PM
Fri – 10/23/20 – at Batavia – 7:00 PM
Fri – 10/30/20 – NEW RICHMOND – 7:00 PM
POSTSEASON FUTILITY
Goshen is one six TriState Football area teams that has been to the playoffs five times or more without a win. Madeira (0-11), Ross (0-7), Lockland (0-7), Hamilton (0-5) and Williamsburg (0-5).