Dayton Round-Up: Cats top Elks in OT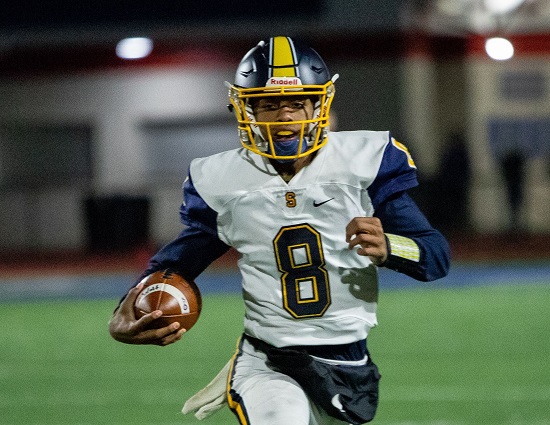 Springfield QB Te'Sean Smoot (photo by Dan Beineke/TriStateFootball.com)
Is Hell freezing over in the Gem City? Stebbins and Fairborn are 2-0 and Alter is 0-2. Perennial cellar dwellers Fairborn and Stebbins are finding that the gridiron gods are looking down kindly upon them.
Alter, a prolific playoff powerhouse, finds itself in a position it has rarely been in. The last time the Knights lost their first two games of the season was in 2008 and those were due to forfeits. That year, Alter won its next 13 games and the Division IV state championship. You have to go back to 2000 when the Knights legitimately got out of the gate with two losses.
SPRINGFIELD 31, CENTERVILLE 24 OT
Springfield (2-0, 2-0) used another one of its nine lives, escaping with 31-24 overtime victory at Centerville (1-1, 1-1). Despite five turnovers the Wildcats found a way to win their second seven-point contest to start 2020. Springfield junior QB Te'Sean hit sophomore WR Shawn Thigpen on a 20-yard touchdown pass for the game winning score.
Smoot finished the night with 262 yards, three touchdowns passing and one rushing. It was the third straight game that Smoot has tossed three touchdown passes. He also has seven of his 14 career interceptions in that span. Thigpen was one of five receivers with at least two catches on the night. Northwestern transfer, WR/DB Ben Van Noord led the team with six receptions for 76 yards.
Centerville junior QB Chase Harrison was 14-28 for 154 yards with a passing and rushing touchdown. Classmate WR Cam Smith was Harrison's favorite target. Smith caught 10 of those balls for 113 yards and a touchdown. He now has 63 career receptions of which 19 have come in two tilts against Springfield. As well as 230 of his 777 receiving yards and three of his eight touchdown catches have come versus the Wildcats.
FAIRBORN 45, WEST CARROLLTON 32
Fairborn (2-0, 2-0) RB/LB Hunter Warner is playing like a man possessed. Warner, the reigning Division II OPSWA Southwest District Defensive Player of the Year, ran  for 237 yards, had two receptions for 83 yards, found the end zone four times (three rush, one rec) and had a sack as the Skyhawks racked up 546 yards of total offense. The game featured nine offensive plays of 30-yards or more.
Warner had a pair of 68-yard touchdown runs and a 75-yard touchdown catch. He now has 409 yards (326 rush, 83 rec) from scrimmage to start 2020. Fairborn senior quarterback Patrick Parrish amassed 263 yards (176 pass, 87 rush) of total offense and accounted for three touchdowns (one pass, two rush).
West Carrollton (0-2, 0-2) junior RB Tyron Darby ran for 103 yards and a pair of touchdowns. Classmate WR Jorden Berry hauled in four receptions for 113 yards including touchdowns of 30 and 40 yards.
BELLBROOK 34, FRANKLIN 0: Bellbrook (2-0, 2-0) validated that it was the real deal with a resounding shutout over rival Franklin (1-1, 1-1). The Golden Eagles have been impressive on offense and defense. They have outscored their opponents 82-0 to start 2020.
Junior RB Seth Borodny followed up a Week 1, three touchdown receiving performance with a 130-yard and three scores rushing encore. Borodny has 276 yards on the ground, five receptions for 97 yards receiving and the six trips to the end zone in two tilts.
Here are some other scores from Dayton area teams in action on Friday night: 
GWOC
NORTHMONT 20, FAIRMONT 6: Northmont (2-0 2-0) QB Cade Rice threw for 159 yards, ran for 87 yards and had a passing and rushing touchdown.
SPRINGBORO 77, BEAVERCREEK 16: Springboro (1-1) was unstoppable posting 77 points in the first three quarters this rout. Panthers RB Moise Armbruster found the end zone four times on five carries for 112 yards. Classmate Titan Case made the most of his three touches with a 33-yard touchdown catch and an 89-yard touchdown run in the first seven-plus minutes of the game putting Springboro up 14-0.
WAYNE 35, MIAMISBURG 24: Wayne QB Cam Fancher threw a touchdown pass and had a 56-yard scoring run in the fourth quarter to lead the Warriors come from behind win. The senior finished the night with 122 yards through the air and 98 on the ground while accounting for three touchdowns (one pass, two rush).
MVL
PIQUA 43, BUTLER 18: This is Piqua's first 2-0 start since its last playoff appearance in 2105. Indians RB/LB Ca'Ron Coleman is putting his hat in the ring for MVL Athlete of the Year. He has eight carries for 89 yards (11.1/carry), a rushing touchdown, 157 all-purpose yards on 13 touches, 11 solo tackles, two sacks and two interceptions to start the senior season.
TROY 34, XENIA 7: Sophomore RB Nick Kawecki had a career high 126 yards on 10 carries with a touchdown for Troy who improves to 1-1.
TIPPECANOE 28, GREENVILLE 0: Red Devils are now 2-0 while giving up just 13 total points. Tippecanoe WR/DB Nick Shirley has 298 all-purpose yards (137 on six rec) on 14 touches and four touchdowns (three rec, one KR) to begin his senior campaign
STEBBINS 22, SIDNEY 20: The Indians survive four turnovers and 90 penalty yards for first 2-0 start in the 21st century. Stebbins junior QB Nate Keller had 133 yards passing, 130 rushing with one passing and one rushing touchdown. 
GCL CO-EDS
McNICHOLAS 30, FENWICK 6: This is the first time McNicholas has won two-games in row and scored 30-plus
points in each contest since doing it on September 15th (at Roger Bacon, 31-14) and September 22nd (at Purcell Marian, 31-6), 2017. The Rockets were 6-20 between those accomplishments.
CARROLL 20, CHAMINADE JULIENNE 17: Patriots get first win against CJ since 2015. The Eagles had won the previous four games, averaging 47.5 points with a 22.0-point margin of victory.
BADIN 14, ALTER 12: Alter is now 3-6 in its last nine games. Three of those losses were to Badin.
SWBL
WAYNESVILLE 42, PREBLE SHAWNEE 7: Stray Arrows, Waynesville snares six interceptions against Preble Shawnee to even their record at 1-1. Seniors WR/DB Payton Layne and WR/DB Caleb Lamb each had two picks including a pick six for Lamb.
VALLEY VIEW 31, MONROE 7: Senior QB Ben Owens is hot out of the gate for the, yet to be really tested, 2-0 Valley View Spartans. Owens has amassed 449 yards of total offense (333 pass, 118 rush) and accounted for nine touchdowns (six pass, three rush) with no turnovers.
BROOKVILLE 42, CARLISLE 6: Brookville TE/DE Daniel Dominique can't be stopped. The senior had two touchdown catches and his second straight 100-plus yard receiving game. Dominique has five receptions for 225 yards (45.0/rec) and three touchdowns to start the year.
DIXIE 24, NORTHRIDGE 12: Dixie comes up with six takeaways to even its record at 1-1.
MILTON-UNION 13, MIDDLETOWN MADISON 12
EATON 10, OAKWOOD 7