VOTE: Player of the Week – Week 2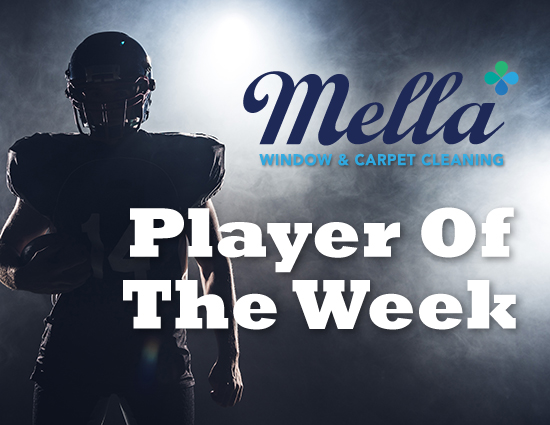 TriStateFootball.com is proud to present the Mella Window & Carpet Cleaning Player of the Week for the 2020 regular season. Players will be nominated from the Cincinnati, Northern Kentucky and Eastern Indiana areas throughout the season.
Each week a group of nominees will be selected from a large list of some of the area's top performances and will be included in an online voting poll to determine a winner. The poll will launch weekly on Sundays. Voters can vote once per hour, per IP address (we track it on back end so cheating will result in votes being voided) through Wednesday at 12:00 PM Eastern weekly.
Once a player has won, they were ineligible to be nominated a second time. Players can only be nominated three times during the course of the season.
All of the season winners will be recognized and receive a plaque at the TriStateFootball.com Year in Review Show in February of 2021 (more details announced once season concludes).
+++
Take advantage of this internet special at Mella Window & Carpet Cleaning:

Whole house window cleaning $179 – COMPLETE DETAILS
+++
Here are this week's nominations…
Jayden Bradshaw, Fayetteville-Perry, Jr, WR – Hauled in seven receptions for 119 yards and four touchdowns as the Rockets soared to a 27-0 victory over Williamsburg.
Talon Fisher, Fairfield, Fr, QB – Churned out 299 yards on 17 carries with four touchdowns and had another 25yards passing as the Indians ran all over Middletown, 35-13.
M.J. Flowers, Colerain, Jr, RB – Carried the ball 23 times for 190 yards and two touchdowns as the Cardinals blanked Oak Hills, 30-0.
Ben Hambleton, Elder, Jr, QB – Completed 14-16 passes for 317 yards and four touchdowns as Elder eased past Floyd Central, 42-14.
Corey Kiner, Roger Bacon, Sr, RB – had 180 yards on 17 totes and five rushing touchdowns (all in the first half) in the Spartans 42-14 romped over CHCA.
Luke Lytle, New Richmond, Sr, QB – Amassed 429 yards of total offense (267 pass, 162 rush) and accounted for six touchdowns (three pass, three rush) and the Lions won an epic battle over Western Brown, 77-61.
Brogan McCaughey, St. Xavier, Jr, QB – Aired it out with 309 yards and three touchdowns passing in the Bombers 24-20 victory against La Salle.
Kaidan Naughton, Turpin, Sr, RB – Ran for 121 yards, had three receptions for 52 yards and found the end zone four times (three rush, one rec) as the Spartans improved to 2-0 after beating Milford, 49-14.
Drew Novak, Western Brown, So, QB – Threw for 513 yards (that is not a typo), had 66 yards rushing and accounted for five scores (three pass, two rush) in a 77-61 loss to New Richmond.
Caleb Rao, Lakota West, Sr, WR – Caught five balls for 92 yards with two touchdowns as the Firebirds took down Hamilton, 40-13.
Tyrek Spikes, Winton Woods, Jr, RB – Had a career-high 154 yards rushing with 90 and 25-yard touchdown runs in the Warriors' 27-20 win over Lebanon.
Ty Stylski, Kings, Sr, RB – Found the end zone six times (five rushing, one receiving), rushed for 234 yards and had four catches for 47 yards receiving as the Knights rocked rival Anderson, 70-34.
Garrett Yoon, Lawrenceburg, Jr, QB – Accounted for seven touchdowns (four passing, three rushing) while throwing for 216 yards and rushing for 97 yards as the Tigers took down Milan, 48-14.
*Nominate players weekly by emailing us at staff@tristatefootball.com by 9AM Sunday mornings.