Friday Round-Up: Week 2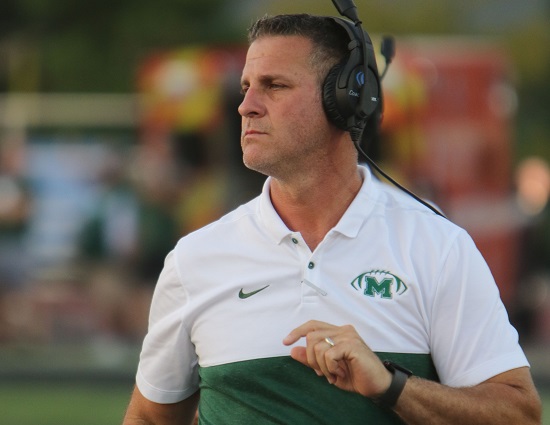 Mason moved to 2-0, joining Lakota West and Princeton, atop the GMC standings as they knocked off Lakota East on the road Friday night, 28-21.
The Comets didn't play a perfect ball game, but they did enough to pull out the win. A pair of turnovers went a long way towards them securing the victory.
Junior quarterback Michael Molnar completed 7-of-13 passes for 69 yards and a TD. He also carried the ball 14 times for 69 yards and a touchdown. Senior Nolan McCormick led all rushers with 70 yards and a touchdown on 16 attempts.
The Thunderhawks got a pair of touchdowns from senior running back Josh Thornhill, but it wasn't enough as they fell short in their home opener. Lakota East falls to 0-2 with losses by just three and seven points.
#4 LAKOTA WEST 40, #14 HAMILTON 13
The Big Blue got on the scoreboard first when Keyshawn Stephens hit Quincy Simms Marshall on a 16-yard pass three minutes into the contest, but from there it was all Firebirds.
Lakota West rolled off 40 unanswered points after that led by quarterback Mitch Bolden. The sophomore threw for 139 yards and and three touchdowns and added another 53 yards and a score on the ground. Caleb Rao pulled in five catches for 92 yards and a pair of touchdowns in the win.
The Firebirds kept things rolling after a big Week 1 win at Colerain and moved to 2-0 in the GMC. Defense has played a large part as they now yielded just 13 points through eight quarters of play. The unit came up with four turnovers versus Hamilton, including a pick-six by Kweisi Jones.
#13 EAST CENTRAL 21, #8 MOELLER 6 
The biggest upset of the night took place as the Trojans took down the Crusaders. After a scoreless first quarter, East Central got on the scoreboard first and led 7-0 at the half after Jake Fike scored on a 16-yard run. 
It looked like Moeller would get some momentum after the break when they stopped the Trojans on their opening drive. Then the ensuing punt was returned 40 yards by the Crusaders. Shortly thereafter Moeller's Daniel Dunlop ran one in from four yards out. However, a blocked PAT left it 7-6. East Central got a 3-yard run by Jackson Sohns with just over six minutes in the game and then sealed the deal on a Koel Viel 1-yard run with just one minute remaining.
Turnovers were the difference in this one as East Central held a 3-0 advantage. The Trojans also fared much better on third down, converting 8-of-15 chances compared to the Crusaders' 1-for-6 effort.
Here are some other scores from teams ranked inside our Blitz 5 Top 25:
OHIO
No. 5 Winton Woods 27, Lebanon 20
No. 6 Colerain 30, Oak Hills 0
Kings at No. 17 Anderson (Game Saturday 7PM)
No. 18 Turpin 49, Milford 14
No. 20 Badin 14, Alter 12
No. 12 Fairfield 35, No. 24 Middletown 13
No. 22 Wyoming 40, Mariemont 6
No. 23 Ross 41, Northwest 36
INTERSTATE
No. 3 Elder 42, Floyd Central (IN) 14
*Stay updated on high school football updates by following @TSFootball on Twitter.