VOTE: Player of the Week – Week 5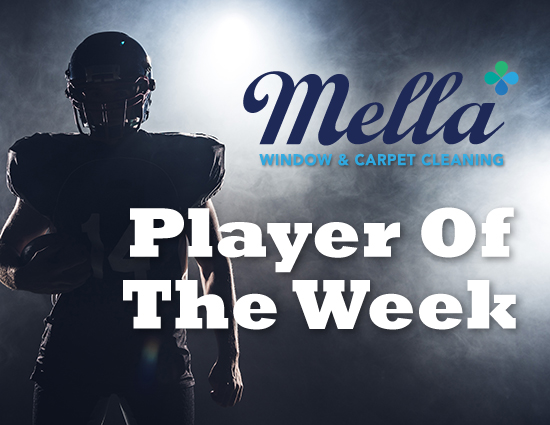 TriStateFootball.com is proud to present the Mella Window & Carpet Cleaning Player of the Week for the 2020 regular season. Players will be nominated from the Cincinnati, Northern Kentucky and Eastern Indiana areas throughout the season.
Each week a group of nominees will be selected from a large list of some of the area's top performances and will be included in an online voting poll to determine a winner. The poll will launch weekly on Sundays. Voters can vote once per hour, per IP address (we track it on back end so cheating will result in votes being voided) through Wednesday at 12:00 PM Eastern weekly.
Once a player has won, they were ineligible to be nominated a second time. Players can only be nominated three times during the course of the season.
All of the season winners will be recognized and receive a plaque at the TriStateFootball.com Year in Review Show in February of 2021 (more details announced once season concludes).
+++
Take advantage of this internet special at Mella Window & Carpet Cleaning:

Whole house window cleaning $179 – COMPLETE DETAILS
+++
Here are this week's nominations…
Jaheim Cherry, Northwest, Sr, QB – Had a big night with 353 yards of total offense (136 passing, 217 rushing), two touchdown passes and a rushing score as the Knights slid past Harrison, 24-12.
Gabe Dubois, St. Xavier, Sr, DB – Snared two interceptions, had two solo tackles and 122 all-purpose yards in the Bombers' win over Moeller, 43-14.
NaDavion Gaither, Mount Healthy, Jr, QB – Amassed 234 yards of total offense (167 rushing, 67 passing), threw for three scores and ran for another as the Owls shutout Talawanda, 34-0.
Demario Griffin, Clark Montessori, RB/DB – Excelled in all three phases of the game with a sack, fumble recovery, an interception and a touchdown rushing, receiving and on a kickoff return, as the Cougars downed Riverview East, 50-8.
Austin Hardin, Milford, So, QB – Threw for 314 yards and five touchdowns as Milford mauled Little Miami, 55-26.
Caleb Jacob, Covington Catholic, Sr, QB – Threw for 261 yards, ran for 51 more yards and accounted for five touchdowns, (three passing, two rushing) in the Colonels 41-0 shutout of Cooper.
Jacob Leicht, Bishop Brossart, Jr, QB – Found the end zone four times rushing, threw for a touchdown, with 123 yards rushing and 51 passing in the Mustangs' 35-7 victory against Holy Cross.
Mekhi Lynn, Princeton, Jr, QB – Put up 303 yards of total offense (207 pass, 96 rush) and accounted for five touchdowns (three pass, two rush) in the Vikings' 56-24 drubbing of Middletown.
Graham Nicholson, Summit Country Day, Sr, K – Knocked down field goals of 48 and 36 yards and connected on all three of his extra point attempts in Knights' 27-12 disposal of Purcell Marian.
Drew Novak, Western Brown, So, QB – Slung it for 359 yards and four touchdowns passing as Western Brown bested Wilmington, 40-34.
Colten Roy, Conner, Sr, RB – carried the ball just 11 times, but amassed 120 yards and three touchdowns in the Cougars' 40-0 shutout over Boone County.
Ty'aris Stevenson, Withrow, Jr, RB – Ran for 179 yards and five touchdowns as Withrow pummeled Aiken, 59-0.
Bartley Thomas, Elder, Jr, DB – Recorded four solo tackles, had two sacks, forced a fumble and intercepted a pass in the Panthers' victory at Walnut Hills, 35-7.
Ty Thornton, Indian Hill, Jr, QB – Accounted for six first half touchdowns (four passing, two rushing) and had 304 yards of total offense as the Braves routed Taylor, 60-6.
Mi'Chale Wingfield, Winton Woods, Sr, QB – Accrued 309 yards of total offense (180 passing, 129 rushing) and accounted for four touchdowns (three rush, one pass) as the Warriors remained perfect after taking down Anderson, 48-13.
*Nominate players weekly by emailing us at staff@tristatefootball.com by 9AM Sunday mornings.