Alter runs past rival CJ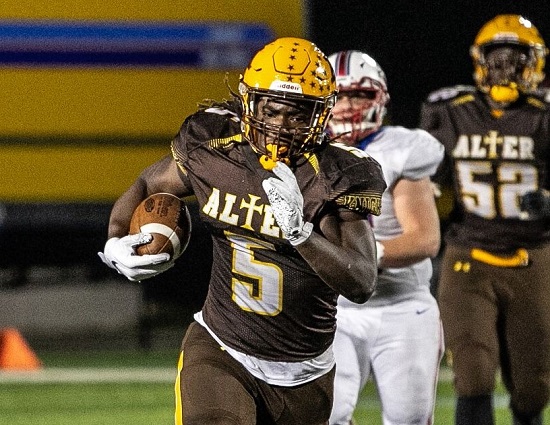 Alter RB Branden McDonald (photo by Shelby Frieszell/TriStateFootball.com)
DAYTON, Ohio – As the regular season ends, Alter seems be hitting its stride. After starting the year 0-2 for the first time since 2008 (and those two losses were by forfeit) the Knights won their fourth straight game pulling away from league rival Chaminade Julienne with 28 unanswered points in an 18 minute span. Alter has beaten the Eagles 10 times in their last 11 meetings.
Branden McDonald ran for 238 yards and three touchdowns as Alter amassed 512 yards of total offense of which 449 yards came rushing. This was the sixth time in McDonalds's career that he has ran for 200 yards or more in a game.
Quarterback Brian Shane added a career high 120 yards and two touchdowns on the ground. The senior also connected with classmate Patrick Connor on a 56-yard scoring strike.
It was the second time in the last three weeks that the Knights have posted 500-plus yards of total offense. Alter has scored 48 points or more in three of its last four victories.
Chaminade Julienne was led by junior Kenyon Owens who had a rushing and receiving touchdown on 11 touches for 122 all-purpose yards. He finished the night with three receptions for 80 yards.
SCORING BY QUARTERS
Chaminade Julienne 0-14-0-7-21
Alter 21-7-14-7-49
SCORING PLAYS
A: Branden McDonald 26 run (Jack Ruffalo kick)
A: McDonald 81 run (Ruffalo kick)
A: Brian Shane 63 run (Ruffalo kick)
C: Kenyon Owens 1 run (Ben Saunders kick)
C: Owens 25 pass from Luke Chandler (Saunders kick)
A: Patrick Connor 56 pass from Shane (Ruffalo kick)
A: McDonald 35 run (Ruffalo kick)
A: Brian Shane 17 run (Ruffalo kick)
A: Antonio Murphy 5 run (Ruffalo kick)
C: Antonio Lattimore 1 run (Saunders kick)
RECORDS: Chaminade Julienne (2-4, 1-4); Alter (4-2, 4-1)
UP NEXT: Chaminade Julienne hosts Northwest (3-2) on 10/09/20; Alter hosts Dunbar/Aiken winner on 10/16/20