Cincinnati Round-Up: Cream rises to top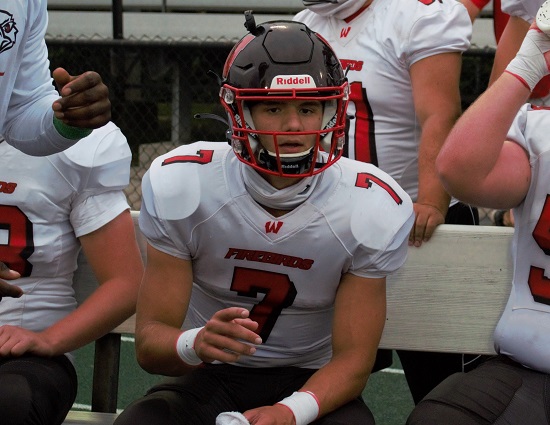 The regional quarterfinals brought some great playoff action to Southwest Ohio on Friday night where seasons were on the line. Let's take a look at how things unfolded.
NO. 1 LAKOTA WEST 31, NO. 11 LAKOTA EAST 14
Lakota East got out to the early lead on a 1-yard fumble recovery by Caleb Vanhosser midway through the first quarter.
Top-seeded Lakota West would then score 31 unanswered points to put away their rivals. Sophomore Mitch Bolden threw for a pair of scores during the second quarter to give the Firebirds the lead for good.
It was on the ground though where West delivered the knockout punch. The outgained the Thunderhawks by a 280 to 80 margin in rushing yards. Bolden rushed for 120 yards and a touchdown on 13 carries and Cameron Good led all rushers with 23 attempts for 141 yards and a score.
Lakota West is now set to host Colerain next week with a spot to the Region 4 Finals on the line. The Firebirds won at Colerain 10-0 in the season opener back on August 28.
NO. 2 ST. XAVIER 45, NO. 14 MOELLER 14
For the second time this season the Bombers took down the Crusaders and the results were nearly identical.
St. Xavier's offense clicked on all cylinders right out of the gate. Quarterback Brogan McCaughey paved the way, tallying 272 yards and four touchdowns on 19-of-25 passing. Liam Clifford pulled in two of those touchdown passes and finished with 71 yards on five catches.
Moeller mustered just 10 yards of rushing in the game and converted just one third down in seven tries in the loss.
Next up St. Xavier will host Elder in the Division I, Region semifinals next Friday night.
NO. 8 COLERAIN 28, NO. 10 MASON 7
The Cardinals followed its winning formula of shutdown defense and power running that it has used all season and advanced.
M.J. Flowers rushed for a pair of touchdowns to give Colerain a 14-0 lead at halftime. He finished the night with three total scores and 124 yards on 16 carries.
Quarterback Freddie Johnson passed for his first touchdown of the year when he connected on a 41-yard TD toss to Isaiah Myers.
*rankings listed are from Blitz 5 Top 25
Here are some other scores from playoff action Friday across Southwest Ohio:
DIVISION I
No. 7 Elder 26, No. 2 Princeton 21 (COMPLETE RECAP)
DIVISION II
No. 3 La Salle 42, Little Miami 14
No. 4 Winton Woods 28, Xenia 13
No. 12 Kings 42, Talawanda 7
No. 13 Turpin 23, Withrow 6
No. 20 Anderson 52, Teays Valley 14
Piqua 42, Harrison 7
Edgewood advanced over Troy (COVID-19 cancellation)
DIVISION III
New Richmond 38, Goshen 20
Ross 52, Monroe 14
Tippecanoe 11, Mount Healthy 6
Bishop Hartley 65, Western Brown 14
Badin advanced over Wapakoneta (COVID-19 cancellation)
De Sales advanced over Wilmington (COVID-19 cancellation)
DIVISION VII
New Miami 40, Fayetteville-Perry 25
Tri-Village 50, Cincinnati College Prep 30
Riverside 50, Lockland 0
Check out complete scores on The Underground Sports Shop Scoreboard.
*Stay updated on high school football updates by following @TSFootball on Twitter.