Preview: Elder at Princeton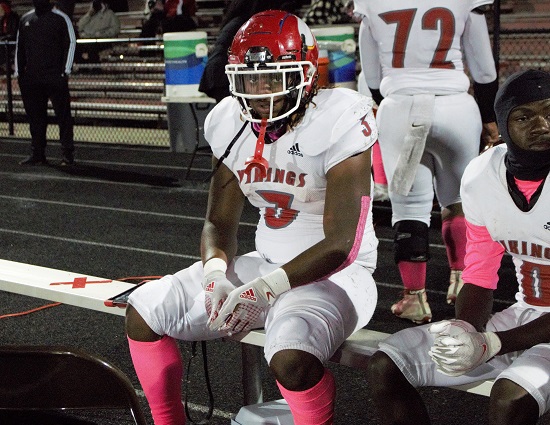 Princeton RB Thomas Boyd (photo by Greg Shoemaker/TriStateFootball.com)
Two high-powered offenses are set to show off their prowess as Elder heads to Princeton in this week's Blitz 5 Game of the Week. It's a Division I, Region 4 quarterfinal matchup that has all the ingredients to be a highly-entertaining affair.
The Elder seniors are looking to write their own memorable chapter in the Panthers' history books. They are two wins away from a third straight trip to the regional finals. Princeton players are in uncharted waters having advanced in the playoffs for the first time in their careers. How they handle that success will be central to the outcome of this contest.
#7 ELDER PANTHERS (4-3) at #2 PRINCETON VIKINGS (6-1)
Kickoff: 7:00 p.m.
Viking Stadium, Pat Mancuso Field
Follow on Twitter @TSFootball 
PLAYERS TO WATCH: When Elder junior Drew Ramsey lines up in the Wildcat offense he becomes a triple-threat. Ramsey has 577 yards rushing, 568 yards receiving on 46 catches, found the endzone 18 times (11 rushing, seven receiving) and thrown a touchdown pass. Classmate Ben Hambleton has been nothing short of outstanding in his first year as the Panthers' starting quarterback. Hambleton has thrown for 1,529 yards, completed 69.0 percent of his passes with 18 touchdowns and just three interceptions. Senior Scott Nieman has become a big-play target. He is averaging 25.9 yards on 24 catches with seven touchdowns.
The Princeton backfield has finesse, speed, power and athleticism. Junior quarterback Mekhi Lynn has amassed 1,601 yards of total offense (1,235 passing, 366 rushing) and accounted for 22 touchdowns (16 passing, six rushing). Senior running backs Ari Turner and Thomas Boyd provide the Vikings offense a thunder-and-lightning jolt. Turner has been red hot with three consecutive games of 100-plus yards rushing after gaining just 50 total yards in the first four weeks of the season. Lynn has a trio of receivers, DeAngelo Foster, Lamont Jackson and Rodney Harris, Jr. that require attention on every play. The trio has combined for 51 receptions for 965 yards and 13 touchdowns.
TEAM TRENDS:  Elder is on a quest for its sixth regional championship since 2002. A storied Princeton program won its first postseason game in 19 years last Friday night. They won 19 playoff games with three state championships and two state runner-up finishes from 1972 to '93.
The Elder defense has been vulnerable allowing 29.9 points and 351.2 yards per game. The Panthers have given up at least 36 points in four of their seven tilts. The offense has averaged 383.8 yards and 34.9 points per game.
The Princeton offense has been on fire, averaging 50.3 points per contest with a 34.7-point average margin of victory over the last three weeks. Before that the Vikings played in games that were decided by nine, five, five and four points.
HEAD COACHES:
Elder: Doug Ramsey (193-87 at Elder, 25th year; 193-88 overall)
Princeton: Mike Daniels (19-19 at Princeton, fourth year; 19-19 overall)
PLAYOFF HISTORY:
Elder (22nd appearance, 39-19 overall) – 2020, 2019 (State Runner-up), 2018, 2016, 2015, 2014, 2013, 2012, 2009 (Regional Champion), 2008 (State Runner-up), 2007, 2004, 2003 (State Champion), 2002 (State Champion), 2001, 2000, 1999, 1996 (Regional Champion), 1995, 1991, 1989, 1988
Princeton: (16th appearance, 20-12) – 2020, 2019, 2007, 2001, 1993, 1992, 1991, 1990 (State runner-up), 1988 (State Runner-up), 1987 (State Champion), 1985, (State Champion), 1982, 1980, 1978 (State Champion), 1972 (State runner-up)
ELDER'S KEYS TO VICTORY: Making Princeton play from behind will make the Vikings offense press which will lead to turnover opportunities. That all starts with the Panthers' defense forcing three-and-outs early in the game. Using their experience, having been in this position before, is an intangible that Elder should play up on.
PRINCETON'S KEYS TO VICTORY: Stayed composed. The Vikings must shrug off mistakes. Dwelling on plays that have already happened (good or bad) isn't going to help Princeton focus one the end game. The Vikings have five defensive touchdowns. A nonconventional score would be a big time confidence builder for the squad. 
Prediction: Elder 35, Princeton 31