Best Bets: Rivals set to face off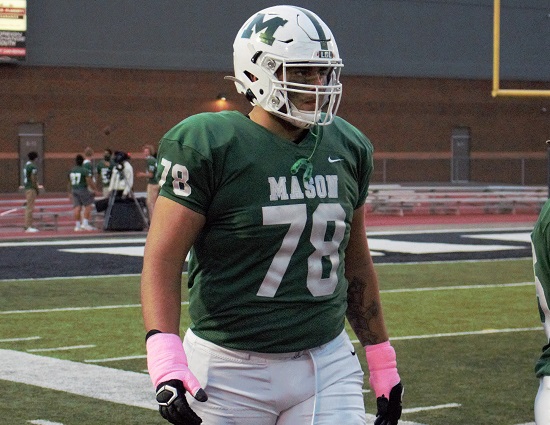 Mason OL Paul Rodriguez (photo by Greg Shoemaker/TriStateFootball.com)
There weren't many eye-opening results in the first week of the playoffs in Ohio. Top level programs handled their business, while a few teams have benefited from the COVID playoff system and kept their season alive for another week. Week 2 of the postseason is where things start to get much more interesting. We have defensive juggernauts going head to head, high-level conference games, and some inter-conference showdowns that have instant classic potential. Here are the games to look forward to in another edition of the 5 Best Bets.
NO. 11 LAKOTA EAST AT NO. 1 LAKOTA WEST
For the first time in years these two teams didn't match up in the regular season, instead we got a high-leverage playoff game between the rivals. The Firebirds are state championship good. Their defense has shut out four of its six opponents, and the offense has scored 20 or more in five straight games. Coach Bolden has now fully entrenched his culture and playing style into the Firebirds, and it is paying dividends. The Thunderhawks are playing their best football of the season, winning four games in a row after losing their first three of the season. The key for them has been the improvement of the defense. Through the first three weeks they were allowing 30 points per game. During their current hot streak that number has shrunk to 17. Unfortunately for East, their triple-option attack is nothing new to the Firebirds, as they blanked the team that has historically mastered that offense, Colerain, in Week 1 as they allowed only 118 total yards and forced two turnovers. The Thunderhawks only chance in this game is to hold West in check on offense and force turnovers. During rivalry games anything is possible, but the Firebirds have the big edge here.
NO. 14 MOELLER AT NO. 2 ST. XAVIER
This will be a rematch of the Week 5 game in which the Bombers won 43-14, not much has changed with these teams since then. The Bombers now have two quarterbacks at their disposal. Brogan McCaughey has missed time due to injury, but Ryan Nolan has stepped in and the offense hasn't missed a beat, averaging 51 points over the last three games. They can beat you through the air or on the ground. For the Crusaders, they benefited from the adjusted playoff system and find themselves still playing in the second week of the playoffs. After a tough win against Hamilton, Moeller must play their best game of the season if they want any more games. The biggest aspect in the Crusaders favor, it's always tough to beat an opponent twice in one season, especially a divisional opponent you see year in and year out. After giving up 237 yards on the ground against Hamilton, expect the Bombers to run the ball early and often. In the first matchup between these two, St. Xavier ran for 185 yards. With junior quarterback Noah Gaselbracht playing as well as he has recently, it gives Moller a puncher's chance, but the Bombers will prove yet again to be too much for the Crusaders.
NO. 8 COLERAIN AT NO. 10 MASON
If defense is the name of the game, this conference showdown is the game of the week for you. Winners of seven straight over the Comets, this matchup might be the most even out of them all. The Cardinals' defense allows 12 points per game while Mason allows 15. Both have a clear strength and weakness within the defensive unit. The Cardinals' secondary allows 130 yards through the air while the Comets' front seven allow 166 rushing yards per game. These teams also have underwhelming offenses. Both teams scored 30 last week, but against less than admirable competition. The previous two games the Comets scored a combined 7 points while the Cardinals scored a combined 35. With all of this being said, this game will be decided by the turnover margin, and a possible big play on special teams. Both defenses are excellent and won't give an inch, so a miscue or momentum shifting play could be the deciding factor. Both teams are desperately trying to get their offense going, because now their season depends on it.
RONCALLI AT NO. 9 EAST CENTRAL
This is a classic Indiana showdown with high expectations and intrigue. Both of these teams come into this game rolling, and having one loss on the schedule to the same team, Bishop Chatard. Many in the Tri-State area will recognize Roncalli's head coach John Rodenburg, who won state titles as a head coach at Moeller and Covington Catholic. The Trojans' defense has been lights out, and they are getting some excellent production after their star running back Jake Fike was lost in Week 3 to a shoulder injury. Josh Ringer has been the next man up, having a three-game stretch for the ages. He had 437 total yards, six touchdowns, and averaged 10 yards per carry in their three wins directly after Fike's injury. Ringer now has 542 rushing yards and is continuing to do major damage week in and week out. Pair him with Hunter Sohns, who leads the team with 557 rushing yards, and East Central has a 1-2 punch that will give any defensive coordinator nightmares. This will be a tough test for the Trojans, as Roncalli has played excellent football all year. East Central has given us no reason to be concerned that they aren't up to the challenge come playoff time.
NO. 21 HIGHLANDS AT NO. 6 COVINGTON CATHOLIC
In Northern Kentucky the reigning state champs are undefeated and coming off a bye week. After winning their first two games by a combined nine points, the Colonels looked like their old self in their following two games winning by a combined score of 92-7. Caleb Jacob is looking much more comfortable and polished under center, and the defense continues to play at an extremely high level. Highlands is also playing their best football of the season after an underwhelming 1-2 start. After allowing 50 points in the first two games, they have since surrendered only seven points in the past three weeks combined. This team feeds off their defense and needs them to be special yet again with the toughest game of their season looming.
GAME OF THE WEEK
Make sure to check out the COMPLETE PREVIEW for this week's featured Blitz 5 Game of the Week – No. 5 Elder at No. 7 Princeton.
*All rankings above are the team's current rank inside the Blitz 5 Top 25.
Here are some other games for ranked teams this week:
Little Miami at No. 3 La Salle
Xenia at No. 4 Winton Woods
Talawanda at No. 12 Kings
Withrow at No. 13 Turpin
Wapakoneta at No. 18 Badin
Teays Valley at No. 20 Anderson
Taylor at No. 22 Wyoming
Oakwood at No. 23 Indian Hill
Carlisle at No. 24 Roger Bacon
Thurgood Marshall at No. 25 Clinton-Massie