Roger Bacon makes history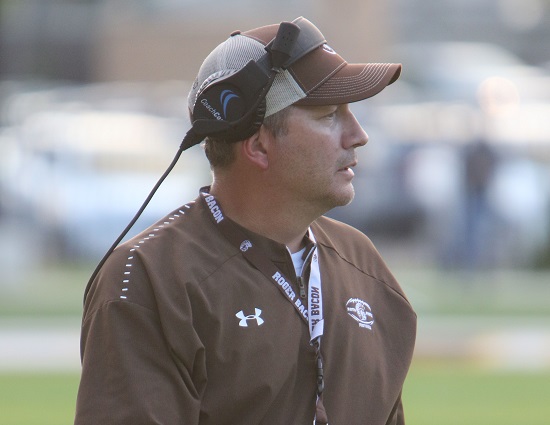 ST. BERNARD, Ohio– For the first time in school history, the Roger Bacon Spartans are heading to the state semifinals as they grabbed their first-ever regional title with a 31-7 victory over the Shawnee Braves on Saturday night.
It took a while to get going, but Roger Bacon opened the game up with a 21-point second quarter, highlighted by a pair of touchdown runs from Corey Kiner. The LSU commit finished the night with 142 yards on 19 carries.
Quarterback Logan Huber also connected with Danny Hudepohl on a 65-yard TD pass before the break as the Spartans took a commanding lead into the locker room.
Huber added to the lead with a 17-yard scoring strike to Kyle Guyer in the third quarter. The junior finished the night with 102 yards on 4-of-13 passing.
Defensively, the Spartans dominated things all night long aside from a 97-yard TD run they allowed to Max Guyer in the early fourth quarter. The unit came up with three key turnovers, including an interception by Alex Wolf and fumble recoveries from Ryan Hallau and Nijal Mooney.
SCORING BY QUARTERS
Shawnee 0-0-0-7-7
Roger Bacon 0-21-10-0-31
SCORING PLAYS
R: Corey Kiner 3-yard run (Rolfert kick)
R: Corey Kiner 3-yard run (Rolfert kick)
R: Logan Huber 65-yard pass to Danny Hudepohl (Rolfert kick)
R: Logan Huber 17-yard pass to Kyle Guyer (Rolfert kick)
R: Dylan Folfert 30-yard field goal
S: Max Guyer 97-yard run (Myers kick)
RECORDS: Shawnee (6-3); Roger Bacon (10-0)
UP NEXT: – OHSAA DV State Semifinal – Roger Bacon vs. Ironton (10-0)
Check out complete scores on The Underground Sports Shop Scoreboard.
*Stay updated on high school football updates by following @TSFootball on Twitter.