Preview: St. Xavier vs. Pickerington Central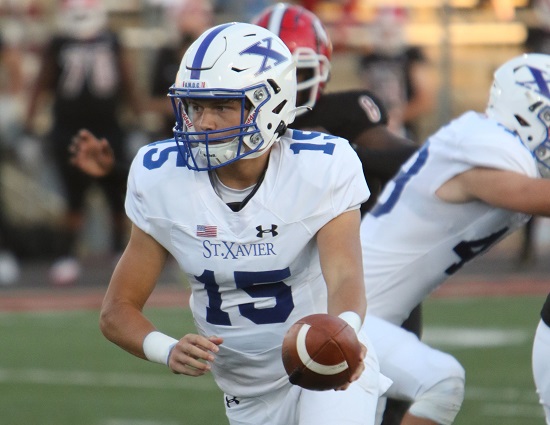 St. Xavier QB Brogan McCaughey (photo by Dan Bieneke/TriStateFootball.com)
St. Xavier gets a shot at the best in the Division I state final. The Bombers will look to take down reigning state champion, Pickerington Central. The Tigers, winners of 22 in a row, are on a quest for their third state title in the last four years. They want to continue to be the kings of the gridiron in the Buckeye state. 
XAVIER BOMBERS (9-2) vs. PICKERINGTON CENTRAL TIGERS (11-0)
Kickoff: 7:00 p.m.
Fortress Obetz, Columbus
Follow on Twitter @TSFootball 
PLAYERS TO WATCH: The St. Xavier offense has sputtered as of late. There is too much talent to think that it will continue. Senior receiver Liam Clifford is the go-to guy. The Penn State commit has 68 receptions for 1,084 yards and 12 touchdowns. Classmate Jalen Patterson has caught 58 balls for 759 yards and five scores. Junior Brogan McCaughey is slinging the passes to the duo. McCaughey has thrown for 2,416 yards and 24 touchdowns, but seven of his 11 interceptions have come in the last three weeks.
The Bombers have been very opportunistic on defense. Senior Gabe Dubois has eight of the team's 23 takeaways (six INTs, two FRs) including two pick sixes. Linebacker Matthew Devine is the team's leading tackler with 104. He also has 5.5 sacks. Junior Eli Kirk is second to Dubois with three interceptions and to Devine with 73 tackles.
Seniors, running back Nick Mosley, Lorenzo Styles, Jr. and quarterback Garner Wallace will touch the ball on 80-90 percent of the plays for the Tigers. Mosley has more than 800 yards with 27 rushing touchdowns. He has offers from Akron, Ball State and Western Michigan. Style Jr., a Notre Dame commit, has carried the ball 10 times in each of the last two games and had a 130 yards and a score on the ground in last week's win over Mentor. Wallace, a Northwestern commit, is red hot with 130-plus yards rushing and four total touchdowns the past two Friday nights. 
Juniors lead the way for the Tigers' defense. Up front, CJ Doggette, Jr. and Tyler Gillison are disruptive forces with their speed and power. Classmate Dakari Frazier brings pressure from the outside. Dogette Jr. has offers that include Cincinnati, Kentucky, Michigan State, Rutgers, Pitt, Washington State and West Virginia. Gillison has offers from Cincinnati, Old Dominion, Toledo and several other MAC schools. Frazier has offers from Akron, Bowling Green, Kent State and Toledo. 
TEAM TRENDS: The St. Xavier defense is underrated and gritty. They showed their toughness last week after the offense turned the ball over five times the Bombers held Springfield to zero points after those miscues. St. Xavier held the Wildcats to just 62 yards on 26 plays after those turnovers. The Bombers have given up just 17 points in their last two playoff wins. St. Xavier averaged 50.0 points in its first three postseason victories. They averaged just 11.0 in the last two playoff triumphs.
Up until last week Pickerington Central had not allowed more than 16 points in a game. Only two teams have scored more than 10 (Reynoldsburg 13 and Hilliard Darby 16) points on the Tigers before Mentor posted 31 points on Friday night. They are allowing just 5.5 points per game with four shutouts. The Pickerington Central offense has been a model of consistency, averaging 40.1 points per game and having scored at least 34 points in each contest.
HEAD COACHES:
St. Xavier: Steve Specht (153-58 at St. Xavier, 17th season, 153-58 overall)
Pickerington Central: Jay Sharrett (196-33 at Pickerington Central, 18th season)
PLAYOFF HISTORY:
St. Xavier (27th appearance, 51-23 overall) – 2020 (Regional Champion), 2019, 2018, 2017, 2016 (State Champion), 2015, 2014, 2013, 2012, 2011 (Regional Champions), 2010, 2009, 2007 (State Champion), 2006, 2005 (State Champion), 2004, 2002, 2001 (State Runner-up), 2000, 1999, 1998 (State Runner-up), 1997, 1994, 1993, 1992 (State Runner-up), 1987, 1981
Pickerington Central (21st appearance, 45-18 overall) – 2020 (Regional Champion), 2019 (State Champion), 2018 (Regional Champions), 2017 (State Champion), 2016 (Regional Champion), 2015, 2014, 2013, 2012, 2011 (State Runner-up), 2010, 2009, 2008 (Regional Champion), 2007, 2006 (State Runner-up), 2004, 2003, 2002, 2000, 1999 (Regional Champion), 1992
XAVIER'S KEYS TO VICTORY: Stop the run. Keep the Pickerington Central offense off the field, as-long-as possible. The Bombers have a quick scoring offense, but if they extend scoring drives it will work to their advantage in this affair. Avoid miscues and the mental drain that goes along with them.  
PICKERINGTON CENTRAL'S KEYS TO VICTORY: The Tigers need to do what they do best, churn out the yards on the ground. Defensively, unleash the beasts on McCaughey and make him gun-shy. PC needs to get to him early and rattle his confidence. It is a confidence that is waning after last week's five turnover performance.
Prediction: St. Xavier 24, Pickerington Central 20