Best Bets: Playoff lives on the line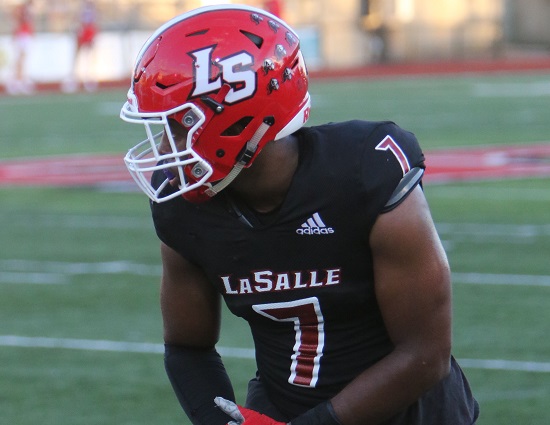 La Salle DB Jaylen Johnson (photo by Dan Bieneke/TriStateFootball.com)
What an epic Week 11 it was in the Tri-State area. Many of the highly-anticipated matchups lived up to the hype. With one more game to win for a chance at a state title in Division II, IV, and V, all hands are on deck for what is shaping out to be an epic finish to the season. We are also deep into the postseason in Indiana, so here are the must-see showdowns in another playoff edition of our Best Bets.
LA SALLE VS MASSILLON WASHINGTON
Fri, Nov 13 – 7:00 PM – at Marysville H.S.
We've got a rematch of last year's Division II State Championship game where the Lancers were victorious 34-17. Nate Moore, the coach that started the incredible run for LaSalle in 2014, is now the head coach for Massillon. He has accumulated a 50-15 record there, with the success looking like a mainstay. The Lancers are playing their best football of the season at the right time. After dismantling top- seeded Winton Woods 35-10 last week, the preseason favorite is exactly where we thought they'd be. Both teams suffered a tough early season loss, and have gone a combined 16-1 since. For Lancers to win their second consecutive state title, they have to win the line of scrimmage and allow quarterback Zach Branam to run the ball effectively. He has rushed for over 200 yards in back-to-back games, which opens this offense up and allows for the deep ball to be much more effective. Defensively, the matchup to watch will happen between two Ohio State commits, Jaylen Johnson and Jaylon Ballard. Ballard is one of the best wide receivers in the country and the Tigers will be leaning on him heavy this game. Fortunately enough for the Lancers, the secondary is the strength of this team. Massillon also has an extremely potent running game themselves, averaging 200 yards per game. These teams are identical defensively, allowing 12.7 points per game, but the Tigers allow less than 100 yards per game on the ground, which they will have to do again to win. For reference, in last year's contest, La Salle outgained the Tigers 331-81 on the ground, which was the ultimate deciding factor.
WYOMING VS VAN VERT
Sat, Nov 14 – 7:00 PM – at Piqua H.S.
The most impressive showing last weekend came from Aaron Hancock's Cowboys. They defeated Clinton Massie 28-9, the same Eagles' team that put up at least 30 points in every game leading up to the showdown. This Cowboys' defense has been special all season, and they are one game away from their second state title game appearance in three years. Offensively, C.J. Hester has been spectacular, and was again last week in their toughest game, rushing for 176 yards and two touchdowns. Although the difference for Wyoming scoring points last week was their passing game. Quarterback Brennan Pagan threw two touchdown passes, including an 88-yard score to Nathan Glisson which completely shifted the momentum of the game. Van Vert comes into this game as a team that plays barn burners week in and week out. Their offense has been incredible, with their lowest offensive output being 29. They have scored 40 or more four different times, including two 50-point showings earlier in the season. However, their defense hasn't been anything to write home about as they have allowed 20 points or more in seven of their nine games. The Cowboys will not be fazed by the Van Vert offense in the slightest. If Wyoming can continue to run the ball effectively with Hester, hit big plays in the passing game, and play lights out defense like they have all year, Wyoming will move on to the big game in Columbus.
ROGER BACON VS IRONTON
Sat, Nov 14 – 7:00 PM – at London H.S.
The Spartans made a statement last week. After playing a close game with Versailles, Roger Bacon came out and handled Springfield Shawnee, winning 31-7. They rode star running back Corey Kiner, and he delivered as he always does, rushing for 142 yards and two touchdowns. The defense was the big story as they had a bend, but don't break mentality. Shawnee accumulated more total yards and won the time of possession battle, the difference in this game was the turnover margin. The Spartans were +2 in that category and capitalized on Shawnee's mistakes. Quarterback Logan Huber threw two touchdown passes and didn't turn the ball over, which is everything for this Roger Bacon offense. They have a juggernaut waiting for them in Ironton. The Tigers come into this game undefeated and clicking on all cylinders. They average 46 points per game offensively and allow an eye-popping six points per game on defense. They have only played one close game, which was last week's playoff win vs. Harvest Prep. Roger Bacon has to come out quick in this contest, getting the first score and setting the pace will be a crucial aspect in winning this game. Kiner will get 20+ touches, and he has to be special yet again for the Spartans. If the Ironton defense plays 6-8 men at the line of scrimmage to stop Kiner, don't be surprised if the Spartans take some deep shots. This game could see both teams scoring above 30 and the team with the ball last winning the game. 
LAWRENCEBURG VS SOUTHRIDGE
Sat, Nov 14 – 6:00 PM – at Lawrenceburg H.S.
Ryan Knigga's Tigers continued to roll last week, claiming their third sectional title in four years after defeating Franklin County 49-12. Now they get to play for an IHSAA, 3A Region 16 title. The offense has scored 30 or more in five of their last six games. Defensively they have not allowed more than 20 points since Week 1. This team is confident and has playmakers on both sides of the ball. Southridge comes into this game undefeated with their strong suit being defense. They have tallied four shutouts this year, and another four games allowing less than 14 points. Southridge runs the ball extremely well, averaging 341 yards per game on the season. The Tigers must come ready to battle in the trenches. Southridge also does a great job forcing turnovers, so taking care of the football will be crucial for Garret Yoon and company. This should be an excellent game between two high-level programs. Both teams come into this game playing outstanding football and have momentum on their side, something has to give.
GAME OF THE WEEK
Make sure to check out the COMPLETE PREVIEW for this week's Blitz 5 Game of the Week presented by TriStateFootball.com.