La Salle comes up short in repeat bid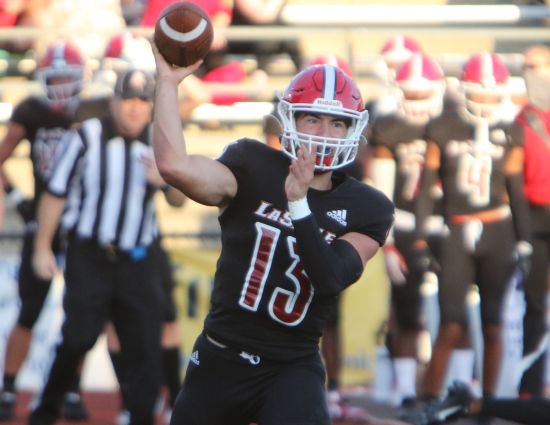 MARYSVILLE, Ohio – The La Salle Lancers came up two wins shy of defending their state championship as they fell in a hard-fought battle versus the Massillon Tigers Friday night at Marysville High School.
The Lancers led for most of the game until Zach Catrone connected with Maravien Johnson down the middle of the field for a 48-yard TD strike with just 2:13 left in the contest. That proved to be the knockout punch.
La Salle got on the board first in the opening frame. Zach Branam came up with an interception on defense, then led the Lancers down the field with a 77-yard run followed up shortly thereafter by a 1-yard rushing touchdown moments later.
The Tigers knotted things up midway through the second quarter as Jumacius Portis wrapped up a nine-play, 62-yard drive with a 3-yard touchdown run.
That's how things would stay until the fourth quarter when La Salle appeared to take the game into their hands. The Lancers grinded out 17 plays and took over nine minutes off the clock on a 73-yard drive, but they couldn't punch it in for a touchdown and had to settle for a 32-yard Mason Luensman field goal instead.
Massillon couldn't answer on the following drive and were forced to punt. It worked out though as they pinned La Salle at their own 13-yard line. La Salle moved the chains a bit, but would have to punt it back with 2:22 left on the clock.
The Lancers' punt only went 18 yards and that gave Massillon Washington great field position. The game-winning play came on the very first play of the possession when Johnson hit paydirt on the 48-yard catch.
The Tigers now advance to the Ohio Division II state championship game for a third straight year where they will face off versus Akron Hoban, who defeated Avon 28-14 in the state's other Ohio DII state semifinal Friday night.
SCORING BY QUARTERS
La Salle 7-0-0-3-10
Massillon Washington 0-7-0-7-14
SCORING PLAYS
L: Zach Branam 1-yard run (Luensman kick)
M: Jumacius Evans 3-yard run (Rue kick)
L: Mason Luensman 32-yard field goal
M: Zach Catrone 48-yard pass to Martavien Johnson (Bauer kick)
RECORDS: La Salle (8-3); Washington Massillon (10-1)
NEXT UP: OHSAA Division II State Championship – Massillon vs. Hoban
Check out complete scores on The Underground Sports Shop Scoreboard.
*Stay updated on high school football updates by following @TSFootball on Twitter.