St. Xavier grabs school's fourth state title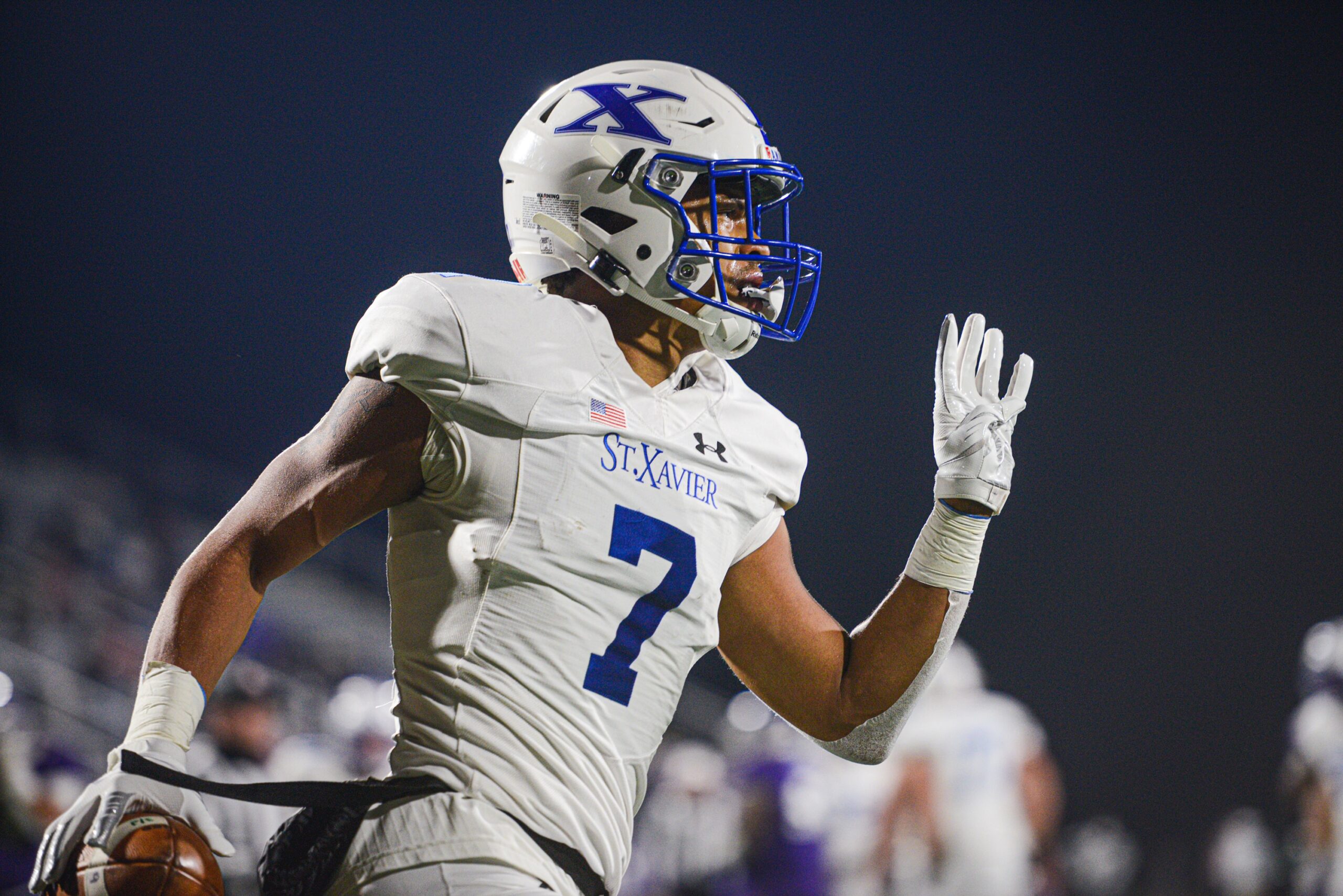 COLUMBUS, Ohio – The St. Xavier Bombers cruised to the school's fourth state championship in a 44-3 route over the Pickerington Central Tigers Friday night at Fortress Obetz in the OHSAA Division I title game.
St. Xavier raced out to a 30-0 lead in the opening quarter. It was a Division I state championship record for most points in a single quarter, per OHSAA records.
Senior Jalen Patterson was the center of the offensive explosion as he pulled in four touchdown passes from junior Brogan McCaughey. That tied an OHSAA state championship record for most receiving TDs (4) in a state final. Kenton's Brice Fackler had four receiving TDs vs. Creston Norwayne in the 2011 D-IV championship game.
#OHSAA FOOTBALL D1 CHAMPIONSHIP

Quick snaps from the first quarter pic.twitter.com/XvyidMDlSg

— OHSAASports (@OHSAASports) November 14, 2020
McGaughey padded the score even further less than three minutes into the second quarter with a 1-yard TD run. Gabe DuBois rounded out the first-half flurry with a 58-yard punt return for a touchdown as St. Xavier led 44-3 at the half.
The running clock was turned on at that point which made for a quick and uneventful second half of action with no more points being put on the scoreboard. The 41-point win is another Division I state championship record for largest margin of victory.
McCaughey finished the night completing 25-of-39 passes for 291 yards, four touchdowns and no interceptions. Patterson led all receivers with 105 yards and four scores on five receptions. Terrell McFarlin and Charles Kellom eached pulled in seven catches in the win.
The Bombers dominated the Tigers in total yards, holding a 354 to 76-yard advantage. The defense played a large hand in the championship effort. The unit came up with four sacks, including 2.5 sacks from Grant Lyons, who also led the team with six tackles.
Garner Wallace was held to just 24 yards on 4-of-13 passing and no Tigers' running back had more than 25 yards rushing.
Pickerington Central came into the game winners of 22 straight games and were looking for their third title in four years which made the lopsided loss even more surprising.
St. Xavier has now won four state championships with their other titles coming in 2005, 2007, and 2016.
STATE CHAMPS!!!! pic.twitter.com/pUhlHLTEmb

— Cincy St. X Sports (@stxsports) November 14, 2020
SCORING BY QUARTERS
St. Xavier 30-14-0-0-44
Pickerington Central 0-3-0-0-3
SCORING PLAYS
S: Brogan McCaughey 14-yard pass to Jalen Patterson (Rohmiller kick)
S: Team Safety
S: Brogan McCaughey 35-yard pass to Jalen Patterson (Rohmiller kick)
S: Brogan McCaughey 8-yard pass to Jalen Patterson (Rohmiller kick)
S: Brogan McCaughey 10-yard pass to Jalen Patterson (Rohmiller kick)
P: Mitchell Vollmer 27-yard field goal
S: Brogan McCaughey 1-yard run (Rohmiller kick)
S: Gabe Dubois 58-yard punt return (Rohmiller kick)
RECORDS: St. Xavier (10-2); Pickerington Central (12-1)
Check out complete scores on The Underground Sports Shop Scoreboard.
Stay updated on high school football updates by following @TSFootball on Twitter.
*Image from Twitter (@OHSAASports)