Preview: Highlands at Conner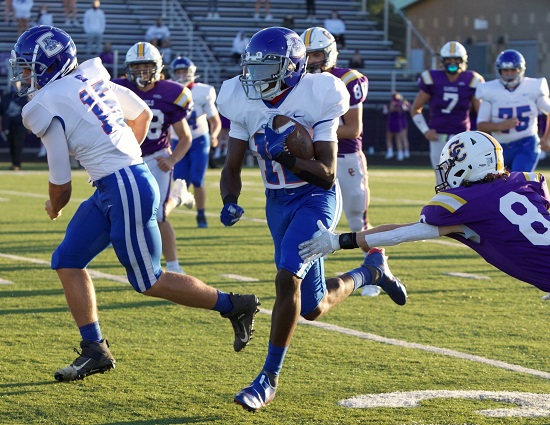 Conner WR/DB Alijah Thompson (Photo By: Rocio Walls/TriStateFotball.com)
Dust off the cobwebs, football is back in action after Kentucky high schools took a week off to reboot before this Friday night's start of the 2020 KHSAA playoffs. Our Blitz 5 Game of the Week takes us out to Conner as the Cougars host Highlands to open the postseason. This is a rematch of an October 3rd contest that saw the Bluebirds have their way with Conner in a 36-0 conquest. The Cougars look to avenge that loss and pickup just their second win since that evening.
HIGHLANDS BLUEBIRDS (4-5) at CONNER COUGARS (3-3)
Kickoff: 7:00 p.m.
Fred Nevels Stadium
Follow on Twitter: @TSFootball 
PLAYERS TO WATCH: Highlands' quarterback Charlie Noon has burst onto the scene in 2020. The sophomore has racked up 1,556 yards of total offense (806 passing, 750 rushing) and accounted for 13 touchdowns (seven passing, six rushing). On the other side of the ball, Noon's classmate Sam Robinson has emerged as one of the top defensive players in Northern Kentucky. He has 37 tackles, 10 tackles for losses, four sacks, four takeaways (two FRs, two INTs), one scoop-and-score and a pick six.
Colton Roy fuels the offense for Conner. The senior is averaging 77.0 yards per game on the ground (462 total) with eight touchdowns. Sophomore Alijah Thompson and junior Cody Crawford have been ballhawks for the Cougars' defense. Thompson has four interceptions and Crawford has three takeaways (two FRs, one INT). They both have returned interceptions. Thompson, a rising star, is the team's top receiver with 18 catches for 234 yards and a score.
TEAM TRENDS: Highlands came up with five turnovers, had four sacks and nine tackles for losses when these two teams met in the regular season. It was the best game that the Bluebirds' defense has played. The next week they shutout Boone County then the wheels fell off. Highlands would surrender 140 points (46.7/game) in three defeats after that.
Conner has played just one game since October 23rd. This will be the fourth time that the Cougars have faced Highlands in the team's last 12 games dating back to last year. They won both affairs in 2019. 
HIGHLANDS'S KEYS TO VICTORY: Find consistency. The Bluebirds have been "Jekyll and Hyde" all season. The offense needs to find a balance between the run and pass to keep the Conner defense at bay. Defensively, they need to play aggressive like they did in the first matchup and the results should remain the same.
CONNER'S KEYS TO VICTORY: Keep your composure. This game could get "chippy" with these teams being so familiar with each other. Don't fall prey to the temptation of being lured into bad penalties. The Cougars need to come out sharp. Show that all the practice time that they put in over the last month has paid off. A rusty start needs to be avoided for confidence's sake.
Prediction: Highlands 31, Conner 13