Best Bets: Playoff time in the Bluegrass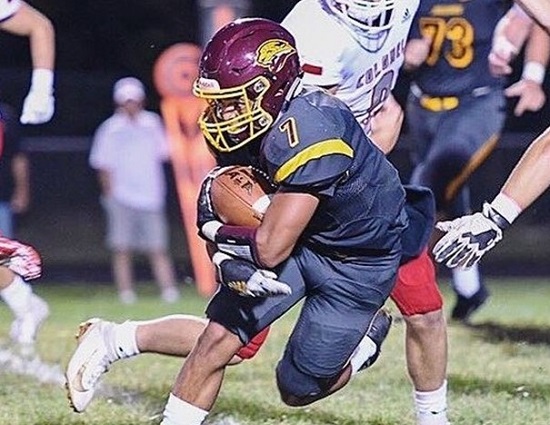 Covington Catholic K Trey Gronotte (photo by Dan Bieneke/TriStateFootball.com)
With the playoffs all but over in Ohio and Indiana, the attention now turns to the Bluegrass State as teams begin their quest for a state championship. The postseason was supposed to begin last week, but the start was postponed due to the COVID-19 outbreak. A number of teams have withdrawn, which has given some of the higher seeds a first-round bye. Nevertheless, we have some exciting first-round matchups with teams that are very familiar with each other. Everyone is coming off a bye week, so it will be interesting to see how these games play out. Here the showdowns to look forward to in another edition of our Best Bets.
COOPER (3-5) AT COVINGTON CATHOLIC (7-1)
Class 5A –  Friday 7:00 PM
The Colonels won the Week 3 matchup handily, 47-0. That game was the start of a dominant stretch of games for Eddie Eviston's team. The Colonels lost their last game to Lexington Catholic 29-28, which snapped a 37-game, regular-season winning streak (22 game overall winning streak). Although the sky is not falling and this may prove to be a blessing in disguise for the reigning Class 5A State Champions. Coming off a tough loss could ultimately humble them, it gave them close game experience, and it helped expose some weak points that other teams couldn't. Now, expect CovCath to come back with a chip on their shoulder and play angry, which is a scary sight for the rest of their opponents. For the Jaguars, they haven't been able to muster any momentum or consistency throughout the season. They have won two of their past three games, but their regular season finished with a 35-14 loss to Ryle. Cooper's magic number is 21. When they hit that mark on the scoreboard they are 3-1. When they score under they are winless at 0-4. This game should run very similar to the first matchup with the Colonels' defense stifling the Cooper offense and putting this game away early.
SIMON KENTON (3-6) AT DIXIE HEIGHTS (4-3)
Class 6A – Friday 7:00 PM
Here are two teams trending in opposite directions. These two played in Week 3, a game where the Colonels took care of Simon Kenton 28-14. Dixie Heights comes into the playoffs winners of four out of their last five games and feeling really good about themselves. During this stretch they have averaged 24 points per game and ceded just 21 points per game to their opponents. They lost two early games to Covington Catholic and Corbin, both by only one score, and are now peaking at the right time. The same can't be said about the Pioneers. No team needed this past bye week more, as they lost three straight games going into the hiatus, and are losers of six of their last seven games overall. After a promising 2-0 start where they allowed only 20 points total, the defense has completely fallen apart. They are allowing an astonishing 39 points per game over their last seven. If this defense doesn't drastically improve, their playoff run will be very short lived. The Colonels have all the momentum going into this game, we will see if they can continue to play good football when it matters most.
LLOYD (3-2) AT NEWPORT (4-3)
Class 2A – Friday 7:00 PM
This matchup is as even as it gets. We saw these teams do battle in Week 3; the Wildcats won that close game 19-13. Both teams come into the playoffs one game over 500. Due to the pandemic and restrictions set with their school district Lloyd has played two less games. Newport comes into this contest winners of three of their last four games, and the defense has been stout throughout the year. The biggest question is the offense. They are 3-1 when scoring 20 or more points, and 1-3 when scoring under. For the Juggernauts, they are best when their defense stifles opponents as well. In their three wins they allowed a combined 21 points. In their two losses they allowed 68. Points will come at a premium in this game, a big turnover or special teams play could be the deciding factor.
DAYTON (5-3) AT LUDLOW (3-5)
Class 1A – Friday 7:00 PM
It has been a tale of two seasons for Dayton. They won five straight games to start the year, and have since lost three in a row and look like a completely different team.  The Greendevils lost to this same Ludlow team 22-12 in Week 7. Dayton scored 30 or more in four of their five wins, and the defense allowed less than 10 points three separate times during the win streak. In their three losses Dayton has scored a combined 18 points and allowed 88. The Panthers hit a rough patch in Weeks 3-5, losing three straight. But they have since recovered nicely, winning two of their last three contests. During their wins the defense holds pretty strong, as they allowed 21 points per game, in their five losses the number balloons to 47. The Panthers can score some points, but they need the other side of the ball to step up. Maybe the bye week will help Dayton get back to their early season ways, although momentum and recent games favors the Panthers here.
GAME OF THE WEEK
Make sure to check out the complete preview for this week's Blitz 5 Game of the Week presented by TriStateFootball.com – HIGHLANDS AT CONNER.
Here's a look at the rest of area teams in action this week:
CLASS 6A (Bracket)
None
CLASS 5A (Bracket)
Grant County at Scott County – Friday 7:30 PM
CLASS 4A (Bracket)
Boyd County at Holmes – Saturday 4PM
CLASS 2A (Bracket)
Shawnee at Walton-Verona – Friday 7:30 PM
Gallatin County at Carroll County – Friday 7:30 PM
CLASS 1A (Bracket)
None