Where They're Headed: Division II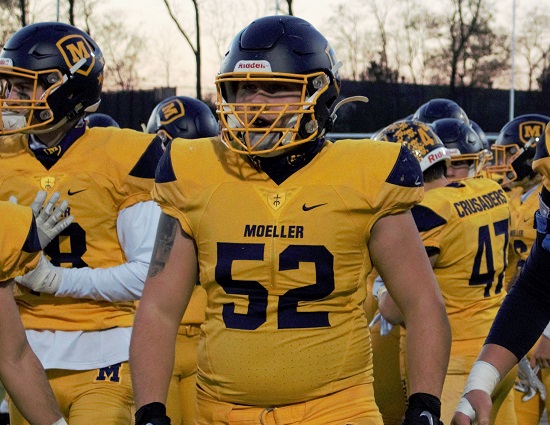 Moeller DL Wyatt Bullock (photo by Greg Shoemaker/TriStateFootball.com)
Pack your bags, the party is headed three hours north up to Tiffin. The Dragons signed 15 players from Southwest Ohio including nine on the defensive side of the ball. There is plenty of quality in the quantity of signees for the G-MAC school.
The Tiffin defense reeled in three undervalued and underappreciated linebackers in Kweisi Jones, Zack Gaither and Antonio O'Berry. Gaither is a pass rush specialist. He had 18 sacks in his last two seasons at Xenia. Jones already has the size to step in an be a factor right away.
Tiffin also got some beef up front on the offensive line with 280-pound Gavin Robbins, 305-pound Braden Swank and 325-pound Zach Moorman, Swank was a OPSWA Division III Second Team All-Ohio selection and Moorman was named OPSWA Division II Third Team All-Ohio in 2020.
Indianapolis inked nine locals in their pursuit of a Division II national title. The Greyhounds are a combined 30-5 over their last three campaigns including a 20-1 mark in GLVC play.
Interior defensive linemen Wyatt Bullock and Brandon Smith excelled versus top-notch competition in two of Ohio's best high school conferences (GCL South & GMC). They should contribute sooner rather than later for UIndy. Don't let his size fool you, Jeremiah Lee was arguably the most productive player in Northern Kentucky over the last four years. He ended his career at Cooper with 4,469 all-purpose yards (1,260 return yards), 2,607 yards rushing, 2,175 yards passing, 41 receptions for another 523 yards, 23 touchdown tosses, 33 rushing scores, five touchdowns on returns (two KRs, two FRs, one IR), 62 total tackles and seven takeaways (five INTs, two FRs). Greyhounds fans are going to love Lee.

Here is a look at the locals who signed with Division II schools:
GREAT MIDWEST ATHLETIC CONFERENCE (G-MAC)
Findlay: Brady Cefalu, Kings, DE, 6-5/235; Zach DeWitt, Loveland, OL, 6-4/240; Brendan Hill, Wayne, WR, 6-3/190; Nijal Mooney, Roger Bacon, LB, 5-11/218
Hillsdale: Will Heffner, La Salle, LB, 6-0/220
Kentucky Wesleyan: Gordy Anaple, Sycamore, WR/DB, 6-1/180; Tyler Ingler, Sycamore, OL, 6-5/290; Beau Thomas, Wyoming, ATH, 6-1/185
Lake Erie: Koraun Perdue, Aiken, WR/TE, 6-5/210; Elijah Rockhold, Middletown, WR, 6-1/185; John Scott, Lakota East, TE, 6-4/220
Ohio Dominican: Devin Holt, Oak Hills, ATH, 5-10/165
Tiffin: Kris Artis, Centerville, DL, 6-3/225; Zack Gaither, Xenia, LB, 6-5/220; Irv Hodrick Jr., Purcell Marian, DB, 5-9/165; Will Jackson-Linkhart, Centerville, WR, 6-6/205; Kweisi Jones, Lakota West, LB, 6-2/235; Charles Lewis, Northmont, DB,5-10/170; Antonio Lowe, Taft, DL, 6-4/215; Zach Moorman, Troy, OL, 6-2/325; Antonio O'Berry, Wayne, LB, 6-4/210; Vince Ringland, Milford, WR, 6-4/190; Gavin Robbins, La Salle, OL, 6-4/280; Cole Schnieder, La Salle, TE, 6-3/215; Braden Swank, Tippecanoe, OL, 6-2/305; Sean Williamson, Colerain, DB, 6-0/165; Cam Vordemark, Sidney, DB, 6-0/170
Walsh: Jaden Hurd, Wayne, DB, 5-11/190
MOUNTAIN EAST CONFERENCE (MEC)
Alderson Broaddus: David Schweinefuss, Badin, LB, 6-3/185; Michael Schweinefuss, Badin, WR/LB, 6-4/185
Charleston: Champ Gillespie, Lakota West, TE/LB, 6-4/200
West Virginia State: Darnell Ashe, Northmont, OL, 6-3/260; Kam Cooper, Middletown, LB, 5-10/200; Kam Vargas, Lakota West, LB, 6-1/215

GREAT LAKES INTERCOLLEGIATE ATHLETIC CONFERENCE (GLIAC)
Ashland: Ethan Freed, Troy, OL, 6-1/315; Ryan Hallau, Roger Bacon, TE, 6-4/220; Jack Hartmann, Lakota East, WR, 5-11/180; Logan Hehman, Oak Hills, WR, 6-0/165; Conner Heyser, Springboro, WR, 6-0/175; Max Owsley, Lakota West, OL, 6-2/285; Elijah Rockhold, Wilmington, OL, 6-4/225; Bobby Young, Badin, DB, 6-0/180
Grand Valley State: Garrett Jostworth, CHCA, TE, 6-4/210; Jason Ward, Chaminade Julienne, DB, 6-10/185
GREAT LAKES VALLEY CONFERENCE (GLVC)
Indianapolis: Matt Bilo, Mason, OL, 6-4/295; Wyatt Bullock, Moeller, DT, 6-0/267; Deshaun Harewood, Northmont, DB, 6-0/175; Jax Hutchinson, Mason, DB, 5-11/182; Jeremiah Lee, Cooper, ATH, 5-7/156; Gabe Ogdan, Loveland, DL, 6-3/220; Brandon Smith, Fairfield, DL, 6-2/240; Michale Wingfield, Winton Woods, QB, 6-2/205; Kole Viel, East Central, LB, 6-1/215
Quincy: Brian Newberry, Western Brown, DL, 6-4/225