Where They're Headed – Division I-A, FBS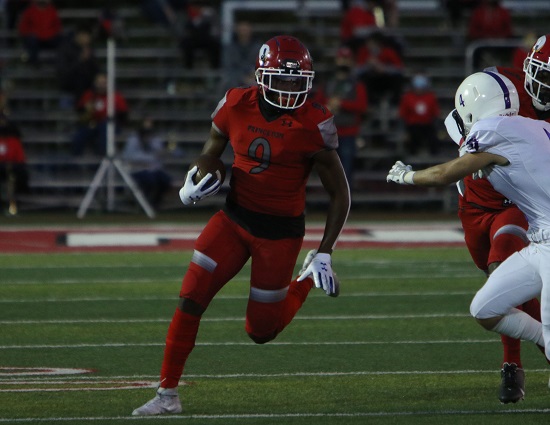 Princeton DB Leroy Bowers (photo by by Dan Bieneke/TriStateFootball.com)
Home is where the heart is as seven local studs signed with Cincinnati. The group includes two conference players of the year (Dontay Corleone and Luke Collinsworth), one OPSWA Division I First Team All-Ohio selection (Corleone) and four OPSWA Division I Second Team All-Ohio members (Leroy Bowers, Cam Junior, Mao Glynn as well as the head coach's son, Landon Fickell).
The Bearcats got great value in the Class of 2021 especially in the three area offensive linemen, Collinsworth, Fickell and Glynn They all have great leadership skills. Expect them to start getting snaps by their sophomore seasons.
As Bowers got bigger over the years so did his game. A versatile player who can play in the secondary or on the outside at linebacker. Bowers has game changing abilities and could become a crowd favorite over time. He blends in well with what UC currently has in its defensive backfield mix.
Also on defense, linebacker Junior has great bloodlines. His dad EJ played at Alabama and is in the College Football Hall of Fame. The best football is still ahead for the young Junior. At 325-pounds, Corleone is powerful and surprisingly quick. He is an interior defensive lineman that can get to the quarterback. Corleone will have to figure out what weight works best for him to be the most productive at the college level.
La Salle had a signing class that will be talked about for years to come. The Lancers had four defensive backs ink National Letters of Intents with Division I schools. They included, Iesa Jarmon (Cincinnati), Jaymar Hargrove-Mundy (Miami-OH), Jaylen Johnson (Ohio State) with the national runner-ups and Devonta Smith (Alabama) the national champions. Quarterback and OPSWA Division II Ohio Offensive Player of the Year, Zach Branam (Navy) is a perfect fit to run the flexbone offense at the service academy.
Other notable signings include, Ohio Mr. Football, Corey Kiner (LSU) who is heading south to the bayou. Liam Clifford (Penn State) will join his brother Sean (Panthers starting quarterback) in Happy Valley. Northmont classmates Rod Moore (Michigan) and Markus Allen (Wisconsin) land in the Big 10.
Here is a look at where the area's FBS (Division I-A) signees are headed:
AMERICAN ATHLETIC CONFERENCE (AAC)
Cincinnati: Leroy Bowers, Princeton, DB, 6-2/200; Luke Collinsworth, East Central, OT, 6-6/300; Dontay Corleone, Colerain, DT, 6-2/295; Landon Fickell, Moeller, OL, 6-5/275; Mao Glynn, Walnut Hills, OL, 6-3/285; Iesa Jarmon IV, La Salle, DB, 6-1/185; Cameron Junior, Middletown, LB, 6-1/205
Navy: Zach Branam, La Salle, QB, 6-0/200; Titan Case, Springboro, WR/DB, 6-0/190; Michael Whitehouse, St. Xavier, DL, 6-4/227
BIG 10
Michigan: Rod Moore, Northmont, S, 5-11/180
Ohio State: Jaylen Johnson, La Salle, DB, 6-2/215
Penn State: Liam Clifford, St. Xavier, WR, 6-2/190
Wisconsin: Markus Allen, Northmont, WR, 6-2/215
BIG 12
Iowa State: Malik Verdon, Hamilton, ATH, 6-3/190
MID-AMERICAN CONFERENCE (MAC)
Akron: Josh Bryant, Middletown, RB, 5-9/195; Andre Proffitt, Lakota West, DT, 6-4/270; Cam Hergott, Beechwood, QB, 6-3/185
Ball State: Nick Presley, Walnut Hills, WR/DB, 6-0/165; Joey Stemler, Elder, LB, 6-2/220

Bowling Green: Dawson Hildebrand, Troy, OL, 6-3/330; Diego Neri, Northwest, LB, 6-2/225; Nate Pabst, Moeller, DE, 6-6/240
Eastern Michigan: Zachary Zoglio, Anderson, LS, 6-0/215 (PWO)
Miami: Jaymar Hargrove-Mundy, La Salle, WR, 6-0/170; Daylan Long, Winton Woods, LB, 5-11/190; Caleb Tubbs, Winton Woods, DB, 6-0/175; Scott Niemann, Elder, WR, 6-6/215 (PWO); Brian Shane, Alter, QB, 6-4/190 (PWO); Si Walters, Lakota West, DB, 6-0/190 (PWO); Graham Nicholson, Summit Country Day, K/P, 6-1/190 (PWO)
Ohio: Kaden Rogers, Ross, OG, 6-3/283; Adam Decerbo, Troy, DL, 6-3/275 (PWO)
Toledo: Drew Beckenhaupt, Elder, OL, 6-4/290
SOUTHEASTERN CONFERENCE (SEC)
Alabama: Devonta Smith, La Salle, DB, 6-0/180Kentucky
Kentucky: Paul Rodriguez, Mason, OL, 6-5/310
LSU: Corey Kiner, Roger Bacon, RB, 5-11/195
ATLANTIC COAST CONFERENCE (ACC)
Pitt: Tamarion Crumpley, Winton Woods, DB, 6-2/180
Virginia: Grant Lanham, Indian Hill, OL, 6-4/290 (PWO); Aidan Plate, Alter, DB, 6-2/185 (PWO)
CONFERENCE USA (C-USA)
Marshall: Cam Fancher, Wayne, QB, 6-2/180
Western Kentucky: Nate Griffin, East Central, LB, 6-2/215
MOUNTAIN WEST CONFERENCE (MWC)
Air Force: Gio Albanese, St. Xavier, DL, 6-0/280; Matt Devine, St. Xavier, LB, 6-0/220
SUN BELT CONFERENCE (SBC)
Appalachian State: David Larkins, Elder, TE/DE, 6-5/230
INDEPENDENTS
Army: Jaydan Mayes, Fairfield, ATH, 5-11/180