Senior Salute: Bradyn Lyons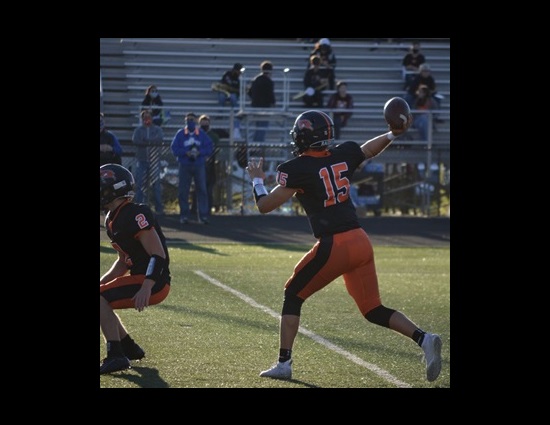 Ryle QB Bradyn Lyons
It is always great to see a kid overcome adversity and have success. Ryle quarterback Bradyn Lyons is one of those players.
Lyons got the nod as the Raiders starting quarterback in 2019. Covington Catholic would treat him rudely in his first varsity start. The junior went just 6-22, for 65 yards and four interceptions in a 37-0 loss to the eventual Class 5A state champions. Despite the harsh beginning, Lyons would bounce back as Ryle won its next three games. The Raiders combined to score 100 points in the victories.
The prosperity would be short-lived. Injuries shut Lyons down for the rest of the year. The Raiders dropped their next three contests with average margin of defeat of 35.0 points. The Ryle offense missed their starting signal-caller dearly, averaging just 9.3 points in the losses. The Raiders went 2-5 without Lyons to end the year.
It was a rough beginning to the 2020 season for Lyons. Ryle was sitting at 1-3. The senior sure could have benefitted from those extra snaps from the games that he missed a year earlier. Lack of preseason practice due to Covid didn't help his progress, either. In eight starts to this point, Lyons had thrown 10 interceptions and just five touchdowns.
Then things started to click for Lyons. The Ryle offense found its rhythm and won its final five regular season games before falling to rival Dixie Heights in the playoffs.
Lyons was sensational down the stretch. Five times in his last six games the full contest (he only threw one pass versus Conner before leaving the game) the 6-foot-3, 200-pound slinger averaged 250.2 yards per contest with 13 touchdown passes. In that same span, he threw for a personal best 344 yards in a win at Simon Kenton and for three touchdowns twice (vs. Dixie Heights, at Simon Kenton). Lyons ended his senior season with 1,984 yards passing, 19 touchdowns passes and two rushing scores.
The football career is not over for Lyons. He has signed to play with Thomas More. Smith is in a good position to earn playing time. He is the only true quarterback in the Class of 2021 that the Saints have signed to this point. Thomas More goes into the 2020-2021 NAIA spring season (starting this February) without a quarterback that has any starting experience at the college level.