2020 TSF Cincinnati Team of the Year: St. Xavier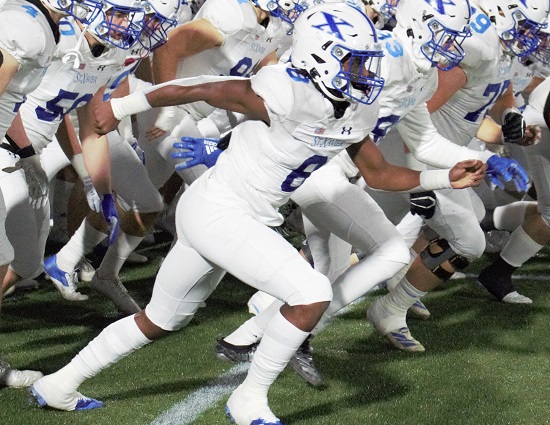 St. Xavier WR Terrell Macklin (photo by Greg Shoemaker/TriStateFootball.com)
You want to be playing your best football when the season comes to an end. Our 2020 TriState Football Cincinnati Team of the Year, St. Xavier (10-2) did just that. The Bombers won the program's fourth Ohio Division I title in grandiose fashion, ending 2020 with eight straight victories after starting the year at 2-2.
In the Division I title game St. Xavier faced Pickerington Central, the reigning state champion and recipients of the trophy two times in the last three years. With just under a minute left in the first quarter, Bombers quarterback Brogan McCaughey hooked up with Jalen Patterson for a fourth time in 11 minutes. The Bombers were up 30-0. It was the exclamation point to a state championship contest that was literally, decided by the end of the first quarter. At intermission, St. Xavier was up 44-3 and that would be the final tabulation on the scoreboard. It was the ultimate "save your best for last" showing. The Bombers performance would rewrite the state title game record books on so many pages.
In 2020, St. Xavier's opponents combined for a .704 winning percentage (69-29). Take out those foes 10 losses to the Bombers and that winning percentage balloons to .784. One of St. Xavier's two defeats was to Indiana Class 5A state champion Cathedral. "The Long Blue Line" went unbeaten against league rivals (5-0), won the GCL south outright and bested Elder and Moeller twice.
The St. Xavier offense clicked from the very start of the season. The Bombers averaged, 35.75 points and 402.4 yards per game. The special teams contributed 7.6 points per contest including 85 of a possible 91 points in the kicking game. It took a while but once the St. Xavier defense came together it was lights out for the opposition. During the regular season, the Bombers allowed 23.3 point per contest. They cut that number by five points in their first three playoffs wins. To finish out the postseason they gave up just 6.7 points in their last three triumphs to teams (Lakota West, Springfield, Pickerington Central) that had combined for a .871 winning percentage (27-4) with three of those losses to St. Xavier.
Steve Specht is 154-58 in 17 years as the St. Xavier head coach. All four of the school's state championships are under his watch. The Bombers are 36-12 (.750 winning %) in the playoffs under his watch.
TriState Football Cincinnati Teams of the Year
2020 – St. Xavier
2019 – La Salle
2018 – Wyoming
2017 – Winton Woods
2016 – La Salle
2015 – La Salle
2014 – La Salle
2013 – Loveland
2012 – Moeller
2011 – Kings
2010 – McNicholas
2009 – Winton Woods
2008 – Elder
2008 – St. Xavier