Schedule Sneak Peek: Ryle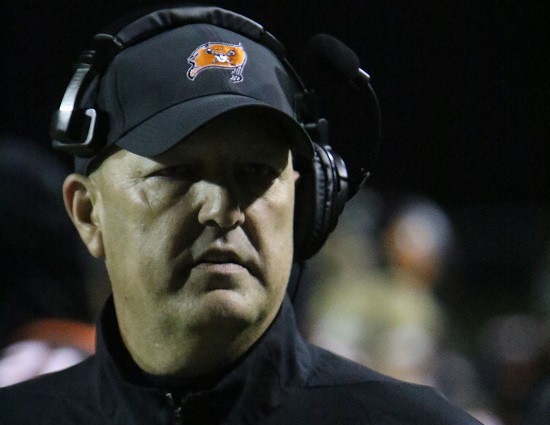 Ryle head coach Mike Engler (photo by Dan Bieneke/TriStatefootball.com)
With 14 starters and 32 lettermen returning, Ryle has decided to challenge themselves with beast of a schedule. The Raiders went 6-4 and won the Class 6A, District 6 regular season championship last fall. It was a bittersweet and short-lived accomplishment. Ryle abruptly fell to district rival, Dixie Heights in the first round of the playoffs for a second straight year after beating the Colonels late in the regular season.
The opponents on the Raiders 2021 slate went a combined 44-41 (.518 winning percentage) last season. The seven non-conference foes were a combined 33-24 (.579 winning percentage). Since 2015, Ryle is a combined 16-3 (.842 winning percentage) versus Conner, Cooper and Campbell County.
A wrinkle in the schedule sees the Raiders closing out the campaign at Covington Catholic. The two teams would have faced off in the regular season opener for a sixth straight year had Covid not set back the start of 2020. Ryle has not beaten the Colonels and Highlands in the same year since 2016. That was also the last time that Ryle made it out of the first round of the playoffs.
Here is a look at the 2021 Ryle schedule:
Fri – 08/20/21 – LEXINGTON CATHOLIC (5-3 in 2020) – 7:00 PM
Fri – 08/27/21 – CONNER (3-4) – 7:00 PM
Fri – 09/03/21 – at Cooper (3-6) – 7:30 PM
Fri – 09/10/21 – LOUISVILLE DE SALES (3-3) – 7:00 PM
Fri – 09/17/21 – at Highlands (3-3) – 7:00 PM
Fri – 09/24/21 – BYE
Fri – 10/01/21 – LOUISVILLE ST. XAVIER (6-3) – 7:00 PM
Fri – 10/08/21 – at Campbell County (2-6) – 7:00 PM
Fri – 10/15/21 – at Dixie Heights (6-4) – 7:00 PM
Fri – 10/21/21 – SIMON KENTON (3-7) – 7:00 PM
Fri – 10/29/21 – at Covington Catholic (10-2) – 7:00 PM
FINAL TAKE: There isn't a team on the Ryle's slate that won't significantly better than they were a year ago, except for maybe Covington Catholic but they are still going to be very good. The opportunity is there for the Raiders to pick up quality and character-building victories. If that happens, their confidence should be soaring by the end of the regular season
By the time the playoffs start, Ryle will be battle-tested. The schedule should have them prepared for anything they see in the postseason. What this team will have to avoid is a letdown from mental fatigue after such a grueling gauntlet to get to November.