2021 Snapshot: Little Miami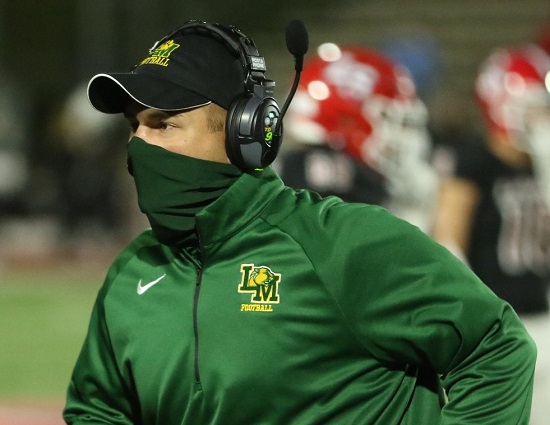 Little Miami head coach Caleb Jones (photo courtesy of ScoutingOhio.com)
This will be an intriguing fall for the Little Miami football program. The Panthers are coming off their first losing campaign since 2016. Despite the 3-7 record they made it to the postseason (thanks to the OHSAA opening the playoffs to everyone because of Covid) for a third straight year and they won a game. Achieving those feats are big for a school that is enjoying one of its best runs of success ever, in football.
The Little Miami seniors have plenty to play for. The Class of 2022 can go out as the only one in school history to say they went to the playoffs all four years they were in school.
"We do have to replace quite a few seniors, who were a big impact last year. Luckily, we have athletes waiting for their chance to shine," head coach Caleb Jones states.
There will be little margin for error every Friday night. The road back to the postseason for the Panthers won't be easy but it is doable. The playoffs will be expanding from eight to 12 teams. The ECC schedule will be much more difficult for Little Miami to navigate than it was a year ago, its first in the conference. Stealing a couple of wins against the four Division I teams on the schedule and coming out on top of the two non-conference games on the schedule, would start a good base of computer points for the boys from Morrow.
"Our 2021 Panthers are experienced and know what it takes to be successful. We will be led by a core group of players who are truly committed to our team. For us to achieve our goals it will require us to give relentless effort, be mentally tough and act, 11-as-1," Jones says.
Little Miami should have little trouble putting points on the scoreboard. They have the pieces to hold their own on this side of the ball. Stopping opponents is another story. The Panthers gave up 38.5 points per contest in 2020. Cut that number in half and this team will be in the playoffs.
Division II Region 8
2020 RECORD: 3-7, 1-4 ECC
COACH: Caleb Jones (11-10 at Little Miami, two years; 11-10 overall)

HONOR ROLL
Aidan Jones, Sr, QB/DB – One of the hidden gems in Region 8. Jones threw for 1,855 yards, had 22 touchdown passes and ran for another 230 yards with two smore cores on the ground in his first year under center. He was named Honorable Mention All-ECC for his efforts.  Jones was a SWOC Honorable Mention defensive back as a sophomore.

OTHER RETURNEES
Brayden King, Sr, OL – The Panthers most experienced player.  King is the leader of the offensive line.
Lucas Swierk, Sr, WR/DB/K – A valuable member of the secondary and the kicking game. Swierk is the ECC's active leader with three career fumble recoveries. He has also connected on 44/51 extra points and 2/3 field goals in his career.
Trey Miller, Sr, LB – A vital piece in the middle defense, Miller is back for his third season as a starter.
Nick Greenwell, Sr, DB – Was rock solid in his first year as a starter picking off two passes. Greenwell has all-league potential.
Casey Samuel, Sr, DL – The Panthers really need Samuel to take his game to the next level with such a young and raw d-line.
Ashton Middlekamp, Sr, RB/DB – Gets his chance to be the go-to running back. Middlekamp had 50 touches for 384 all-purpose yards (119 rush, 166 KR, 99 rec) and four touchdowns (three rush, one rec) in 2020.
Brayden Bischoff, Jr, WR/DB – Will play a prominent role on both sides of the ball. Bischoff had 10 receptions for 146 yards and three touchdowns as a sophomore.
Jayden Wayne, Jr, WR/DB – Don't be surprised if Wayne has a breakout junior season with all the open holes to fill at the skills positions on the Little Miami offense.
Aidan Whittington, Jr, OL – Back for another season as a starter. Over the next two years, the 6-foot-4, 290-pound Whittington will look to show everyone that he is capable and worthy of playing at the next level.
Sam Dooley, Jr, OL – Like classmate Whittington, this a big year for the 6-foot-2, 265-pound Dooley to begin to separate himself from his peers in the ECC.
NEWCOMERS
Seniors LB Colby Grimes, TE Ashton Olberding, WR/LB Sweetest Olatunji along juniors WR/DB Jack Cooper, WR/DB Luke Sizemore, RB/LB Marcus Jones, OL/LB Jacob Poulin, DL Hayden Lambert, WR/DB Noah Kemmet and QB/DB Grant Maupin all have legitimate shots to crack the starting lineup.
Sophomores DB Collin Fee, RB Will Rom, WR/LB Elisha Jones, DL Tristan Kornaker and RB/LB Nolan Culp will get long looks in the preseason to prove they are worthy of being in the rotation for playing time.
PLAYOFF HISTORY
(four appearances, 3-4) – 2020, 2019, 2018, 1992
2021 SCHEDULE
Fri – 08/20/21 – at Goshen (3-5 in 2020) – 7:00 PM
Fri – 08/27/21 – TALAWANDA (3-5) – 7:00 PM
Fri – 09/03/21 – at Anderson (7-3) – 7:00 PM
Fri – 09/10/21 – WALNUT HILLS (2-5) – 7:00 PM
Fri – 09/17/21 – at Turpin (5-2) – 7:00 PM
Fri – 09/24/21 – LOVELAND (1-6) – 7:00 PM
Fri – 10/01/21 – at Milford (4-4) – 7:00 PM
Fri – 10/08/21 – LEBANON (4-6) – 7:00 PM
Fri – 10/15/21 – at West Clermont (3-5) – 7:00 PM
Fri – 10/22/21 – KINGS (7-1) – 7:00 PM