2021 Snapshot: Goshen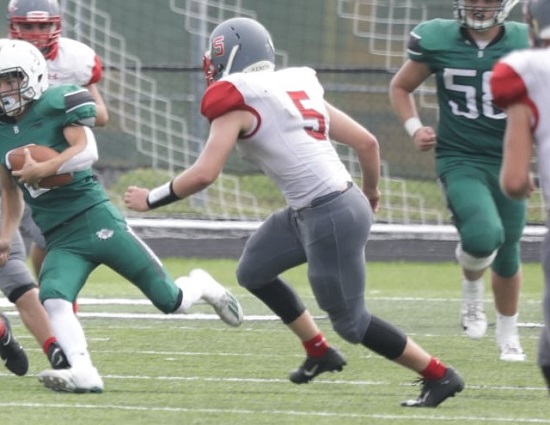 Goshen RB/LB Logan Lovins (photo from Facebook: bhssportspage)
It was a bittersweet campaign for Goshen in 2020. The Warriors won the schools first ever playoff game. Unfortunately, they ended up with a losing record for the first time since 2014. The direction head coach Greg Miller and his squad move toward this fall will be one of the most intriguing stories east of the Queen City.
The Goshen offense will lack game experience. "We will play quite a few first-year lettermen, including six to seven sophomores," Miller states.
The defense will carry the Warriors. "We have high-character, hard-working kids, some who are very experienced, taking the field. That will make it difficult for teams to find points on Friday nights," Miller goes on to say.
Striving to be consistent will be a major goal for Goshen this offseason and into the early part of the schedule. If the Warriors can solve that dilemma, this team will have the chance to become the first in program history to make the playoffs in back-to-back years.
Division III, Region 12
2020 RECORD: 3-5, 2-3 SBAAC American
COACH: Greg Miller (10-8 at Goshen, two years; 10-8 overall)
HONOR ROLL
Tracker Newberry, Sr, K/P – An invaluable asset on special teams. Newberry averaged 36.5 yards per punt on his way Second Team All-SBAAC American accolades as a junior. He has also connected on 42/48 extra points and all four field goal attempts in his career.
Logan Lovins, Sr, OLB – Goshen's Swiss Army knife last season. Lovins played outside linebacker, defensive end, running back and on all special team units. He was named Honorable Mention All-SBAAC American for his efforts. Lovins finished 2020 with 149 yards rushing, two scores on the ground and one-and-a-half sacks.
OTHER RETURNEES
Brice Brewer, Sr, RB/DB – Will see snaps at the various skills positions on offense. Brewer will also be the leader of the secondary. On special teams he averaged 25.7 yards with a touchdown on kickoff returns as a junior.
Connor Hellenthal, Sr, OL – Back for his third season as a starter. Hellenthal is the Warriors leader in the trenches.
Derrick Johnson, So, OL/DL – Started as a freshman on both sides of the line. Johnson has great feet and will contribute greatly to the Warriors physical style of play in the trenches.
Andrew Morris, Sr, RB/S – Coming off an injury-plagued junior season, Miller will be leader of the secondary. He will also see a lot of reps out of the Goshen backfield.
NEWCOMERS
Senior WR/DB Dakota Dutlinger, junior DE Nick Bucksath along with sophomores LB Gabe Cope and LB Sebastian Smith all have inside tracks on starting roles this fall.
PLAYOFF HISTORY
(six appearances, 1-6) – 2020, 2017, 2009, 2007, 1993, 1990
2021 SCHEDULE
Fri – 08/20/21 – LITTLE MIAMI (3-7 in 2020) – 7:00 PM
Fri – 08/27/21 – at HILLSBORO (2-8) – 7:00 PM
Fri – 09/03/21 – at Western Hills (5-3) – 7:00 PM
Fri – 09/10/21 – MIAMI TRACE (4-4) – 7:00 PM
Fri – 09/17/21 – BLANCHESTER (6-2) – 7:00 PM
Fri – 09/24/21 – CLINTON-MASSIE (9-1) – 7:00 PM
Fri – 10/01/21 – at Wilmington (4-4) – 7:00 PM
Fri – 10/08/21 – at Western Brown (5-3) – 7:00 PM
Fri – 10/15/21 – BATAVIA (2-6) – 7:00 PM
Fri – 10/22/21 – at New Richmond (5-3) – 7:00 PM