2021 Snapshot: Batavia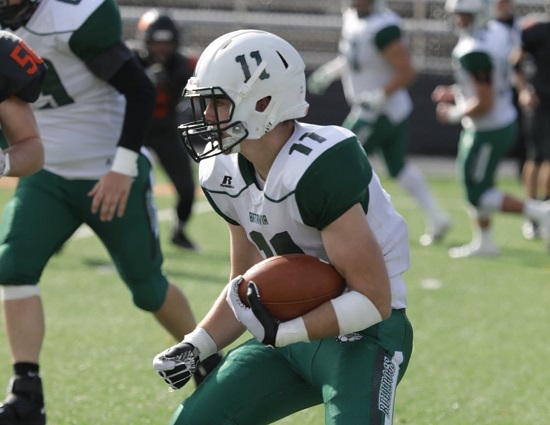 Batavia WR Kellen Epps (photo from facebook.com/BHSsportspage)
The reconstruction has begun at Batavia. Now, in his second year, head coach Nick Schmidt will build upon a little bit of success the Bulldogs had in his rookie season at the helm. When he took over, the program was in dire straits. After one campaign, Batavia has started to form an identity as to who it is and who it aspires to become.
In 2020, after three games and 1-2 start, Schmidt made at switch at quarterback moving Max Applegate to receiver and inserting senior Mick Heckard as the Bulldogs signal-caller. The aerial attack began to soar……sort of.
Over the final five October games, Batavia averaged 346.6 yards per game passing with 17 touchdown tosses. Those numbers could have been even more monstrous had they not thrown 12 drive killing interceptions, in those tilts. Still the Bulldogs have established a niche that other teams will now, have to game plan around.
Moving forward Batavia has issues to address – establishing the run, taking care of the football and keeping foes out of the endzone. The Bulldogs averaged just 43.0 yards per game rushing with just three scores on the ground last season. The offense also turned the ball over 22 times. Cut that number in half and Batavia gets nearly one-and-a-half extra possessions per game. That would be a huge help to a defense which allowed 41 points or more 14 times in the last 18 games dating back to 2019.
Schmidt knows there is more work to be done. "We need to create more depth as the offseason goes on. We also have to replace a starting quarterback that broke multiple school passing records in only five games last year." It is a major undertaking but Schmidt has to feel good about the direction Batavia is heading.

Division IV, Region 16
2020 RECORD: 2-6, 0-4 SBAAC American
COACH: Nick Schmidt (2-6 at Batavia, one year; 2-6 overall)
HONOR ROLL
Max Applegate, Sr, QB/WR/DB – Moved from quarterback to receiver and flourished the last five games of the season in 2020. Applegate had 52 receptions for 556 and six touchdowns, in that span. He was named First Team All-SBAAC American for his efforts. Applegate heads into his senior year with 726 yards passing, 242 yards rushing, 556 yards receiving on 52 receptions, 1,157 all-purpose yards, four touchdown tosses, six touchdowns catches and one kickoff return for a score in his career.
Kellen Epps, Sr, WR/DE/LB – The rangy 6-foot-4 receiver blossomed last season in Batavia's spread offense. Epps led the team with 55 receptions for 438 yards and three touchdowns on his way to being named Honorable Mention All-SBAAC American as a junior. He has 71 receptions for 596 yards and three touchdowns at the varsity level.
Will Moorehead, Sr, DB – The leader of the Batavia secondary. Moorehead was an Honorable Mention All-SBAAC American selection in 2020. He had one interception as a junior.
OTHER RETURNEES
Max Stewart, Sr, RB/LB – This should be a breakout year for Stewart who could be the answer to the teams rushing woes.
Josh Manz, Sr, OL/DL – The 6-foot-3, 245-pound Manz will anchor the Bulldogs o-line.
NEWCOMERS
Dylan Stewart, So, OL – Batavia coaching staff is hoping Stewart develops sooner rather than later for an offensive line that needs its young, big bodies up front to produce results right out of the gate.
Xavier Taylor, Jr, RB/DB – The Bulldogs liked what they saw in Taylor's limited minutes a year ago. He had two interceptions in four games.
PLAYOFF HISTORY
(four appearances, 1-4) – 2020, 2012, 2003, 1999

2021 SCHEDULE
Fri – 08/20/21 – WILLIAMSBURG (3-7 in 2020) – 7:00 PM
Fri – 08/27/21 – McNICHOLAS (5-3) – 7:00 PM
Fri – 09/03/21 – at Clermont Northeastern (2-8) – 7:00 PM
Fri – 09/10/21 – at Norwood (4-6) – 7:00 PM
Fri – 09/17/21 – at Bethel-Tate (7-3) – 7:00 PM
Fri – 09/24/21 – WILMINGTON (4-4) – 7:00 PM
Fri – 10/01/21 – NEW RICHMOND (5-3) – 7:00 PM
Fri – 10/08/21 – CLINTON-MASSIE (9-1) – 7:00 PM
Fri – 10/15/21 – at Goshen (3-5) – 7:00 PM
Fri – 10/22/21 – at Western Brown (5-3) – 7:00 PM