2021 Snapshot: Norwood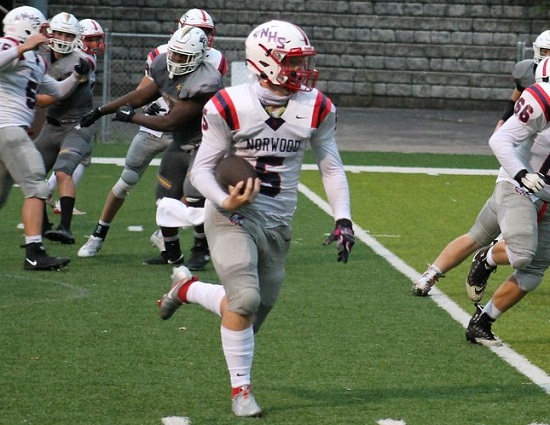 Norwood ATH Dylan Carter (photo from rogerbacon.org/Mike Mulcahey)
There was an attitude adjustment at Norwood last season under first year head coach Brian Pitzer. The Indians won their first game in 672 days and then three more in the 42 days that followed. They also had their first postseason berth since 2014 and first playoff win since 2012. Now they are hungry for more.
"We really excited about this year's team. Our overall team strength has improved. As always, we want to be the best offense in the state! We are going to push ourselves to do so every single day during the offseason," Pitzer states.
The team is still working on getting better in all three phases of the game. "This year were really looking forward to playing with more tempo on offense and spreading the field. Defensively, we are looking forward to flying to the football, improving our tackling while forcing more turnovers and sacks. On special teams, we are looking to improve our overall consistency," says Pitzer.
Perhaps the most important thing that Pitzer and his staff have focused on, is character building within the team. "We have worked all offseason on pushing our players to be elite, academically, athletically and socially! Our teams will always pride themselves on caring for the person to the right and left of them." By adhering to those principles Norwood is destined to be successful.
Division IV, Region 16
2020 RECORD: 4-6, 1-3 MVC Scarlet
COACH: Brian Pitzer (4-6 at Norwood, one year; 4-6 overall)
HONOR ROLL
Quinterrius Jemison, Jr, DL – A tenacious pass rusher. Jemison led the Cincinnati-area with 20.0 sacks in 2020. He was named OPSWA Division IV Second Team All-Southwest District for his work.
Dylan Carter, Jr, ATH – a dynamic player who churns out yards in droves. Carter amassed 1,957 all-purpose yards (729 rush, 701 rec, 527 ret), had 40 receptions and found the end zone 16 times (eight rush, eight rec), as a sophomore. Carter was named OPSWA Division IV Honorable Mention All-Southwest District.
Ryan Peter, Sr, QB – Became the all-time leading passer in Norwood history after throwing for 2,296 yards and 25 touchdowns in 2020. Peters was named First Team All-MVC Scarlet for the effort. He has 4,224 yards 40 touchdowns passing in an Indians uniform.
William Paulino, Sr, OL/DL – A leader on the offensive line. Paulino is a two-time Second Team All-MVC Scarlet selection.
OTHER RETURNEES
Jake Tanner, Sr, OL/DL – Back for his third year as a starter. Tanner helped pave the way for an Indians offense that averaged 338.4 yards per game in 2020.
Eli Partin, Sr, WR/DB – Will lead the receiving corp this fall. Partin has 54 receptions for 512 yards and six touchdowns, in his career.
Dylan Horsley, Jr, WR/LB – Despite being just a junior, Horsley will be asked to take on a leadership role for the defense in 2020.
Austin Partin, So, OL – Had an excellent freshmen year. Partin will be a staple on the o-line over the next three seasons.
Landen Taylor, Jr, OL – Helped protect the passing game that averaged 247.8 yards per contest with 26 touchdown tosses last season.
NEWCOMERS
Anthony Dinwiddie, So, WR/FS – A deep Ball threat. The coaching staff is looking forward to him stepping up in 2021.
Michael Cephas, So, WR/DB – A long, quick twitch wide receiver. Cephas will really compliment the Indians passing game.
Amon Collins, So, RB/LB – Had some playing time in 2020. Collins will provide a presence at linebacker.
PLAYOFF HISTORY
(five appearances, 2-5) – 2020, 2014, 2012, 2004, 1991
2021 SCHEDULE
Fri – 08/20/21 – at Madeira (6-4 in 2020) – 7:00 PM
Fri – 08/27/21 – MARIEMONT (6-4) – 7:00 PM
Fri – 09/03/21 – WYOMING (10-1) – 7:00 PM
Fri – 09/10/21 – BATAVIA (2-6) – 7:00 PM
Fri – 09/17/21 – NEW RICHMOND (5-3) – 5:00 PM
Fri – 09/24/21 – at Roger Bacon (10-1) – 7:00 PM
Fri – 10/01/21 – at Summit Country Day (4-6) – 7:00 PM
Fri – 10/08/21 – at North College Hill (2-5) – 7:00 PM
Fri – 10/15/21 – PURCELL MARIAN (4-5)– 7:00 PM
Fri – 10/22/21 – CHCA (6-2) – 7:00 PM