2021 Snapshot: Madeira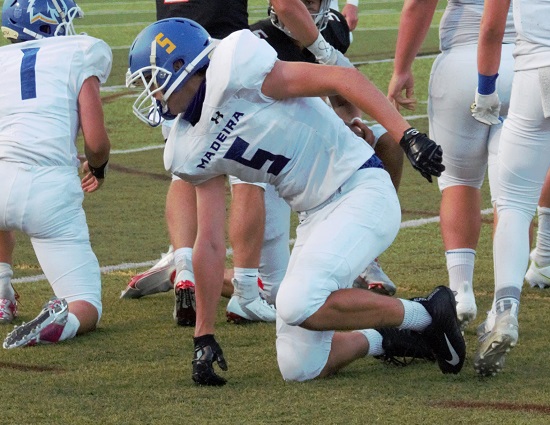 Madeira TE/DE Conner Cravaack (photo by Greg Shoemaker/TriStateFootball.com)
Three straight trips to the playoffs, the schools first ever postseason win in 2020 after 11 previous tries and Madeira has things going in the right direction under head coach Chris Stewart. A young and eager group of Mustangs look to add to those achievements.
"We look forward to the opportunity to compete this year and continue to improve on the recent success of the Madeira Mustang Football program," Stewart states.
He goes on, "The offensive line will have size and returns four players that have started and have varsity experience. The defensive front seven will have some new faces but return some talented athletes that look to improve upon a team that allowed only 16 points per game and 94 yards rushing per game in 2020. We will need to replace the entire secondary that accounted for 14 interceptions."
Madeira has some holes to fill and may not look like a well-oiled machine to start the year. By the time the regular season ends the Mustangs should be a force to be reckoned with. Expect this squad to win in the playoffs once again.
Division V, Region 20
2020 RECORD: 6-4, 3-3 CHL
COACH: Chris Stewart (21-11 at Madeira, three years; 21-11 overall)
HONOR ROLL
Aidan Megois, Jr, OL/LB – Back for his third year as a starter, Megois looks to have an outstanding 2021 campaign. He was named Second Team All-CHL (OL) as a sophomore. Megois has 51 total tackles, two-and-a-half sacks and a fumble recovery, in his career.

OTHER RETURNEES
Conner Cravaack, Jr, TE/DE – 6-5/220 – Madeira's top returning receiver and a two-way standout. The 6-foot-5, 220-pound Cravaack had 23 catches for 216 yards, one touchdown reception, 43 total tackles and one-and-a-half sacks, as a sophomore.
Justin Matsudo, Jr, OL – The 6-foot-3, 295-pound Matsudo will move to left tackle this year and look to improve on a successful 2020 campaign. Matsudo has all-district talent.
Max Autry, Jr, WR/DB – Will be one of the Mustangs main targets at receiver and a vital cog in the secondary. Autry had seven receptions for 85 yards, a touchdown catch and an interception, as a sophomore.

NEWCOMERS
Seniors WR/DB Blake Hamm, RB/LB Henry Manning TE/DL Steven Schwallie along with juniors OL/DL Max Mobley, OL/DL Grant Edgington, WR/LB Carson Cravaack, RB/DB Nate Opichka and OL/DL Luke Browning should all move into starting roles. Manning ran for his first varsity touchdown last season against Finneytown.
PLAYOFF HISTORY
(12 appearances, 1-12) – 2020, 2019, 2018, 2014, 2013, 2012, 2011, 2005, 2001, 2000, 1999, 1982
2021 SCHEDULE
Fri – 08/20/21 – NORWOOD (4-6)  – 7:00 PM
Fri – 08/27/21 – at CHCA (6-2) – 7:00 PM
Fri – 09/03/21 – PURCELL MARIAN (4-5) – 7:00 PM
Fri – 09/10/21 – MARIEMONT (6-4) – 7:00 PM
Fri – 09/17/21 – at Finneytown (0-9) – 7:00 PM
Fri – 09/24/21 – at Reading (2-6) – 7:00 PM
Fri – 10/01/21 – INDIAN HILL (7-1) – 7:00 PM
Fri – 10/08/21 – DEER PARK (4-3) – 7:00 PM
Fri – 10/15/21 – at Taylor (3-6) – 7:00 PM
Fri – 10/22/21 – at Wyoming (10-1) – 7:00 PM
THOSE STEALING 'STANGS
Over the past three seasons Madeira has a whopping 82 takeaways (38 FRs, 44 INTs) and 13 defensive touchdowns (seven FRs, six INTs). The Mustangs have also racked up 645 yards on interception returns, in that span.