2021 Snapshot: Taylor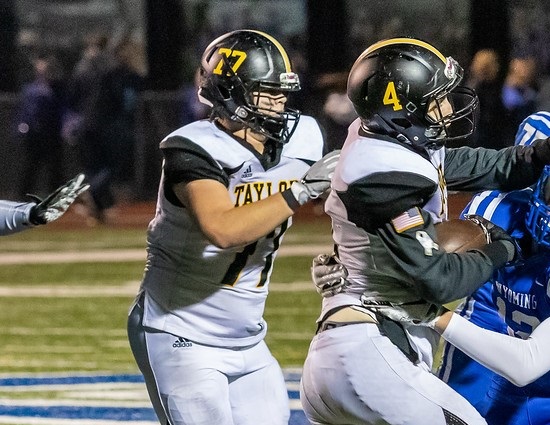 Taylor OL/DL Harry Hilvert (77) (photo from wyomingathletics.org/sports/football)
It's a fresh start and new look at Taylor this fall. David Dransman takes over as head coach. The Yellow Jackets are ready to move on from the past. They are just 17-42 since their last winning season, in 2014. Despite just three victories in 2020, the program did win its first ever playoff game and that is a huge positive to build upon.
"We will look to continue upon our improvements from last season. There is a talented group of seniors to lead the way and underclassmen that are chomping at the bit to compete," Dransman states.
Taylor returns four of its five starting offensive linemen and both tight ends, from a year ago. "The strength of this team will be built in the trenches," Dransman says.
Getting back to the postseason is going to take some effort. Seven of the Yellow Jackets 10 opponents finished 2020 with winning records. They were a combined 58-36 (.617 winning %). This group will have their opportunities to change the culture at Taylor. It will be up to them to make it happen.
Division IV, Region 16
2020 RECORD: 3-5, 2-4 CHL
COACH: David Dransman (0-0 at Taylor, first year; 0-0 overall)
HONOR ROLL
Harry Hilvert, Sr, OL/DL – A relentless athlete in the trenches. As good as Hilvert has been as a sophomore and junior, he is expected to take another step as a senior leader in 2021. Hilvert was named OPSWA Division IV Second Team All-Ohio and the CHL Defensive Player of the Year, as a junior. He has 150 total tackles and 12 sacks, in a Taylor uniform.
Johnny Kearns, Sr, WR/DB/P/K – Does anything and everything for the Yellow Jackets. Kearns athletic ability will make him a difference maker at multiple position this fall. He was named Second Team All-CHL (WR) as a junior and OPSWA Division III Second Team All-Southwest District (P) as a sophomore. Kearns has 297 yards passing, 100 yards rushing, 35 receptions for 423 yards, eight touchdowns (four pass, three rec, one rush), 115 total tackles, three interceptions as well as converting 18/21 extra points, in his career.
Mark Snowden, Sr, QB – One of the hardest workers on the team. Snowden is always focusing on his craft as well as studying his playbook and reads. He threw for 679 yards, ran for 263 yards and accounted for 10 touchdowns (seven pass, three rush) to earn Honorable Mention All-CHL accolades, as a junior.
Owen Ferguson, Sr, OL/DL – A returning starter who will be a force on the Yellow Jackets offensive and defensive lines. Ferguson was named Honorable Mention All-CHL, as a junior.
Seth Keith, Sr, WR/DB – The coaching staff is looking for Keith to take his game to the next level. He was an Honorable Mention All-CHL selection after getting in on 22 total tackles, snaring an interception and averaging 32.1 yards on eight kickoff returns including a touchdown, in 2020.

OTHER RETURNEES
Dylan Lanham, Sr, TE/WR/OLB – A matchup issue for defenses at 6-foot-3, 195-pounds and 4.3 speed in the 40-yard dash. The athletic Lanham is also a great blocker as a tight end. Lanham broke his hand in the 2020 preseason and only played in the final two games where he had six receptions for 175 yards and three touchdowns. Lanham has 24 receptions for his 387 yards and seven touchdowns, in a Yellow Jackets uniform.
Gage Hall, Jr, RB/slot/ATH – A do-it-all skills positions player that offers the Taylor offense versatility. Hall has thrown for 1,037 yards, ran for 295 yards and accounted for nine touchdowns (six pass, three rush), in his career.
Ben Hilvert, Jr, RB/ILB – When healthy, Hilvert can make his presence felt. He had 15 total tackles and four sacks in five contests as a sophomore. Hilvert heads into his junior year with 49 total tackles and five-and-a-half sacks.
Dillon Davidson, Sr, DL – A leader on the defensive line, Davidson is back for his third year as a starter. He has 102 total tackles and two-and-a-half sacks, at the varsity level.
Grant Booth, Jr, OL/ILB – A returning starter, Booth has all-league potential. He has 46 total tackles and an interception, in his career.
Leland Jones-Royalty, Jr, RB/slot/OLB – Will be a huge addition to the linebackers after injuries cut his sophomore season short. Jones-Royalty has 41 total tackles, a fumble recovery and an interception, in his career.

NEWCOMERS
Juniors WR/slot/DB Tony Kuhr and RB/slot/DB Chase Carter are expected to come in and immediately be contributors on both sides of the ball.
PLAYOFF HISTORY
(two appearances, 1-1) – 2020, 2014
2021 SCHEDULE
Fri – 08/20/21 – at Greenon (6-2) – 7:00 PM
Fri – 08/27/21 – LAWRENCEBURG (11-2) – 7:00 PM
Fri – 09/03/21 – BETHEL-TATE (7-3) – 7:00 PM
Fri – 09/10/21 – at Finneytown (0-9) – 7:00 PM
Fri – 09/17/21 – DEER PARK (4-4) – 7:00 PM
Fri – 09/24/21 – INDIAN HILL (7-1) – 7:00 PM
Fri – 10/01/21 – at Wyoming (9-1) – 7:00 PM
Fri – 10/08/21 – at Reading (2-6)– 7:00 PM
Fri – 10/15/21 – MADEIRA (6-4) – 7:00 PM
Fri – 10/22/21 – MARIEMONT (6-4)  – 7:00 PM