2021 Snapshot: Wyoming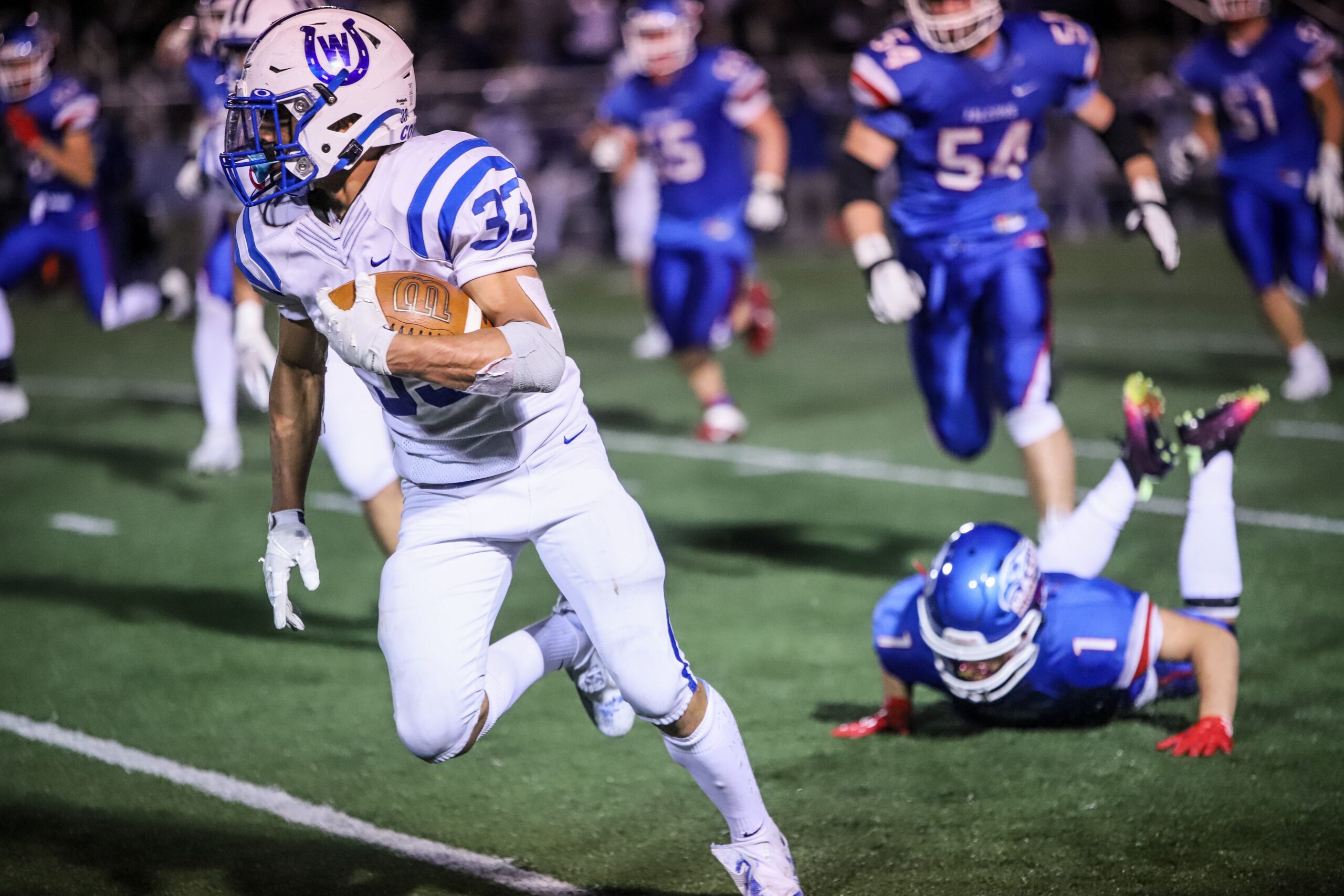 Wyoming RB/DB CJ Hester (photo by Shelby Frieszell/TriStateFootball.com)
Dominating, that's the best way to describe Wyoming football over the last five seasons. The Cowboys are loaded again. They are going to be tough to corral in 2021.

In 2020, Wyoming qualified for the OHSAA playoffs for the eighth year in a row and won its third straight regional championship. The Cowboys went undefeated in the regular season and won the Cincinnati Hills League champions for a fifth consecutive season. It was their seventh league crown in the last eight campaigns.
Wyoming is currently on a 47-game regular season winning streak, the top streak in Ohio amongst all divisions. The Cowboys class of 2022 has a combined record of 38-2 at the varsity level.
Wyoming returns all but two linemen (on both sides of the ball), arguably the best running back in Division IV and the majority of a defense that has allowed nine points or less 26 times in these seniors last 36 games. There is plenty to like about these Cowboys. Another deep playoff run is more than likely for this posse.
Division IV, Region 16
2020 RECORD: 10-1, 6-0 CHL
COACH: Aaron Hancock (95-15 at Wyoming, nine years; 95-15 overall)
HONOR ROLL
CJ Hester, Jr, RB/DB – One of the state's top players in the Class of 2023. Hester was something special as a sophomore. He ran for 1,121 yards, racked up 1,395 all-purpose yards found the end zone 20 times (17 rush, three rec) and had 57 total tackles. That effort earned him OPSWA Division IV First Team All-Ohio and OPSWA Southwest District Offensive Player of the Year honors. Hester has an offer from Buffalo.
Jared Hancock, Sr, TE/LB – A tackling machine that finally got his just due in 2020. Hancock earned OPSWA Division IV Third Team All-Ohio (LB) accolades after recording 78 total tackles. He heads into his senior year with 211 total tackles in a Cowboys uniform.
AJ Howard, Jr, OL/DL – A vital cog of a veteran o-line. The 5-foot-11, 260-pound Howard was named Second Team All-CHL (OL) as a sophomore.
Joel Allen, Jr, OL/DL – A run stopper along the defensive front. The 6-foot-1, 265-pound Allen was named Second Team All-CHL (DL) in 2020. He has 62 total tackles in a Cowboys uniform.
Theo Davis, Jr, OL/DL – Will be one of the CHL's to linemen over the next two seasons. Davis is a two-time Honorable Mention All-CHL selection.
Max Wilking, Sr, OL/LB – A team captain and leader up front. Wilking was named Honorable Mention All-CHL after helping Wyoming churn out 319.2 yards of total offense as a junior.
Sam Prangley, Sr, DB – A pleasant surprise for the Cowboys secondary last fall. Prangley recorded 30 total tackles on his way to Honorable Mention All-CHL acclaim.
Quaid Hauer, So, LB – Had an excellent varsity debut as a freshman. Hauer tallied 56 total tackles with six sacks and a fumble recovery on his way to Honorable Mention All-CHL accolades.
OTHER RETURNEES
Coben Wellman, Sr, OL/DL – Back for his third year as a starter on the o-line. Wellman was an Honorable Mention All-CHL performer as a sophomore.
Bruce Wagers, Sr, OL/DL – Back for his third year as a starter on the d-line. Wagers has 58 total tackles in his career.
Cole O'Gara, Sr, WR/DB – A contributor in the secondary and as a receiver. O'Gara was in on 17 total tackles and had seven receptions for 76 yards a year ago.
Tony Blair, Jr, TE/DL – Will see time on both sides of the line. Blair had his first touchdown catch last fall in the playoffs against Graham.
Wyatt Metz, Jr, OL/DL – A returning starter, Metz helped pave the way for a Cowboys offense that averaged 218.0 yards rushing with 33 touchdowns in 2020.
NEWCOMERS
Senior WR/LB Drew Mouch, juniors WR/DB Chazz Early, WR/DB Will Svendsen, WR/DB Matty Mitchell, RB/LB Terrence Gragston II, WR/LB Coleman Jeffers, TE/DL Sam Williams and sophomore RB/LB DJ Gray all look to break into the Cowboys rotation. Williams had 20 total tackles as a sophomore.
PLAYOFF HISTORY
(26 appearances, 31-24) – 2020 (Regional Champion), 2019 (Regional Champion), 2018 (State Champion), 2017, 2016, 2015, 2014, 2013, 2010, 2009 (Regional Champion), 2007, 2006, 2005, 2003, 2002, 2001, 2000, 1999, 1998 (Regional Champion), 1997, 1996, 1994, 1992, 1988, 1977 (State Champion), 1975 (State Runner-up)
2021 SCHEDULE
Fri – 08/20/21 – at Harrison (3-7) – 7:00 PM
Fri – 08/27/21 – TAFT (4-2) – 7:00 PM
Fri – 09/03/21 – at Norwood (4-6) – 7:00 PM
Fri – 09/10/21 – INDIAN HILL (7-1) – 7:00 PM
Fri – 09/17/21 – at Reading (2-6) – 7:00 PM
Fri – 09/24/21 – DEER PARK (4-3) – 7:00 PM
Fri – 10/01/21 – TAYLOR (3-6) – 7:00 PM
Fri – 10/08/21 – at Mariemont (6-4) – 7:00 PM
Fri – 10/15/21 – at Finneytown (0-9) – 7:00 PM
Fri – 10/22/21 – MADEIRA (6-4) – 7:00 PM
A RICH WINNING TRADITION
Wyoming has the #1 all-time winning percentage in Ohio High School football history. The program currently has 736 wins in its 102-year history. The Cowboys have won 36 conference championships, made 26 playoff appearances with seven regional titles, one state runner-up and two state titles.