2021 Snapshot: Oak Hills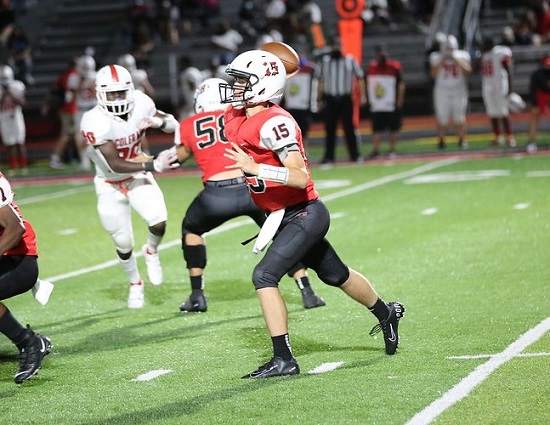 Oak Hills QB Jaxon Schreiber (photo by Don McGinnis)
The old adage "you have to learn how to crawl before you can walk," applies when talking about Oak Hills on field performance last season. The Highlanders got a couple of monkeys off of their backs by snapping a 22-game losing streak and making the playoffs (thanks to everyone getting in because of Covid) for the first time in 31 years. Those were very encouraging steps for the program under head coach Justin Roden in his first year at the helm.
"Numbers in the program are rising and the culture is changing. We have a long way to go, but there are lots of positives," Roden states. "Offensively we threw 11 touchdown passes after throwing zero in 2019. The offense went from 5.9 points per game (in 2019) to 17.8 in 2020.  Also, the defensive gave up four points fewer per game compared to 2020."
Oak Hills returns a great deal of skills positions players and three linemen on offense. This should be the first Highlanders team to score more than 200 points since 2016.
The defense has holes to fill. It needs the younger players to be ready and producer starting in Week 1. Three linemen are back but it is still an undersized defensive front. The good news is that after allowing 276.5 yards rushing in the first six games last season and going 0-6, the unit finished strong yielding just 147.0 yards on the ground in the final three tilts.
Oak Hills goes into 2021 with some momentum on its side, victorious in two its last three games, a year ago. Had it not been for a fourth quarter meltdown in the finale against Walnut Hills, the Highlanders would be riding a three-game winning streak heading into this season.
The schedule is extremely difficult. Finishing .500 is going to take a titanic effort. If Oak Hills manages to do that against this slate, it will be one of the best stories of the season.
Division I, Region 4
2020 RECORD: 2-7, 1-5 GMC
COACH: Justin Roden (2-7 at Oak Hills, one year; 42-39 overall, seven years)
TOP RETURNEES
Ian Schaefer, Sr, CB – The leader of the Highlanders secondary. Schaefer has four interceptions and 36 total tackles in his career.
Jaxon Schreiber, Jr, QB – The ceiling is high for this rising star. Shreiber threw for 608 yards, ran for 103 yards and accounted for five touchdowns (four pass, one rush) while splitting time under center (with Devin Holt) as a sophomore. He is one of those kids that coaches love to have on their side – the starting quarterback and the starting point guard on the basketball team.
Jacob Day, Jr, WR – An explosive player who is primed for a breakout junior campaign. Day had 12 receptions for 185 yards and a pair of scores last fall.
Devin Roper, Sr, WR – One of three returning receivers who is poised to have a big year. Roper had 20 receptions for 249 yards as a junior.
Kyle Toon, Jr, WR – Will be a factor as a receiver and a returner. He reeled in 18 catches for 211 yards and a touchdown as a sophomore. Toon had at least one reception in all eight games in which he played in.
NEWCOMERS
Junior OLB Luke Barkley, sophomores RB/OLB Demar Parker Jr. and WR/DB Ethan Ridder are expected to be immediate contributors. Barkley had 21 total tackles in five games a year ago.
PLAYOFF HISTORY
Oak Hills (two appearances, 0-2) – 2020, 1999
2021 SCHEDULE
Fri – 08/20/21 – at Turpin (5-2 in 2020) – 7:00 PM
Fri – 08/27/21 – COLDWATER* (12-0) – 7:00 PM
Fri – 09/03/21 – LAKOTA WEST (8-1) – 7:00 PM
Fri – 09/10/21 – at Fairfield (2-7) – 7:00 PM
Fri – 09/17/21 – at Colerain (6-3) – 7:00 PM
Fri – 09/24/21 – PRINCETON (6-2) – 7:00 PM
Fri – 10/01/21 – at Hamilton (6-4) – 7:00 PM
Fri – 10/08/21 – LAKOTA EAST (4-4) – 7:00 PM
Fri – 10/15/21 – at Middletown (1-6) – 7:00 PM
Fri – 10/22/21 – SYCAMORE (1-7) – 7:00 PM
* Ohio Division VI state champions