2021 Snapshot: Lakota East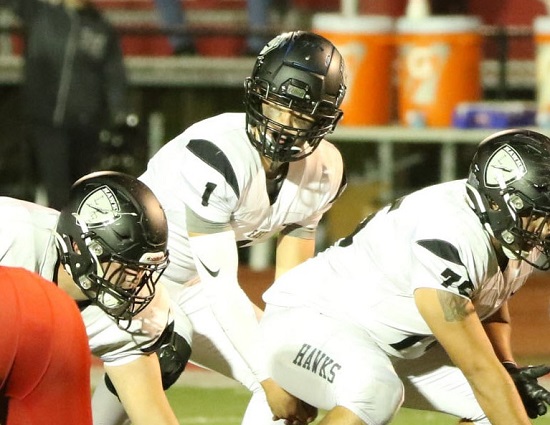 Lakota East QB TJ Kathman (photo courtesy of ScoutingOhio.com)
Every season there are teams that fly under the radar. As the Friday nights go by those squads start finding more and more casual fans beginning to root for them. Lakota East has all the ingredients to be one of those schools in 2021.
The Thunderhawks have outstanding senior leadership. They are a hard-working group that embraces discipline. You get the vibe that they genuinely like each other and are bonded to getting the job done. On the field, Lakota East will embody the "toughness" persona of head coach Rick Haynes. There will be no quit in this team.
After starting last season 0-3, the Thunderhawks reeled off four straight wins before falling at rival Lakota West (who was unbeaten at the time) in the playoffs. The confidence from that strong finish will spill over into this season. Lakota East is going to be a real menace to its opponents.
Division I, Region 4
2020 RECORD: 8-4, 6-2 GMC
COACH: Rick Haynes (60-54 at Lakota East, 11 years; 60-54 overall)
HONOR ROLL
TJ Kathman, Sr, QB – Back for his third season as the Thunderhawks signal-caller. Kathman expanded his game last fall, adding the dimension as a runner. He amassed 1,403 yards of total offense (873 pass, 530 rush) and accounted for 13 touchdowns (11 pass, two rush) to earn OPSWA Division II Honorable Mention All-Southwest District acclaim in 2020.
Austin Siereveld, Jr, OL – Will be one of the top linemen in the GMC for the next two seasons. The 6-foot-5, 315-pound Siereveld was named First Team All-GMC as a sophomore. Don't be surprised if Division I offers start to flow for Siereveld, shortly after the season begins.
Charlie Kenrich, Sr, RB/TE/LB – A special talent to say the least. Kenrich is a two-time Second Team All-GMC selection. He has 1,404 all-purpose yards (853 rush, 551 rec), 24 receptions, eight touchdowns (four rush, four rec), 12 total tackles, one forced fumble and one fumble recovery as a Thunderhawk. Kenrich has offers from Air Force, Akron, Ball State, Bowling Green, Buffalo, Central Michigan, Eastern Kentucky, Harvard, Iowa State, Kent State, Liberty, Marshall, Michigan State, Navy, Purdue, Toledo, Virginia Tech, Vanderbilt, Western Michigan and Yale.
2021 Player Spotlight: Charlie Kenrich
Caleb Vanhosser, Sr, DB – The leader of the secondary. Vanhosser was named Second Team All-GMC as a junior. He scored his first varsity touchdown after recovering a blocked punt in the end zone at Lakota West last fall.
Nate Rosario-Santos, Sr, LB – An excellent tackler who can really get after it. Rosario-Santos was in on 56 total tackles with a forced fumble and a fumble recovery on his way to Second Team All-GMC accolades as a junior. He has an offer from Notre Dame College.
OTHER RETURNEES
Kyle Poppe, Sr, WR/FS – Limited to just four games as a junior, Poppe is back and ready to be a vital cog of the defense. He has 45 total tackles and two forced fumbles in his career.
Kevin Kornau, Sr, OL/LB – A huge asset for the Thunderhawks in all three phases of the game. Kornau recorded 21 total tackles and a sack last season.
NEWCOMERS
Harrison Bucheit, Jr, LB – Showed glimpses of a bright future with 15 total tackles in four games as a sophomore.
Justin Green, Jr, DB – Look for Green to be a staple in the secondary over the next two campaigns.
Taebron Bennie-Powell, So, RB/SS – Very rarely does coach Haynes list a sophomore on his group of "first year players to watch," so we know that Bennie-Powell must be a special talent.
PLAYOFF HISTORY
(four appearances, 4-4) – 2020, 2018, 2014, 2012
2021 SCHEDULE
Fri – 08/20/21 – MOELLER (3-6 in 2020) – 7:00 PM
Fri – 08/27/21 – at Milford (4-4) – 7:00 PM
Fri – 09/03/21 – MIDDLETOWN (1-6) – 7:00 PM
Fri – 09/10/21 – HAMILTON (6-4) – 7:00 PM
Fri – 09/17/21 – at Mason (5-3) – 7:00 PM
Fri – 09/24/21 – SYCAMORE (1-7) – 7:00 PM
Fri – 10/01/21 – at Colerain (6-3) – 7:00 PM
Fri – 10/08/21 – at Oak Hills (2-7) – 7:00 PM
Fri – 10/15/21 – FAIRFIELD (2-7) – 7:00 PM
Fri – 10/22/21 – at Lakota West (8-1) – 7:00 PM