2021 Player Spotlight: Charlie Kenrich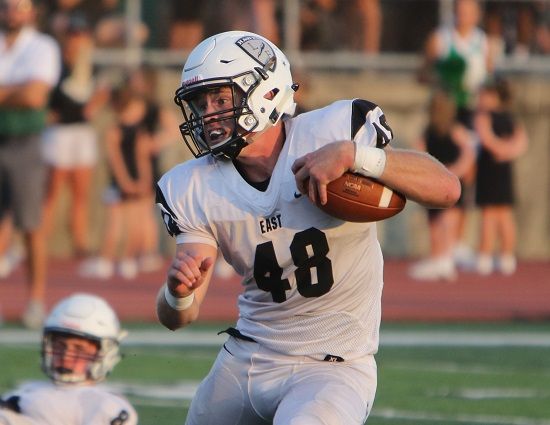 Lakota East RB/TE Charlie Kenrich (photo by Dan Bieneke/TriStateFootball.com)
The dictionary defines the word unique as, "being the only one of its kind; unlike anything else." That describes Lakota East TE/RB/LB Charlie Kenrich to a tee. There is no skills positions player in the Greater Miami Conference that runs, blocks and catches the ball like Kenrich does. Throw in in his off the field intangibles and that put's an exclamation point after the superlative adjective, UNIQUE!
"Charlie's work ethic is outstanding. Both his competitiveness and intensity stand out as a player. He was elected one of our captains as junior," Lakota East head coach Rick Haynes states. "Off the field, Charlie is a great role model for our entire student body. He's humble, unselfish and puts his team first."
What makes Kenrich standout amongst his peers? The 6-foot-4, 225-pound, two-time Second Team All-GMC selection has averaged 7.3 yards on 117 carries for 853 yards rushing (four touchdowns) and averaged 22.9 yards on 24 receptions for 551 yards receiving (four touchdowns), in his career, as a Thunderhawk. Those receiving numbers are so impressive because he has accrued them in an offense that runs the triple option.
Kenrich has seen his stock skyrocket this offseason. He has amassed offers from Power 5 Conferences, Ivy League Schools and Service Academies. They include Michigan State, Purdue, Vanderbilt, Virginia Tech, Iowa State, Liberty, Marshall, Akron, Ball State, Bowling Green, Buffalo, Central Michigan, Toledo, Western Michigan, Air Force, Navy, Harvard and Yale.
Most schools project Kenrich as a tight end at the next level. Others love his athleticism and tenacity as a linebacker.
From our perspective at TriState Football, the player Kenrich is most comparable to, is current Notre Dame standout tight end and Covington Catholic alum, Michael Mayer. Yes, that is a lofty comparison but the way he blocks and catches the ball is very similar.
The best is still to come for Kenrich on the football field. In the right offensive scheme, he could really shine in college.