2021 Snapshot: Shroder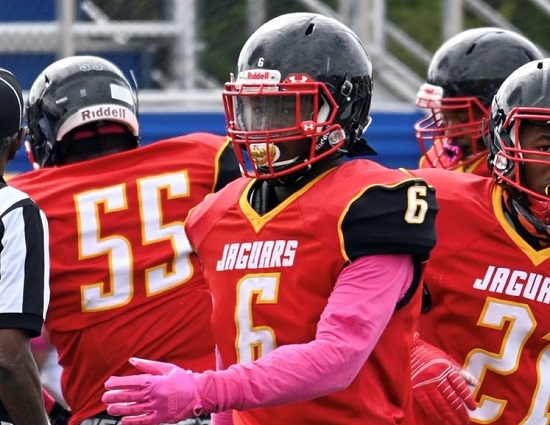 Shroder RB/DB Jacob Harrison (photo by Danny Certified Photography)
They are looking to right the ship at Shroder. The Jaguars have finished below .500 with three wins or less in each of the last five seasons. They are a combined 12-33 in that span (.267 winning %).
In his second year, head coach G. Benjamin Myles believes that Shroder is ready to make a move. "We have a senior led defense and an experienced offensive line."
Defensively, the Jaguars gave up just 18.8 points, averaged 2.8 sacks and 2.1 turnovers per game in 2020. The offense must improve on getting the ball into the end zone. Shroder only scored 12.0 points per contest a year ago. They need for some seniors and underclassmen to step and become playmakers.
The CMAC Blue division is there for the taking. There are no clear-cut favorites to win it. Shroder should be in every league game. It will all come down to the Jaguars staying healthy and executing if they are to change their fortunes and have a successful campaign.
Division IV, Region 16
2020 RECORD: 2-3, 2-2 CMAC Blue
COACH: G. Benjamin Myles (2-3 at Shroder, one year; 18-27 overall, five years)
HONOR ROLL
Jacob Harrison, Sr, RB/DB – One of the top defensive players in Region 16. Harrison tallied 45 total tackles, had five sacks and forced two fumbles on his way OPSWA Division IV Third Team All-Ohio honors as a junior. He will play a larger role on offense this fall.
Kyron Clardy, Sr, OL/DL – Really came to life in 2020. Clardy was in on 33 total tackles with two sacks, five forced fumbles and one fumble recovery. He was named Second Team All-CMAC Blue for his work.
Donald "Bud" Taylor, Jr, QB/LB – One of the underclassmen that is expected to step up and take his game to the next level. In five games as a sophomore, Taylor threw for 701 yards, ran for 134 yards and accounted for four touchdowns (three, pass, one rush) on his way to First Team All-CMAC Blue honors.
Santinez Payne, Jr, RB/DB – A leader in the secondary for the Jags. Payne snared three interceptions including a pick-six on his way to Second Team All-CMAC Blue accolades a year ago.
Antes Fairbanks, Sr, OL/DL – An anchor in the trenches on both sides of the ball.  Fairbanks was an Honorable Mention All-CMAC Blue selection in 2020.
OTHER RETURNEES
Nas Burson, Sr, FB/LB – A tackling machine who has all-district potential. Burson was in on 56 total tackles in five games as a junior.
BG Lackey, Sr, RB/DB – Should be a difference maker for this team. Look for a breakout senior season from Lackey.
NEWCOMER
Marcus Evans, So, OL/DL – The coaching staff thinks that Evans has a very promising future.

PLAYOFF HISTORY
(two appearances, 0-2) – 2020, 2014
2021 SCHEDULE
Fri – 08/20/21 – at St. Bernard-Elmwood Place (6-4 in 2020) – 7:00 PM
Fri – 08/27/21 – at Woodward (3-4) – 7:00 PM
Sa – 09/04/21 – WEST MUSKINGUM (2-8) – 7:00 PM (Stargel Stadium)
Fri – 09/10/21 – at Purcell Marian (4-5) – 7:00 PM (Marx Stadium, Walnut Hills HS)
Sa – 09/18/21 – McCLAIN (1-8) – 1:30 PM (Stargel Stadium)
Th – 09/23/21 – GAMBLE MONTESSORI (2-5) – 6:00 PM (Stargel Stadium)
Th – 09/30/21 – CCPA (4-4) – 6:00 PM (Stargel Stadium)
Sa – 10/09/21 – PHALEN ACADEMY (IN)(2-3) – 1:30 PM (Stargel Stadium)
Fri – 10/15/21 – at Hillcrest (0-0) – 6:30 PM
Fri – 10/22/21 – at Dayton Christian (1-3) – 7:00 PM