2021 Snapshot: Badin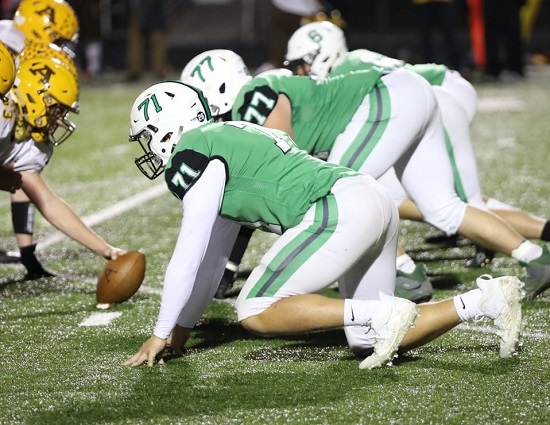 Badin DL Logan Neu (Photo from Facebook: Badin Football Pics by Berger)
One of the most underappreciated accomplishments of 2020 was Badin winning the GCL Co-eds title outright. It was the third straight year that the Rams have won or shared the conference/division crown. It is the first time that the school has achieved that milestone since joining the GCL in 1990-91.
Things have really turned the corner at Badin under head coach Nick Yordy. Class after class has stepped up and answered the bell. There is an excellent blend between seniors and underclassmen and it doesn't appear to be stopping anytime soon.
"The kids have been working hard and are excited to have a 10-game season. We have created a great culture here and have raised expectations for our program. The key is going to be maintaining that success," Yordy states.
The 2021 version of the Rams has much going for it. "Our strength will be our skilled players that are returning on offense. We return four skills positions players and three offensive linemen," Yordy says. Over the last two campaigns 13 of the teams 16 wins have been by 21 points or more (seven victories by 31-plus points). Expect more of the same explosiveness from this group.
On defense, Badin has to reconstruct much of its linebacking core. The Rams return a solid unit on the d-line which includes a pair of second team all-district performers. The secondary has depth and will benefit from the pressure that the front eight puts on opposing quarterbacks.
Badin has not won a regional championship in 22 years. They have been knocking on the door under Yordy with trips to the Region 12 finals and semi-finals the past two seasons. This Rams squad has a legitimate chance to bring home that trophy.
Division III, Region 12
2020 RECORD: 7-1, 5-0 GCL Co-eds
COACH: Nick Yordy (29-14 at Badin, three years; 29-14 overall)
HONOR ROLL
Landyn Vidourek, Sr, QB/P – Acquitted himself quite well in his first year as a starting quarterback. Vidourek threw for 865 yards, ran for 114 yards and accounted for 14 touchdowns (eight pass, six rush). He also averaged 39.1 yards on 26 punts to earn OPSWA Division III Second Team All-Southwest District (P) honors in 2020.
Hunter Harrison, Sr, DT – One of the true leaders of the Rams defense. Harrison was named OPSWA Division III Second Team All-Southwest District as a junior. He has 56 total tackles and two-and-a-half sacks in his career.
Logan Neu, Sr, DE – A huge reason why Badin is 9-1 and has only allowed 8.6 points per contest in GCL Co-eds affairs over the past two years. Neu tallied 49 total tackles, had two sacks, 16 tackles for losses with a forced fumble and a fumble recovery as a junior. He garnered OPSWA Division III Second Team All-Southwest District acclaim for the effort.
Braedyn Moore, Jr, WR/DB – A rising star. Moore will be in the conversation for conference player of the year in each of the two next seasons. He finished 2020 with 22 receptions for 236 yards, two touchdown catches and had three interception for the Rams defense. That work saw Moore be named Second Team All-GCL Co-eds (DB).
Henry Birchwell, Sr, OL – Back for his third year as a starter, Brichwell is a rock up front for the Badin o-line. He was a First Team All-GCL Co-eds selection in 2020.
Lucas Moore, Jr, WR – Was outstanding in his varsity debut. Moore had 28 receptions for 389 yards, amassed 791 all-purpose yards and found the end zone five times (three, rec, one rush, one KR) on his way to being named First Team All-GCL Co-eds (WR) in 2020.
OTHER RETURNEES
Ely Emmons, Sr, LB – The unsung star of the Badin defense. Emmons finished his junior campaign with 62 total tackles and a forced fumble.
Jack Walsh, Sr, RB – A key component of the Rams rushing attack. Walsh ran for 452 yards and five touchdowns a year ago.
Carter Russo, Jr, RB – When he got his opportunity, Russo had some "WOW" moments as a sophomore. He will team with Walsh to form a dynamic one-two punch out of the Badin backfield. Russo averaged 6.9 yards on 24 carries and had four touchdowns (three rush, one KR) on 26 total touches as a sophomore.
NEWCOMERS
A pair of seniors WR Eric Rawlings and WR Cooper Fierher are expected to contribute on offense. Rawlings has the speed to be a game-changer.
PLAYOFF HISTORY
(25 appearances, 26-24) – 2020, 2019, 2018, 2015, 2014, 2013, 2010, 2009, 2008, 2002, 2001, 2000, 1999, 1998 (Regional Champion), 1995 (Regional Champion), 1994, 1993, 1990 (State Champion), 1989 (Regional Champion), 1987, 1982, 1981 (Regional Champion), 1980 (State Runner-Up), 1979 (Regional Champion), 1978 (Regional Champion)
2021 SCHEDULE
Fri – 08/20/21 – at Mount Healthy (3-5 in 2020) – 7:00 PM
Fri – 08/27/21 – at Bellbrook (9-1) – 7:00 PM
Fri – 09/03/21 – NORTHWEST (5-4) – 7:00 PM*
Sa – 09/11/21 – ROGER BACON (10-1) – 7:00 PM**
Sa – 09/18/21 – ROSS (8-2) – 7:00 PM*
Fri – 09/24/21 – at Carroll (3-5) – 7:00 PM
Fri – 10/01/21 –  ALTER (8-3) – 7:00 PM**
Fri – 10/08/21 – at Chaminade Julienne (3-6) – 7:00 PM
Sa – 10/16/21 –  FENWICK (1-7) – 7:00 PM*
Fri – 10/22/21 – at McNicholas (5-3) – 7:00 PM
*At Kumler Field, Edgewood H.S.
**Location TBA