2021 Snapshot: Mount Healthy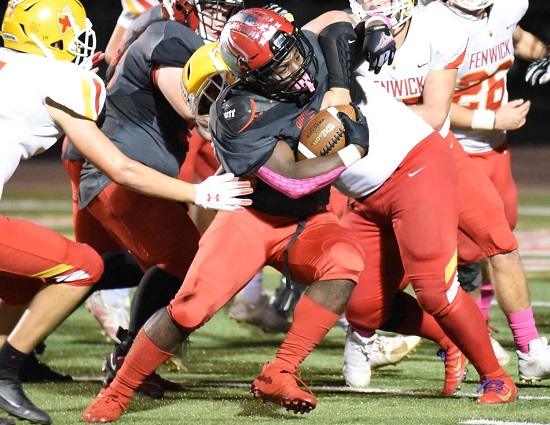 Mount Healthy RB Isaiah Daniels (photo by Angie Kullman Morhaus)
It is time to get back to winning ways at Mount Healthy. The Owls are hoping to capture their first SWOC title in six years. The program has been treading water since that last championship in 2015.
Mount Healthy is a combined 17-22 over the past four campaigns. They were 64-17 the seven seasons prior to that.
Like the 2020 Owls, this team heads into the season with strength and speed. What they lack is varsity game experience.
A young Mount Healthy team lost three games by one, five and seven points, a year ago. Figuring out how to close out games will be the difference between an Okay or a great year for the Owls in 2021.
Division III, Region 12
2020 RECORD: 3-5, 2-3 SWOC
COACH: Arvie Crouch (89-42 at Mount Healthy, 12 years; 89-42 overall)
HONOR ROLL
Trey Cornist, Jr, RB – The next two seasons should be very good for this rising star. Cornist ran for 453 yards and a team high six touchdowns on his way to OPSWA Division III Honorable Mention All-Southwest District accolades as a sophomore.
Na'Davion Gaither, Sr, QB/FS – May be the best player in the SWOC that you don't know about. Gaither amassed 1,210 yards of total offense (587 pass, 623 rush) and accounted for 12 touchdowns (seven pass, five rush) for the Owls last fall. He was named OPSWA Division III Honorable Mention All-Southwest District for his effort.
OTHER RETURNEES
Isaiah Daniels, Sr, RB – A three-year letterman, Daniels brings a punishing style out of the backfield. He has 725 yards and five touchdowns rushing, in his career.

Montana Waller, Sr, DB – Will provide much needed leadership in the secondary.
Kaleb Sherrer, Jr, C – Back for another year as a starter, Sherrer will be asked to step up and lead a very "green" o-line.
Devontae Ross, Sr, DE/LB – Showed signs of being special as a junior. Ross had 21 total tackles, two sacks and a fumble recovery.
Kyonte Green, Sr, LB – This should be a breakout season for Waller. He has all-conference talent that has yet to present itself on the field.
NEWCOMERS
Seniors CB Mouhamed Seck, LB Savion Cannon, S Nehemiah Reid along with juniors OG Aaron Garcia WR/DB Anthony Horton are ready to be factors on Friday nights.
PLAYOFF HISTORY
(14 appearances, 7-14) – 2020, 2018, 2016, 2015, 2014, 2013, 2012, 2010, 2009, 2005, 2004, 2003, 2002, 2001
2021 SCHEDULE
Fri – 08/20/21 – BADIN (8-1 in 2020) – 7:00 PM
Fri – 08/27/21 – PONITZ TECH (2-4) – 7:00 PM
Fri – 09/03/21 – at Wilmington (4-4) – 7:00 PM
Fri – 09/10/21 – THURGOOD MARSHALL (2-4) – 7:00 PM
Fri – 09/17/21 – at Bishop Fenwick (1-7) – 7:00 PM
Fri – 09/24/21 – EDGEWOOD (6-4) – 7:00 PM
Fri – 10/01/21 – HARRISON (3-7) – 7:00 PM
Fri – 10/08/21 – at Northwest  (5-4) – 7:00 PM
Fri – 10/15/21 – at Talawanda (3-5) – 7:00 PM
Fri – 10/22/21 – ROSS (8-2) – 7:00 PM