2021 Snapshot: Wilmington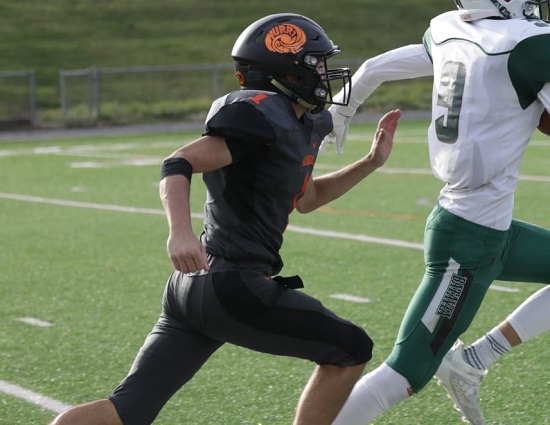 Wilmington WR/DB Isaiah Rigling (photo from Facebook: BHSsportspage)
They are chomping at the bit to get back at it in Wilmington. The Hurricane made their first playoff appearance in 11 years and won the schools first ever postseason game in 2020. Then Covid took them down before they got the chance to play their second-round game. With that taste of success, this team is out to satisfy its appetite this fall.
"I am excited to see this team compete on the field. This group has experienced the growing pains and they have worked extremely hard in the weight room.  It's now time for that experience to pay off," head coach Scott Killen states.
Killen goes on to say. "Our strength will be on our offensive line, defensive line and with the linebackers. We need to develop depth at key positions and improve on our consistency throughout a game." The positives far outweigh the negatives with this squad.
Wilmington has plenty to be excited about. The Canes have the opportunity, to be the first team in school history to make and win in the playoffs, in back-to-back years. That should be more than enough motivation for them to have a great regular season.

Division III, Region 11
2020 RECORD: 4-4, 2-3 SBAAC American
COACH: Scott Killen (39-29 at Wilmington, seven years; 39-29 overall)
HONOR ROLL
Jeff Valentine, Sr, LB – The leader of the defense. Valentine was named OPSWA Division III Honorable Mention All-Southwest-District for a second straight season in 2020. He has more than 100 total tackles and four sacks, in his career.
Josh Snell, Jr, RB/LB – Came into his own in 2020. Snell had three sacks and interception on his way to Second Team All-SBAAC American accolades.
OTHER RETURNEES
Isaiah Rigling, Sr, WR/DB – In a league full of polished receiver,s Rigling gets overlooked but he can hold his own with the best of them. He heads into his final year with 54 receptions for 713 yards and six touchdowns while donning a Canes uniform.
Cameron McEvoy, Sr, QB – Takes over the reins as the full-time starter at quarterback. The southpaw threw for 383 yards and five touchdowns in limited snaps as a junior.
Remington Smith, Sr, O – One of the anchors of the offensive line. The 6-foot-2, 270-pound Smith has all-conference potential.
Andrew Stewart, Sr, OL – Provides leadership up front. The 6-foot-4, 270-pound Stewart should have a big year blocking for the outstanding Canes backfield.
Brett Brooks, Sr, DL – An athletic interior lineman. Brooks does the dirty work so that the linebackers can get their glory racking up tackles.
Parker Henry, Sr, K – A special team's asset. Henry connected on points 32/33 extra points and 5/13 field goals for 47 kicking points, as a junior.
Malik Scott, Sr, RB – Will be a welcomed returnee to the offense after missing his junior year with injuries. Along with Stuckey and Snell, Scott makes the Wilmington backfield super-special. He ran for 606 yards and 10 touchdowns in 2019.
Thad Stuckey, Jr, RB – Ran for more than 700 yards in his first year as a starter. Stuckey had a monster game with 266 yards rushing against Little Miami, in the 2020 regular season finale.
Darrick Perdue, Jr, DL – Had an excellent first year as a starter. Perdue led the team with six sacks, as a sophomore.
NEWCOMERS
Juniors OLB Kaison Dodge, WR/DB Tanner Killen and sophomore SS Aiden Price look to break into the starting lineup. Price has a tremendous upside.
PLAYOFF HISTORY
(four appearances, 1-3) – 2020, 2009, 2005, 2003
2021 SCHEDULE
Fri – 08/20/21 – ROSS (8-2 in 2020) – 7:00 PM
Fri – 08/27/21 – at Miami Trace (4-4) – 7:00 PM
Fri – 09/03/21 – MOUNT HEALTHY (3-5) – 7:00 PM
Fri – 09/10/21 – at CHCA (6-2) – 7:00 PM
Fri – 09/17/21 – TBA – 7:00 PM
Fri – 09/24/21 – at Batavia (2-6) – 7:00 PM
Fri – 10/01/21 – GOSHEN (3-5) – 7:00 PM
Fri – 10/08/21 – at New Richmond (5-3) – 7:00 PM
Fri – 10/15/21 – WESTERN BROWN (5-3) – 7:00 PM
Fri – 10/22/21 – CLINTON-MASSIE (9-1)– 7:00 PM